The 88-year-old reclusive author Harper Lee dropped a literary bomb earlier this week, announcing that she will release her second novel this summer. It will be titled Go Set A Watchman and comes to the marketplace after a 55-year absence.
Lee's first novel, the Pulitzer Prize-winning To Kill A Mockingbird,  is an American classic that is the rare actually enjoyable school requirement. Naturally, we're all feeling a mix of excitement, surprise and yes, even anxiety, hoping that the new book will live up to its prequel. Since July 14 is way too far away to hold these emotions in, we have decided to start visualizing the novel's life on the bookstands — and in the inevitable movie theatre.
Both the movie adaptation and original book jacket of To Kill A Mockingbird are emblems of our cultural memory. The film was nominated for eight Academy Awards and Gregory Peck took home the statue for best actor and proceeded to give the classiest and most straight-forward acceptance speech ever. When Harper Lee's work came into the world this is what it looked like:
What will it look like in 2015? Her new book was written before To Kill A Mockingbird and is set in the 1950s. Scout, now living in New York City, goes back home to Alabama to visit her father. We still have no idea what "setting a watchman" means in this context, but we're picturing Mad Men mixed with Johnny Cash to set the scene.
Lets imagine some book covers, shall we?
G/O Media may get a commission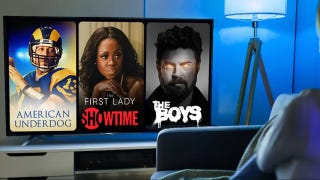 UNDER $1
99¢ Prime Video Channels
And let's cast the inevitable movie adaptation:
We all know exactly what's going to happen exactly one minute after the book comes out: the script will be on every desk in Hollywood. Ava Duvernay is our top pick for director; Robert Duvall will obviously reprise his role as Boo Radley. Casting the two iconic leads is a tougher choice to make, but here are out suggestions:
How do you possibly fill Gregory Peck's shoes? You don't. But these four gents — George Clooney, Jeff Bridges, Tommy Lee Jones and David Strathairn — could give it a try.
Scout's now in her mid 20s. We don't know exactly how she has grown up, but we're picturing someone like Jennifer Lawrence, Kristen Stewart, Michelle Monaghan or Elizabeth Olsen.
Does Harper Lee fully understand the machine she has set in motion? We cannot wait to see how this plays out.
Elisa is a designer & illustrator that writes (and doodles) about pop culture, women, diversity and all things art. She is the human behind Fusion's Instagram account and Elvis Presley is her spirit animal.