Now that Wonder Woman has taken over the box office and our lives, it's high time to really lean into the franchise and stock up on all the best merchandise the internet has to offer.
In the past, female characters in major franchises have been left out of the merch—Gamora was nowhere to be seen on several Guardians of the Galaxy shirts, Black Widow was largely kept out of the Avengers: Age of Ultron products, and Rey, the main protagonist of the new Star Wars movies was also left out of toy lines.

With decades of history under her belt, Wonder Woman certainly has her own merchandise, but there's a disparity between her merch and that of other DC titans (but not the Teen Titans) like Batman and Superman. As Den of Geek points out, Wonder Woman has only one Lego set connected to the recent film (she is included in the DC Super Hero High School girls line), whereas Lego released three sets for Man of Steel and Batman V Superman each.
Since a modern superhero movie release would be remiss without a ton of merch, we went through the best, worst, and weirdest latest Wonder Woman offerings and product tie-ins–whether they're officially licensed shirts or hats or some lawsuit waiting to happen on Etsy.
The Bad
ThinkThin
G/O Media may get a commission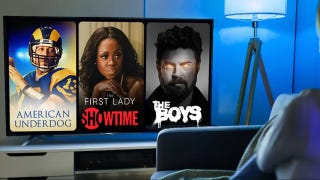 UNDER $1
99¢ Prime Video Channels
For some reason, Warner Brothers partnered with a protein bar company called thinkThin, and no one stopped to consider that it might not be a great look to have an iconic feminist superhero hawk products that body shame people by title alone? No one?

Wonder Woman Fragrance
Wonder Woman isn't the only superhero to get the perfume or cologne treatment, but it's strange nonetheless. The description, via Hot Topic reads, "Smell like a warrior princess with the Amazon fragrance from Marmol & Son," and the fragrance includes "Raspberry, Bergamot, Litchi Jasmine, Freesia, Peony, Iris, Musk, Cedarwood, Vanilla & Amber."
I'm not exactly sure what an Amazonian warrior looks like, just like I'm not sure what an Amazonian warrior would need to shave her armpits. (There's also a Wonder Woman-themed Jean-Paul Gaultier fragrance that also includes notes of vanilla and jasmine.)

Wonder Woman Air Fresheners
Another somehow stranger fragrance-related Wonder Woman item with an even more confounding and mildly sexist description: "Cleanliness is Wonder Woman-liness!" The freshener is vanilla-scented—why are there so many Wonder Woman-themed aromas that contain vanilla??

This Shirt
I get that this is Clark Kent/Superman inspired, but I'm not sure I have ever seen Diana Prince rip off her blouse (she sort of just magically twirls and changes?). Also, the inclusion of the skin tone seems unnecessary.

The Odd
Wonder Woman Makeup
Walgreens has a Wonder Woman-themed makeup line that includes lipsticks, lip glosses, eyeshadows, nail polishes, makeup brushes, and other products. It certainly makes sense why a female superhero would come with a makeup line, and sure, I'm down for some Wonder Woman lipstick, but I do wish that Wonder Woman wasn't the only superhero with corresponding makeup. Pretty sure Batman wears more makeup (he blacks out his eyes!) than Wonder Woman!

Danica Patrick Wonder Woman Car
I never considered the potential for a comic book superhero/race car driver crossover, but here we are! Apparently in May, Danica Patrick drove a car with a Wonder Woman paint scheme at the Monster Energy NASCAR Cup Series, and now you can buy a toy version of it!

Kinky Goods
As you may know, Wonder Woman's history is imbued with themes of kink and bondage. So while there don't appear any officially licensed kink toys, Etsy does offer a flogger and a petplay collar for the more adventurous Wonder Woman fans.

The Dope
Bomber Jacket
OK, for all the odd merch, there's some dope stuff as well. Take, for example, this satin bomber jacket that reps the woman-only island paradise we all wish we inhabited.

Letter Opener
While you might hurt yourself trying to wield Wonder Woman's iconic sword, here is a much smaller version you can use to bravely open your bills with the power of Hephaestus even though you're pretty sure you went paperless like two years ago.

Armor
One of the many incredible treasures you can find on Etsy is this custom handmade Wonder Woman scale armor, made of several stainless steel scales and heavy duty aluminum rings. It's perfect for cosplaying or just binge-watching Justice League on your couch.