DES MOINES, Iowa—Rebecca didn't want to go to Planned Parenthood, but she also didn't want to be pregnant.
"I was thinking that there are crazy people out there recording every person walking into a Planned Parenthood, and I think that it's a violation of privacy," she told me on the Friday morning when we met, one of the two days during the week that the Planned Parenthood Rosenfield Center offers abortion services. "I didn't want to be associated with the negativity."
So she looked for other options. Rebecca, a veteran who now works as a security consultant, said she called every clinic and hospital in the Des Moines area, trying to find an alternate provider. (Rebecca requested that I not use her real name for privacy reasons.)
"I was calling other places. I didn't call it an abortion. I just said, 'I am terminating a pregnancy,'" she paused, grimaced a little. "But immediately, they were just so rude. They weren't asking if I needed help."
As Rebecca eventually learned, the Planned Parenthood where she ultimately made an appointment, a nondescript building in one of those shopping centers that lack any kind of regional specificity, is the only clinic in Des Moines that provides abortion services. In Iowa, 85% of counties have no abortion clinic, and 50% of Iowa women live in these counties. (Nationally, those numbers are 89% and 38%, respectively.)
G/O Media may get a commission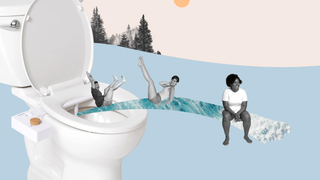 17% off
Tushy 3.0 Warm Water Spa Bidet Attachment
Around the waiting room, women sat, cross-legged or leaning on the person they'd come with, flipping through magazines. The sounds of typing and phones beeping drifted from behind the front desk. A television played something forgettable. It was a regular medical office somewhere in the Midwest.
But it was also a Planned Parenthood, an organization that has been branded, falsely though repeatedly, as "selling baby parts for profit," targeted by Congress for catastrophic funding cuts, and accused by leading presidential candidates of actual murder.
Which is why I spent an unseasonably warm morning and afternoon talking to people at the clinic—doctors, nurses, and patients—about what it's like right now to work and seek medical care at Planned Parenthood, the brick-and-mortar medical provider, and Planned Parenthood, an ideological battleground in the war over reproductive rights in the United States.
It's a fight that has changed how clinic staff move through the world—cautious when it comes to sharing details about their jobs, vigilant at home and on their way to work—and how patients like Rebecca seek care.
"The negative characterization of what Planned Parenthood is—" Rebecca told me while she waited to be called in by the nurses, hesitating a little to consider her words. "I don't like that." She didn't think it was fair to Planned Parenthood. She also didn't think it was fair to patients. "I remember thinking, how unfortunate that everyone has been branded."

✸ ✸ ✸
Last summer, a California anti-abortion group that calls itself the Center for Medical Progress released the first of several secretly recorded videos showing Planned Parenthood staff discussing the organization's participation in fetal tissue donation programs.
The conversations in the footage are medical, often blunt. Planned Parenthood officials talk in detail about patient consent, medical technique, and the costs related to obtaining, preserving, and transporting the tissue for which the organization can be legally reimbursed. (In October, Planned Parenthood announced it will no longer accept reimbursement for these costs.)
The footage, unsurprisingly, ignited a political shitstorm among conservatives who oppose abortion rights.
To date, five states have launched investigations into Planned Parenthood, none of which turned up any wrongdoing. Congress, for its part, has so far held three hearings, none of which, again, found anything.
Despite this, Sen. Ted Cruz has accused Planned Parenthood of "killing unborn children in order to sell their body parts" and Sen. Marco Rubio claimed Planned Parenthood "pushed [women] into abortions" for "purposes of making a profit off of it."
"Ever since Planned Parenthood began, it's been under attack by people who don't believe in access to reproductive healthcare," Dr. Jill Meadows, the medical director of Planned Parenthood for Arkansas, Iowa, Nebraska, and eastern Oklahoma as well as the doctor who saw every patient seeking abortion care that day, told me matter-of-factly when I asked about the most recent push to defund the organization.
But the escalating rhetoric can take a toll.
"I know who I am, and I know why I do what I do," Meadows said of the harassment that has also targeted her directly. "I don't tend to dwell on it." It was a choice not to be ruled by fear, she said. It was also a pragmatic decision about her professional life. She is a physician in a marginalized area of medicine. She travels because there aren't enough providers in her region. Basically, there was too much to be done to get mired in the political battles that surround her work.
At this point in our conversation, a nurse in bright red scrubs knocked softly to announce herself at the open office door. She had a question about a patient who was coming in later that day. Meadows' desk phone beeped. She moved to answer it as another nurse approached the door. The phone beeped again.
This was her not dwelling on it.

✸ ✸ ✸
The idea that Planned Parenthood has a kind of duality to it—an ordinary healthcare center that often operates under extraordinary circumstances—was a recurring theme with the staff I spoke to, a medical and administrative team that hurried through the clinic's labyrinthine hallways to greet patients, set up exam rooms, and keep appointments running smoothly.
"This is a job like any other job," April Lausier, a registered nurse who, like Meadows, travels for work at Planned Parenthood clinics outside Des Moines, told me between seeing patients. "Healthcare is hectic."
The office where we talked was medical suite generic. If you've ever spent any time in at a maternity ward or a gynecologist's office, you would recognize it. Pamphlets feature smiling women on the cover who are either dealing with menopause or considering an IUD. Art prints on the walls are all soft florals, all vaguely yonic (think Georgia O'Keeffe, only cheesy).
Lausier, like the rest of the staff, had to show up at the same time every morning. She and her colleagues put in requests for time off when they are sick or take family vacations. The staff pack lunches and chat about bad TV in the nurses' lounge.
In many ways, the organized chaos of seeing patients and doing charts was utterly familiar from Lausier's other jobs in healthcare, mostly in birth and delivery.
But taking a position at Planned Parenthood changed some things in her life, security and concerns about her personal safety among them.
"Weird things have happened before, but it's like—" Lausier scrunched up her face. "You wonder, is this targeted at me because of where I work or is it just weird circumstance?"
She recalled the time a coworker had found one of those little plastic fetus dolls in her driveway—the kind that anti-abortion protesters hand out in front of clinics. There are questions about unsolicited follows on social media. Long glances from strangers.
Like Rebecca, like Dr. Meadows, Lausier didn't sound anguished or solemn talking to me about any of this. It wasn't high drama, just some of the additional stuff she had to think about in order to do her job. The rest of it—the political bluster, the uncertainty of working at a clinic that could be targeted by new regulations, the looming threat of violence—could sometimes feel like background noise.
Even ideological orthodoxies seem to fall away once you were inside the doors. "We're here for women," Lausier said, shrugging her shoulders, getting ready to return to work. "We've seen protesters in here, then back on the picket line next week."

✸ ✸ ✸
Rebecca had chosen a medication abortion, a two-step process that involves taking a pill that terminates the pregnancy, and then a separate set of pills that expel the pregnancy, much like a miscarriage. We chatted some more while she waited to see Meadows, which was the final step of her appointment that day.
Before she saw Meadows, Rebecca had undergone an ultrasound, had her weight and vitals checked, received counseling on all of the options available to her during her pregnancy, was asked about her home life and whether she had experienced emotional or physical violence in her relationships. She had watched a video in which women who, like her, were undergoing a medication abortion thanked their doctors in soft voices and asked a lot of verbose questions about cramping and vaginal bleeding.
I asked Rebecca how she felt when, after calling other clinics, she made an appointment with Planned Parenthood.
"It was a relief," she said. "The way that this pregnancy happened was not a positive experience. I was in an emotionally abusive relationship. If I did not have an option"—she paused but didn't say the word "abortion"—"it would be very emotionally difficult to handle."
Meadows came into the room and asked her about how she would take the second set of pills. (Four pills, two on each side of her mouth, dissolved there for 30 minutes, then swallowed.) Meadows asked whether there would be someone supportive at home with her while she took them some time in the next 48 hours. (There would.) Then she asked Rebecca about her follow-up appointment. (Already scheduled.) Finally, she asked whether Rebecca had any questions for her.
She didn't.
Meadows gave her the pill and a small glass of water. Rebecca swallowed it without ceremony. This was what everything had been leading up to, a morning and afternoon spent waiting, and it was over in less than a second. Rebecca stood up, thanked Meadows, and moved to grab her bag. She had a presentation to make at work and was on the verge of being late. The appointment at Planned Parenthood was just one part of her day, and she had a life to get back to.
Join us live on Jan. 11 at 8 p.m. ET as Fusion hosts the 2016 Brown & Black Democratic Presidential Forum from Drake University in Des Moines. The forum will focus on where the candidates stand on issues that matter most to America's growing multicultural population. Tune in to Fusion's cable network, or watch the livestream on Fusion.net, Facebook, and YouTube. And download the Fusion app and join the conversation during the forum. Available on iOS and Android.