Covering the craziness that is the 2016 campaign is one of our daily duties here at Fusion. But keeping people informed, and offering various ways to share your voice and views, is only part of what we aim to do this year. What's the point if we don't also inspire people to take action?
To that end, we've been working with our colleagues at Univision, The Root, El Rey Network, Univision Deportes, and other leading brands to create a destination to educate, motivate, and register more voters—especially young, multicultural Americans. The effort is called Vote for Your America, and it is a beautiful, easy to use and informative website that can help you (and your friends and family) navigate 2016.
If you have questions about whether you can vote, where you vote, or how to register to vote, the site's tools can help answer them. You can sign up for text alerts to remind you of key moments when you can get involved. And you can make your voice heard with share cards and other features that plug seamlessly into Facebook and Twitter.
And as the year goes on, we'll add valuable information about where the candidates stand on the issues that matter most to you—from immigration to student loans to climate change.
According to the Pew Research Center, every 30 seconds another Latino becomes eligible to vote—over 66,000 Latinos turn 18 each month. Additionally, according to Pew, the number of Hispanic eligible voters is projected to reach a record 27.3 million for the 2016 general election—and almost half of them are millennials.
G/O Media may get a commission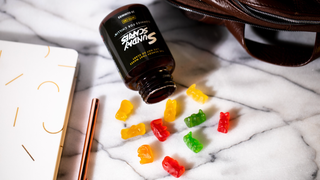 10mg CBD Gummies (22-Count)
If we don't engage, we will lose this election cycle. We aren't telling you who to vote for, just to vote. Go to youramerica.com and check it out.
@fusion