DES MOINES, Iowa — Immigration proposals have been mentioned at every single debate this election season, but absent from the conversation are the actual immigrants who would be directly impacted by reforms.
Just a week ahead of the Iowa caucuses, Fusion visited Iowa to ask undocumented immigrants what issues are important to them—and whom they would support this election season.
David Calderón, 20
Des Moines
David Calderón was 9 years old when his family fled gang violence in El Salvador. So when candidates discuss deporting mothers and children back to El Salvador, it hits close to home. He says he's a refugee even though he doesn't have the papers to prove it.
G/O Media may get a commission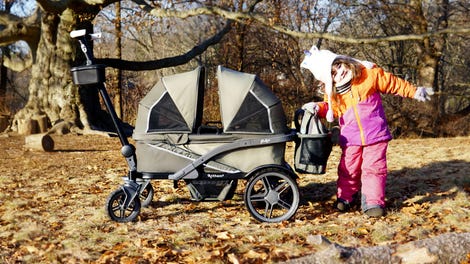 30% off
The Anthem All-Terrain Stroller Wagon Adventure Bundle
Go everywhere with your kids
This must-have bundle nets you either of Gladly's award-winning Anthem2 or Anthem4 All-Terrain Stroller Wagons as well as must-have accessories like a parent cupholder, a removable storage basket, extra-large canopies, a nap system, quilted comfort seats, a cooler bag with a padded shoulder strap, and a travel bag.
Calderón hopes one day to be a history teacher and is studying at Grand View University in Des Moines. He has temporary protection from being deported through the Obama administration's Deferred Action for Childhood Arrivals (DACA), the executive action that every leading Republican candidate has promised to eliminate—and that the Supreme Court recently agreed to review.
Calderón said he supports Democrat Martin O'Malley because "he's the only one that's really cared about [immigration issues] from the beginning."
"I have a lot of friends and acquaintances who try to sell other candidates to me and tell me to look at the big picture," Calderón told Fusion. "But we're not part of the big picture until we have the documentation, and you can't tell me to think about the other things until I'm a part of it."
---
Antonia Rivera, 34
Des Moines
Antonia Rivera said she is torn between a candidate who has a better record on immigration and another candidate who she says is just more well-rounded.
She says she has temporary legal status through DACA, "until an administration decides to take it away."
"When I heard Bernie Sanders speak about getting money out of politics, that totally spoke to me," said Rivera, who has volunteered for the Sanders campaign.
"Martin O'Malley has a way better grasp on immigration issues, but with Sanders he's a more well-rounded candidate that could beat Hillary Clinton. I don't know why he didn't run earlier. I think right now is his chance," Rivera said.
Rivera has not decided whom she would support if she could attend a caucus.

---
Brenda Rodriguez, 45
Waterloo
Brenda Rodriguez says she just hopes the next president won't want to kick her out of the country.
Rodriguez says she knows she can't participate in the caucuses, but she's been volunteering with the O'Malley campaign to encourage eligible voters to participate.
"O'Malley has the most humane immigration plans," said Rodriguez, who has been living in Iowa for more than two decades.
"I think he can help people like me come out of the shadows," she said.
Rodriguez says she is supporting O'Malley.
---
Andres Nuñez, 33
Des Moines
Andres Nuñez said election season is always tough for undocumented Iowans.
"It's like, they say, here's a flyer. But what I have to say doesn't actually count, and that's what hurts the most," said Nuñez, referring to campaign workers who walk the streets of Des Moines handing out flyers urging Iowans to vote.
"The best thing I can do in my community is tell the people around me that their vote really could make a change for me and a lot of other people like me," said Nuñez, who was born in Colombia and came to the U.S. on a visa that has since expired.
Nuñez said he is supporting Sanders because the senator's proposals could help him reach his full potential. "I've seen his videos from back in the day and he's stood for a lot of things. Finally he's being heard, and I really appreciate that."
---
Monica Reyes, 25
Waterloo
Last March, Monica Reyes approached Republican Jeb Bush to ask him whether he would eliminate DACA. She's also gone face-to-face with Hillary Clinton and Bernie Sanders to make sure they know how their immigration proposals affect people like her. Bush said he would do away with DACA and push for a permanent law that could benefit young people living in the country without proper authorization.
"For many years we've been left out of the conversation," said Reyes, who co-founded DREAM Iowa, a group that champions the rights of immigrants in the state.
"It's frustrating because it's like we're treated like numbers rather than people and many times we can feel dehumanized or criminalized," Reyes said.
Reyes is supporting O'Malley because she believes "he is the one that would best represent me and the issues that are most important to me personally. It is time for someone to stand up for our community, and I believe that that is him."
---
Mari Valencia, 25
Des Moines
Mari Valencia has been living in Des Moines since she was 2 years old but still can't vote in her state. She's attending her precinct's caucus to observe the process.
"There's not much I can do, but I want to be there and take it all in," said Valencia.
Valencia has temporary protection from deportation through DACA and says immigration is the issue she follows most closely.
Valencia said she supports Sanders because he supports immigration reform.
"If I could, Bernie would be my guy," Valencia said.
---
Maria Gonzales, 27
Marshalltown
Maria Gonzalez isn't eligible to participate in the caucuses, but her younger sister is. Her sister will be participating in her first caucus next week.
"The biggest issue for me and my family is obviously immigration," said Gonzalez, who said half the members in her family are undocumented.
Maria Gonzalez said she is supporting O'Malley because his proposals would allow her family to remain together in the United States.
"Martin O'Malley stood out to me from the beginning," said Gonzalez, who was born in Mexico.
She named O'Malley's experience in Maryland extending in-state tuition and extending driver's licenses to immigrants as evidence he was prepared to represent the concerns of the undocumented community
---
Eren Sanchez, 27
Marshalltown
Ten years ago, Eren Sanchez organized a walkout at her high school to raise awareness about the DREAM Act. But more recently she's been campaigning for a Democratic candidate.
In the past she's gone door-knocking for candidates, but since she got "her big-girl job" at a renewable energy factory, she's been encouraging neighbors and co-workers to vote.
She said she cares about LGBT rights, clean energy, immigration, and healthcare access, especially for undocumented immigrants who can struggle with depression and anxiety.
Sanchez recently obtained a visa and is authorized to be in the United States but said she identifies with the undocumented immigrants because she's part of a mixed status family. Her parents and brother are still undocumented.
"Deep inside I still have undocumented struggles," said Sanchez. "The experiences I had growing up as an undocumented girl and woman in the United States is something that's probably going to mark me for the rest of my life."
Eren Sanchez said she is supporting O'Malley because of his immigration proposals.
---
Kenia Calderón, 22
Des Moines
Every four years, Kenia Calderon said, immigration activists wish they had a candidate who has already accomplished all of their demands.
Calderon said "without a doubt I would caucus for Martin O'Malley and I would make sure other people caucus for him."
"Martin O'Malley has done everything we've been asking for. As the governor [of Maryland] he gave undocumented immigrants licenses, he passed the state DREAM Act way before Obama introduced DACA, so I know when he says he'll take action he can to help the immigrant community I believe him," Calderon said.
---
The interviews above were conducted at the Define American Film Festival, organized by the immigrant rights group with the same name. The film festival was aimed at Iowans who have been hearing about immigration nonstop but haven't heard from immigrants themselves.
A majority of the respondents (6 out of 9) supported O'Malley, who lags behind in polls but was the first of the three Democrats to come out with an immigration plan that vowed to close down detention facilities and press Congress to pass legislation that offered a path to citizenship. O'Malley was also the first to urge the Obama administration to halt its plan to carry large-scale immigration raids against those fleeing violence in Central America.
Immigration is an issue that's overwhelmingly important to Iowans. A Des Moines Register poll found more than 80% of Republicans and Democrats likely to attend the caucuses want candidates to talk a lot about immigration.
Over the past 15 years, the Latino population in Iowa more than doubled. And today's population is expected to almost triple by 2050. The Pew Hispanic Center estimates that 40,000 undocumented immigrants live in Iowa, up from 5,000 two decades ago.
Fusion was a media partner for the Define American Film Festival, which took place in Des Moines, Iowa, from Jan. 21 to 23.