Millennials may be more aware of income inequality than their parents were, but they're suffering from it just the same — or worse.
It takes an income of about $106,500 a year to be in the millennial one percent, according to data from the U.S. Census Bureau's Current Population Survey. That's a group of about 720,000 young adults, and they control about double the income of the 14 million millennials in the bottom 20 percent.
In fact, a huge portion of millennials—some 28 million out 70 million in total—aren't enrolled in school and make less than $10,000 a year, the Census shows. So a salary of about $60,000, the typical starting rate for a computer science or engineering major, would put a recent undergrad in the top 10% of potential earners between the ages of 18 and 34.
In contrast, it'd take more than $90,000 for a Baby Boomer to achieve the same elite status among peers.
G/O Media may get a commission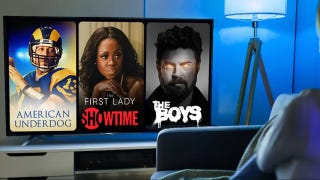 UNDER $1
99¢ Prime Video Channels
The trendlines suggest a level of wealth inequality more severe than previous generations. In 2000, the median net worth for the top 20 percent of young adult households was 4x the net worth of the other four quintiles combined. In 2011—the most recent year for which data is available—that gap had grown to 8x.
What's more, like other generations' elites, the millennial one percent is overwhelmingly white and male: Just 9 percent are black, while 7 percent are Hispanic. And just 28 percent are female, according to the CPS data.
What is driving these huge gaps?
It's hard to say exactly. Income inequality has become a hot-button issue in politics and economics in recent years — driven in part by populist Democrats like Elizabeth Warren and the research of French economist Thomas Piketty— but there hasn't been that much study on inequality among this specific group.
Emmanuel Saez, an economist at Berkeley and an occasional collaborator with Piketty, told Fusion he hasn't looked at data breakdown in this way. Piketty himself declined to comment.
But in his book, Piketty suggests that one likely cause is a new class of "super managers," or professionals who you'd never find in the headlines but are nevertheless getting paid more handsomely than ever thanks to perceived rising competition among top-end firms.
The CPS Census data appears to bear this out: the No. 1 profession among millennial one percenter is lawyers, followed closely by miscellaneous managers. The more high-profile CEOs come in third.
Such positions, of course, require a college education, and usually of the prestigious variety. As a result, they tend to favor individuals who grew up in more affluent households — and can disfavor everyone else. This self-perpetuating income pattern is one that Piketty and others warn about.
One big shift in the data points to where some of all that new money is coming from. Software developers weren't even a category measured by the Census in the early 90s. Today, they come in fourth among rich millennials — and their presence in the top ranks has been increasing.
Alex Frommeyer, 27, is CEO of Beam, a dentistry tech and service firm that just raised $5 million. He believes technology will only exacerbate income gaps among millennials going forward, as fewer and fewer people will be required to generate increasing amounts of income. He pointed to the recent acquisition of WhatsApp by Facebook. Though the company employed fewer than 100 people, many of them became instant millionaires—and many of them were millennials.
"The scalability of technology has already shown that it can create massive amounts of wealth for a relatively small number of people," Frommeyer said.
Millennials with bachelor's degrees have the greatest share of their generation's One Percent, at 39 percent, compared with just 7 percent for individuals who only graduated high school and 10 percent for college dropouts. And 76 percent of millennial one percenters have at least a bachelor's degree — yet more evidence that it pays to stay in school, if you can get there.
Methodology: Fusion took income data from the Current Population Survey's March 2014 supplement for all 18- 34-year-olds in the U.S., regardless of earnings or school enrollment status. The Census' definition of "income" includes earnings, interest, dividends, and unemployment. Click here for their full definition.
Photo caption, from left: Elizabeth Holmes, 30, CEO of Theranos; actor Chris Hemsworth, 31; rapper Nicki Minaj, 32; basketball player Derrick Rose, 26; and Facebook CEO Mark Zuckerberg, 30.
@fusion
From Brazil, Chile, Costa Rica, Portugal and the UK we bring together skills in infographics, illustration, video, 3D, UX, game design, programming and above all a love of storytelling.
Rob covers business, economics and the environment for Fusion. He previously worked at Business Insider. He grew up in Chicago.