Randell Scott Jr. got out of his car and was walking to his friend's house in Cleveland when police officers spotted a gun in the waistband of his pants and ordered him to stop.
Scott Jr. told police that he had a license to possess the weapon. The officers told him to put his hands up, then to hand them over the can of beer he was holding. Then, according to a lawsuit later filed against the city, as Scott Jr. was complying with an order to put his hands behind his back, one of the officers fired a shot through his abdomen, sending Scott Jr. to the hospital in handcuffs.
This case, which was settled with the city of Cleveland for $540,000 last year, is one of the 70 lawsuits related to Cleveland officers being reviewed in a Cleveland.com series called Forcing Change. All of the cases being reviewed resulted in taxpayer payouts within the last decade, totalling millions of dollars paid out.
The series puts names, faces, and stories to the police encounters that never make national news in the way that the Michael Brown and Eric Garner cases did. It also amplifies the voice of ongoing #BlackLivesMatters protests by highlighting the sheer amount of incidents that exist within a relatively small geographical area.
G/O Media may get a commission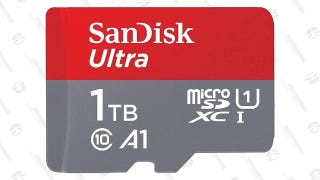 Save $75
SanDisk Ultra 1TB MicroSDXC Card
Cleveland admitted to no wrongdoing by settling in many of the lawsuits. Cleveland.com— home of Ohio's largest newspaper the Plain Dealer — says that "taken as a whole, the patterns that emerge from the cases match closely with the patterns of police behavior that were described in a U.S. Department of Justice investigation."
In that DoJ investigation, released in December, a pattern of excessive force and unnecessary and unreasonable use of force by the Cleveland Police Department was found. "We discovered that officers do not effectively de-escalate situations, either because they do not know how, or because they do not have an adequate understanding of the importance of de-escalating encounters before resorting to force whenever possible," the report read.
Just last week, the family of Tamir Rice, the 12-year-old boy who was shot by Cleveland police while holding a fake gun, filed an amended lawsuit against the city of their own, citing excessive use of force and wrongful death.
Here are a few other examples of the troubling cases that have been reviewed in the series:

City police draw guns on state prison corrections officer
There was an opening in the fence of a state prison, so Martin Robinson, a state prison corrections officer, was dispatched to make sure there were no attempted escapes. But around 1 a.m. on July 10, 2009, Cleveland officers drove into the area and got out of their unmarked cars. According to court records, Cleveland.com reported, Robinson ordered the other officers to stop approaching. He went to draw his gun on the city officers as they approached, but they beat him to it by pointing a gun at his head and handcuffing him.
During an ensuing lawsuit stemming from the incident, city lawyers said the officers' actions were justified because Robinson was reaching for his weapon. A federal judge commented: "The defendants say they should be able to come on state-controlled property at 1 a.m. and [be] permitted to beat a state corrections officer when that officer told the defendants to stop approaching an opening in the state prison fence."
In 2012, the city paid $900,000 to settle the case.

Officer kills unarmed man in apartment building stairwell
Cleveland police were investigating a possible drug deal when an officer fatally shot an unarmed Laray Renshaw in 2005. Police had attempted to arrest Renshaw, but he broke free, fleeing to a nearby apartment building. An officer followed with his gun drawn without waiting for backup, according to the ensuing lawsuit. Renshaw was shot four times.
Police said that Renshaw had reached for the officer's gun, and the city prosecutor ruled the shooting justified. The lawsuit said that "residents in the Collinwood neighborhood routinely ran from police because of numerous cases of white police officers harassing black defendants," according to Cleveland.com's report.
After the shooting, then-Mayor Jane Campbell directed police commanders to review tactics for approaching suspects and calling for backup.
Renshaw's family received a $50,000 settlement with the city in 2007.

Mistaken identity, and roughing up a woman
After playing a game of bingo with her sister, Linda Davis, then 58 years old, was stopped by two Cleveland officers when she dropped her sister off at her house. According to court documents, the officers ordered her to exit her vehicle, at which point they slammed her on the vehicle, asking her where the drugs were. She was handcuffed and placed into a police cruiser.
Davis had just undergone a back surgery, had a torn rotator cuff, and complained that the handcuffs were placed too tightly. The officers said they believed Davis had participated in a drug deal, but after searching the vehicle found nothing incriminating. She was removed from cuffs, and the officers reportedly told her they had been "protecting" her.
She left the scene hysterical, suffering from back spasms and a stabbing shoulder pain, according to the lawsuit. The city settled the case for $10,000 in 2005.

Shot in the back while sitting in a car
As Germaine Ware sat in his Impala, police thought he was connected to an emergency call about a man creeping around outside a woman's home. So when an officer arrived at the scene, he approached the vehicle, drew his gun, aimed it at the window, and ordered the man to turn off the car. But, the officer said, Wade lurched the car backward, at which point he opened fire, shooting Ware in the back.
"I thought he was trying to run over me and kill me," the officer later said in court. Ware was arrested at the hospital and indicted on a felony assault on a police officer and failure to comply with a police order, a misdemeanor. A jury later found him not guilty of the assault, but convicted him of the lesser offense.
Afterwards, Wade filed a lawsuit alleging the officer used excessive force. The city paid $70,000 in 2013 to settle the case.
"My life hasn't been the same since it happened," Ware told Cleveland.com about the incident. "I'm just really terrified of police."

Reaction from readers
Last Friday, marking the first week of the series, the editors posted a roundup of some of the comments they had received from readers.
"Nothing is going to change. Perhaps the so called righteous thug supporters should ride along with a cop in the 4th district on the night shift for a few months," wrote one commenter. "Then you will understand what our heroic police go through."
Another added: "This is exactly the coverage that this story deserves — CPD needs to clean up its act as the DOJ report — and other accounts — attest to."
Daniel Rivero is a producer/reporter for Fusion who focuses on police and justice issues. He also skateboards, does a bunch of arts related things on his off time, and likes Cuban coffee.