As a kid growing up on the nascent Internet, I thought a lot about how everything was, as they say, "just a click away." Friendly entomology professors at Midwestern universities, model railroad enthusiasts, pornography, cartographers, fellow fans of UCLA basketball. Any simple stumble through the web could produce a list of surprises that might come straight out of Gabriel Garcia Marquez's 100 Years of Solitude — specifically, the passage in which José Arcadio Buendía, the patriarch of the family, glimpses the following:

parrots painted all colors reciting Italian arias, and a hen who laid a hundred golden eggs to the sound of a tambourine, and a trained monkey who read minds, and the multiple-use machine that could be used at the same time to sew on buttons and reduce fevers, and the apparatus to make a person forget his bad memories, and a poultice to lose time, and a thousand more inventions so ingenious and unusual that José Arcadio Buendía must have wanted to invent a memory machine so that he could remember them all.
I mean, who has not watched YouTube videos of parrots singing arias or animal mindreaders? Or looked up the reality of a memory-destroying apparatus? The Internet is the machine Buendía wanted.
The present is dazzling. People all over the world are desperately producing tweets and snaps and posts hoping that you'll read and share them. Most media can be found by pulling one's thumb down on a screen and waiting for a new set of free cultural products to appear. Time itself seems stranger now, too, thanks to the flattening effect of the Internet. (The futurist Bruce Sterling calls our state "atemporality.") Go to the hippest Tumblr and you'll see strange futuristic visions from the 1970s, retro photos of people jet-skiing in 1950s Florida, paintings of 1890s Hong Kong using an ancient Chinese technique, and daguerreotypes of Civil War soldiers. Yet we consume them all together happily, unable to peel the onion skins apart, even if we wanted to. The National Security Agency keeps watch, too, building a dark registry in the shadows of the new Library of Alexandria that Jill Lepore describes being created at the Internet Archive.
The present is also dark. Every other book seems set in a dystopian world with too much technology destroying human dignity, or too little giving back all the genuine progress of civilization. The TV show we got most excited about this year, Black Mirror, depicted the ways that near-future technology will leave us disillusioned and despairing. In the present, it's hard not to be disillusioned by the many charlatans and thinkfluencers peddling bullshit in and around the tech industry. Consumed by the near-certainty that they will fail, the lucky few entrepreneurs who succeed rarely consider the ramifications of winning. The best monetary redistribution mechanism we seem to have is to enrich a few people with so many billions of dollars that they commit to giving almost all of it away.
At Real Future, we want to show you glimpses of the future alongside what we see of all the past eras. We can find the innovations and ideas that are going to carry forward in time and present them to you, alongside the rest of the timeline of technological development. We want to think about real futures. The ones where nothing goes according to plan, but Skynet doesn't take over, either. The one where everything is amazing and nobody's happy. Or maybe where everybody's happy but nothing's amazing. By loosening the present's hold on us, we hope to find new ways of thinking. Just considering the future can shift our perspective about this moment. Why else would Margaret Atwood set her latest book's release date 99 years from now?
G/O Media may get a commission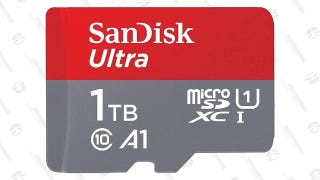 Save $75
SanDisk Ultra 1TB MicroSDXC Card
If this sounds vague and theoretical, trust that it's not. The core of our enterprise around here will be deep, interesting reporting about technology. But part of understanding how technology works is exposing the implicit or explicit political philosophies of the technology industry. So, yes, we will write about all the interesting stuff coming out of Silicon Valley. But we can't ignore racism, sexism, homophobia, jingoism. We can't overlook historical injustice just because there has been some progress that benefits everyone.
What tech gets made is organized by what people believe. If the mission of Fusion is to champion a more diverse, inclusive America, our mission is to champion a more diverse, inclusive future.
Our team isn't new to this kind of work. Kashmir Hill, who came to us from Forbes, has been the best writer on the freaky future of privacy and data for years. Kevin Roose, a New York magazine alum, created inventive, brilliant ways of telling stories about the start-up economy. Daniela Hernandez gained a deep understanding of artificial intelligence through a PhD in neurobiology and a stint at Wired. Cara Rose De Fabio is an artist who has created live experiences that critiqued and deepened her audience's sense of how technology worked within their minds. Pendarvis Harshaw has and will continue to cover the intersection of cities, justice, and technology.
Together, we want to help people understand the complex interplay of technical possibilities and ideas that come together to limit or open up different futures. The shorthand we've been using is that we're going to tell stories about the worlds we'll live in. And everyone in those worlds will be accounted for, not just those with geek bona fides or stock options. Too many technology stories are written from the perspective of the producers, and far too few about the users. (Who are the co-creators of all social technologies, anyway.)
Today's web launch is only the beginning. My 5 Intriguing Things newsletter about the future is transitioning to become Real Future's newsletter today (don't worry, subscribers, the format and content won't change). In the next couple months, we'll begin hosting live events. And in the back half of the year, the first season of our television show will appear.
We are small—just six people!—but we're hoping to leverage the incredible apparatus that Fusion is building with the help of its parent companies, Disney/ABC and Univision. We're making a bet that we can create groundbreaking journalism that finds the medium and audience it deserves. And that this will be a great business, too, as advertisers realize that they want to get in front of our community across all the platforms.
There are less risky ways of doing media. We could stick to trying to win the Facebook lottery, building audience in the spreadsheets of record. But we're going our own way, making most of it up as we go along, and we hope you're excited to help us create something that's worth caring about.