If you're a Wells Fargo bank customer, you might have had a bank account or credit card in your name that you never knew existed until the fines began to rack up.
For that and other supremely shady sales practices, Wells Fargo has agreed to pay a $185 million fine and fired more than 5,300 employees — roughly 1% of its entire workforce.
The Consumer Financial Protection Bureau announced the settlement, saying that Wells Fargo employees had regularly signed customers up for services without their consent or knowledge in order to hit sales numbers and receive bonuses.
"Because of the severity of these violations, Wells Fargo is paying the largest penalty the CFPB has ever imposed," bureau director Richard Cordray said in a statement. "Today's action should serve notice to the entire industry that financial incentive programs, if not monitored carefully, carry serious risks that can have serious legal consequences."
The bureau found Wells Fargo had violated the Dodd-Frank Act's prohibition on deceptive practices in multiple ways, including:

G/O Media may get a commission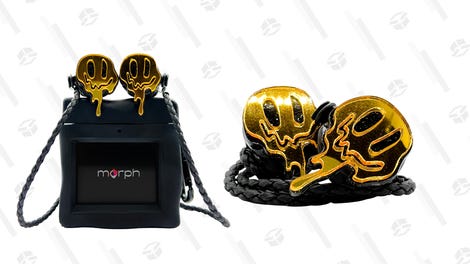 morph audio
Morph Earphones
Opening about 1.5 million deposit accounts without authorization and transferring money from customers' existing accounts to the new ones.
Applying for about 565,000 credit cards on customers' behalf without notifying them.
Creating debit cards for customers without their knowledge, including fake PINs.
Creating fake email addresses to sign customers up for online banking, again without their knowledge or consent.
Many customers suddenly found themselves suddenly getting hit with overdraft or insufficient funds fees for accounts they never knew existed.
The CFPB's investigation into Wells Fargo started with a lawsuit by Los Angeles' City Attorney's office that accused the bank of engaging "in unfair, unlawful and fraudulent conduct," particularly citing pressure on employees to meet sales targets. The lawsuit came shortly after a 2013 investigation by the Los Angeles Times that noted heavy pressure on Wells Fargo employees to meet goals for opening new accounts.
"We were constantly told we would end up working for McDonald's," former Wells Fargo employee Rita Murillo told the Times. "If we did not make the sales quotas … we had to stay for what felt like after-school detention, or report to a call session on Saturdays."
One of the examples cited by the Times included the story of David Douglas, who found out Wells Fargo employees used his birth date, social security number and forged signature to create fake accounts for him and some fictitious businesses. He learned of this only when they showed up on his credit report.
The $185 million fine, $50 million of which will go to the city of Los Angeles, may seem steep, but keep in mind that Wells Fargo is a company that reported more than $80 billion in revenue and more than $22 billion in net income. As of publication, the announcement does not appear to have affected their share price. This is probably not going to set them back much. Whether they make any changes as a result is a different story.
"We regret and take responsibility for any instances where customers may have received a product that they did not request," Wells Fargo said in a statement to Bloomberg.