Emails released to the watchdog group American Oversight by a FOIA request show that insanely corrupt former Environmental Protection Agency head Scott Pruitt's aides worried about exposing him to formaldehyde from an ugly, expensive desk months before blocking a report on the risk to the public from the same chemical.

The emails exchanged in spring of 2017 regarding the desk, which was part of Pruitt's $9,500 redecoration of his office, show that aides were concerned that the seller included a warning, required by California's Proposition 65, that formaldehyde used in the desk's glue could be carcinogenic.
Politico reports:
After seeing the warning, acting deputy chief of staff Reginald Allen reached out to Wendy Cleland-Hamnett, the career official then serving as acting head of EPA's toxic chemicals office [...]

"Sorry to bother you with this but we need some help. The desk the Administrator wants for his office from Amazon has a California Proposition 65 warning. What I am asking is can someone in your area tell us whether it is OK to get this desk for the Administrator related to the warning?" Allen wrote April 7 to Cleland-Hamnett and another career official in the office, referring to a California state chemicals law.
Allen was advised by Cleland-Hamnett that the desk was "likely to be fine," but suggested that it be assembled in a warehouse and allowed to sit for a few days to release most of the formaldehyde into the air before it was installed in Pruitt's office. It's unknown if the desk was ever actually purchased.
Only a few months later, Pruitt aides blocked a report from another EPA department that found, according to Politico, that "the levels of formaldehyde that many Americans breathe in daily are linked with leukemia, nose-and-throat cancer and other ailments".
G/O Media may get a commission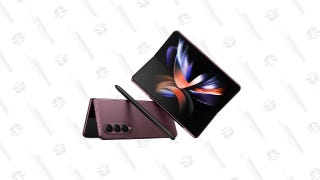 Save Up to $300
Galaxy Z Fold4
Politico writes:
The chemicals industry has fought the assessment, which could prompt federal and state regulators to issue new restrictions on the chemical, and could lead to class-action lawsuits.

POLITICO reported last month that Pruitt aides, including chief of staff Ryan Jackson and Richard Yamada, a top official in the agency's Office of Research and Development, blocked the report from going through necessary internal review steps, effectively preventing it from being made public.
Austin Evers, executive director of American Oversight, responded to the revelations in a statement to Politico:

You can add 'EPA chemical safety science' to the list of taxpayer funded benefits that Scott Pruitt kept for himself. The irony would be comical if this wasn't so dangerous. Months before Scott Pruitt blocked the EPA's report on the dangers of formaldehyde to public health, he got the benefit of EPA's safety experts looking out for his own health.
The hypocrisy this situation is so thick it you could choke on it. And you probably will, given that chemical industries avoided any further regulations they may have faced had this report come out as planned. Good luck, and try not to breathe.