What were the protests in Cleveland like this past weekend? That depends on who you ask.
On Saturday, Officer Michael Brelo was acquitted of the 2012 manslaughters of Timothy Russell and Malissa Williams. The two were unarmed when Brelo fired on them from the hood of their vehicle following a police chase that involved more than 100 officers. Russell and Williams were black, and Brelo is white.
Protesters gathered at multiple locations throughout the city after the verdict was handed down.
Some people gathered at Impett Park for a vigil in memory of Tamir Rice, the unarmed black 12-year-old who was shot and killed by a Cleveland police officer last November. The vigil concluded with a mock funeral procession that marched to the home of Coyahuga County Prosecutor Timothy McGinty, who protesters say has not made enough progress on Rice's case six months after the boy's death.
G/O Media may get a commission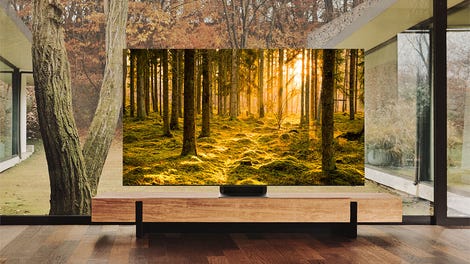 Up to 40% off
Samsung Smart TVs
"The morning protest was beyond peaceful," one of its participants, Ramon Rivas II, told Fusion over email. The stand-up comedian and self-described "lover of Cleveland" estimated that there were about 150 people in attendance, but that there were "more police and people watching on their lawns than protesters assembled."
The vigil group relocated to Cuddell Recreation Center, where Rice was shot and killed, in the early afternoon for some words from the Rice family. "The energy at Cuddell was a mix of sadness and anger and frustration," Rivas said, but again he described the situation as "beyond peaceful."
They were soon joined by a separate group that had marched from the Justice Center Complex in Downtown Cleveland. Rivas estimated that there were just over 200 people.
The protesters marched over the Detroit Superior Bridge and back down to the Justice Center later in the afternoon.
While protesters yelled at the cops during the march back Downtown, Rivas told Fusion that the gathering was "nothing approaching a riot." He said most were vocalizing frustration over what they felt was a needlessly high police presence at the march, which he documented in the following Instagram video.
Rivas stayed with the protesters, intermittently, until about 9:00 p.m. CST, when the group began marching towards Progressive Field by way of the Tower City Center.
By the time he left, Rivas says some "drunken folks" had mixed in with the protesters. At around the same time, the Cleveland Police Twitter handle tweeted that a man had been arrested for assault after throwing an object through a restaurant window, injuring a patron inside.
Police Chief Calvin Williams clarified that said object was a sign during a press conference on Sunday morning. He said that 71 people were arrested on Saturday night, a number that included at least one journalist and at least one alleged legal observer.
Charges, Williams said, ranged from felonious assault and aggravated rioting to the obstruction of justice. He cited the sign-throwing incident as evidence of those charges, along with other "incidents of protesters pepper-spraying patrons in restaurants"—a detail that various news outlets like TheBlaze seized upon in their coverage.
Unlike the sign-throwing incident, Fusion has not been able to locate photographic or video evidence depicting protesters pepper-spraying patrons in restaurants. This does not mean that said incident did not occur, but it is an important question to raise, especially in this heavily documented age of social media.
It is also important to view the Cleveland protests, and really any protest, as a series of related incidents involving multiple players. Ramon Rivas participated in many of Saturday's events for nearly 12 hours—a time that even Mayor Frank Jackson described as "peaceful" the next day—and he never witnessed any violence. Is his experience less representative of the day than that of the sign-thrower or the alleged pepper-sprayer?
When asked about the charges Chief Williams laid out, Rivas said that he did not witness any felonious assault or anything he would describe as aggravated rioting. As for obstruction of justice: "I…don't know what obstruction of justice is anymore because I don't know what justice looks like anymore."
Fusion reached out to the Cleveland Division of Police for comment, but had not heard back at press time.
Bad at filling out bios seeks same.