Tonight marks the final rounds of the 138th annual Westminster Kennel Club dog show – an international event whose mainstream coverage makes the glossy Puppy Bowl look like a YouTube vlog. Even though cats rule the internet, today is all about dogs, okay?
If you'll remember, last year's overall winner came as something of a surprise. Six-year-old Banana Joe, an affenpinscher, showed up all fabulously fluffy and confounding. What was he? An Ewok? Was he ugly or cute? The answer to all of those is yes, of course, and Banana Joe paved the way for future dark horse Westminster winners.
Banana Joe's victory said that no, you don't have to be some elegant, sturdy hound with a working purpose to take the top prize. You can be an obscure, small, crappy little guy with a name the average person can't really spell—and still spark a new trend for your peers.
So who is this year's potential Banana Joe? The best in each breed group will vie for the overall best in show live tonight from 8 to 11 p.m. on USA, and online at westminsterkennelclub.org.
The winner of each breed is competing for best in breed group throughout the course of the day to get that shot. So when you tune in to the stream – not if – here are a few unsung, possible new BBFs—breed best friends—for which you can be ready to cheer.
G/O Media may get a commission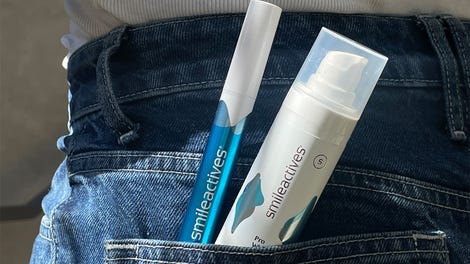 58% off
Whitening Powerhouse Pen & Gel Duo
Brussels Griffon
This thing is pretty darn close to the affenpinscher in overall Ewok-ness. So maybe it's too close to last year's champ. But still,look at that snarfy little face.
Portuguese Podengo
Listen, Westminster only allowed this rare breed in this year. I mean look at this face. So small. So hairy. So mutt-like and really not that fancy at first glance. Give him a dog food commercial already.
Chinook
This guy looks like he'd just say, "Hi I'm a dog," then loyally sit at your feet. But we have to include him because, like his Podengo buddy, this is the first year he's invited to the party. The Chinook is also the state dog of New Hampshire!
Xoloitzcuintli
We're rooting for the Mexican dog. Obvi. Plus it's hairless and kind of rat-faced, provoking those "not sure if ugly" feelings if you have no imagination or open mind about how dogs should feel.
Puli
Sure, this dreadlocked dude is good enough for the cover of a Beck album, but not good enough for a mainstream win? This could be your year, hairy one!
Chinese Crested
These guys win the annual World's Ugliest Dog contest almost without fail, mainly because they're prone to losing hair and teeth. But the real versions look like IRL Muppets! Please, we've got to hand them a win (and also send me one).
All photos by Getty Images.
Arielle Castillo is Fusion's culture editor, reporting on arts, music, culture, and subcultures from the streets on up. She's also a connoisseur of weird Florida, weightlifting, and cats.