It's been close to one month since the gossip site TMZ.com released audio recordings of Clippers owner Donald Sterling making racist remarks. And now it seems like just about everyone is making jokes about the basketball team owner.
On Sunday both singer Justin Timberlake and U.S. Secretary of State John Kerry took jabs at Sterling.
Kerry was only a minute into delivering his a speech at Yale University's Class Day when he brought up Sterling.
"You are … the most diverse class in Yale history. Or, as it's called in the NBA, Donald Sterling's worst nightmare."
G/O Media may get a commission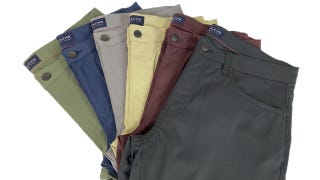 JACHS NY Fall Stretch Tech Pants
Timberlake received six Billboard Music Awards on Sunday but it was his "Top Artist" award that he was accepting when he took a jab at Donald Sterling, the Clippers owner embroiled in a racial controversy since tapes of him making racist remarks were released.
Timberlake began, "Wow, what an honor. The top artist? Unbelievable! All the other finalists- Miley, Imagine Dragons, Bruno, Katy- I love you guys. It's not a competition but if it was, I won! And guess what? I'm okay with that!"
"I want to thank everybody on earth. Everybody on earth. Except Donald Sterling," Timberlake, 33, said before walking away.
Another man who is more closely involved in the controversy also joked about the Sterling controversy on Sunday. Magic Johnson had some humor to share while delivering his keynote address at the National Restaurant Association Show.
"These last two weeks, I don't know," he said. "I thought I should go back to the food service industry because these last two weeks have been unbelievable.
"But I'm glad to be here and even with that said, I still have a big smile on my face."