On last night's "After the Final Rose" special, host Chris Harrison introduced America's next Bachelorette: Joelle "JoJo" Fletcher, Bachelor Ben Higgins' first runner-up.
In January, former ABC entertainment president Paul Lee strongly hinted that the next Bachelorette would be "diverse." (Full disclosure: Fusion is a joint venture of ABC and Univision.) Third-place finisher Caila Quinn—who is biracial, half white and half Filipina—was widely rumored to be the network's choice after she was spotted with a film crew in her Ohio hometown. This kind of last-minute reversal isn't without precedent. According to Sean Lowe, season 17's Bachelor, race car driver and Bachelorette alum Arie Luyendyk Jr. had taped segments for what would have been his own Bachelor season before he was replaced by Chris Soules in 2014.
But in all 20 seasons of The Bachelor and 11 of The Bachelorette, the franchise has exclusively cast white people in its lead roles—although there has been one Latino Bachelor, Juan Pablo Galavis. Caila would have been the first Asian Bachelor or Bachelorette in history.
G/O Media may get a commission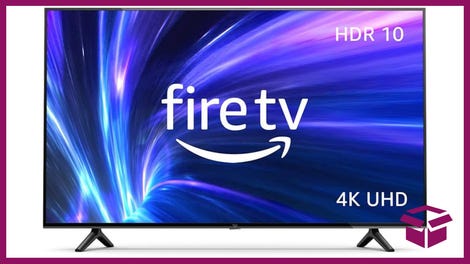 42% Off
Amazon Fire TV 50" 4K Smart TV
Caila's racial background became a topic of conversation on the show when Ben visited her family, who served traditional Filipino dishes to mark the occasion. Her mother, who is Filipina, asked Ben whether he'd ever met Filipinos before (he hadn't), while her father, who is white, somewhat uncomfortably enumerated the benefits of marrying into the "special Philippine community."
Many fans are understandably upset that the notoriously whitewashed show overlooked a promising candidate of color.
But the question of who constitutes a "diverse" Bachelorette is arguably more complex: JoJo isn't exactly the stereotypical white Bachelor contestant. A real estate developer from Dallas, she's half Persian on her mother's side. While Caila and her family spoke openly about her experiences as a hapa woman, JoJo's heritage was never mentioned on The Bachelor. She was effectively portrayed as white—and specifically as European—by default. But JoJo does discuss being Persian in her official Bachelor bio: "I'm proud of my mother's background despite what social opinions are. It's important for me to stand up to people stereotyping Iranians."
According to the current guidelines set forth by the U.S. Census Bureau, Iranian-Americans and other people of Middle Eastern descent are technically considered white. But that's a subject of much debate. In 2010, the Iranians Count movement encouraged citizens of Iranian descent to check the "Some Other Race" box on their census forms and specifically identify themselves as Iranian-American or Persian-American rather than white. Advocacy groups have lobbied the government to grant Middle Eastern and North African (MENA) Americans demographic recognition, and the U.S. Census is now considering a MENA category for inclusion in its 2020 survey.
It's unclear how JoJo personally identifies—and it's certainly worth noting that Middle Eastern Americans face more prejudice, as well as hate crimes, than people of European ancestry, especially given the current political climate—but Lee's comments had led many fans to expect a star from a visible minority background. Others are more than satisfied with JoJo's casting.
https://twitter.com/lifetime_orig/status/709570839344254976
JoJo's season will premiere on May 23. We have no doubt she'll make a great Bachelorette—and we hope she'll be given the opportunity to share more of her family's cultural background, if she so desires. But it's nevertheless disappointing that, even when the show had a clear, direct path towards casting a recognizable person of color, they still declined to take it.
Molly Fitzpatrick is senior editor of Fusion's Pop & Culture section. Her interests include movies about movies, TV shows about TV shows, and movies about TV shows, but not so much TV shows about movies.