Dear Fusion Money,
I've been job hunting for several months and recently had a strange experience with a potential employer. I applied for a job at this company and things seemed to be going well. I sent in my résumé, got a reply, and had a pre-screening call with HR. Then I went in for an interview with the hiring manager and his deputy, and we all really clicked. We exchanged cordial emails afterward and I had some more communications with HR. But then I stopped hearing from everyone for weeks. I sent an email to the HR rep to check in, but got no response. A few days later, I sent an email to the hiring manager and his deputy. Again, no response. I'm a little disappointed because I would have accepted the job if they had offered it to me. But even more than that, I'm confused. If I didn't get the position, why not just tell me? I thought dating was the only situation where people ghosted one another.
—Casper'd
Dear Casper'd,
If the potential employer ever did respond, he might say something like, "It's not you, it's me."
It's understandable to be upset or confused by job ghosting, especially if this is the first time it's happened to you. But in truth, job ghosting—unlike many instances of romantic ghosting—probably has very little to do with your application or worth as a candidate, and a lot more to do with what's happening on the other side.
Here are some possible scenarios:

The company is still interviewing candidates, because its hiring process moves like molasses.
An internal reorganization means everything's up in the air, including this job, and they don't even know what to say to you.
The job was put on hold because priorities changed.
A drop in sales means the company can't afford to hire any longer.
An internal candidate or a less expensive candidate was selected, and they don't want to have to explain this to you.
Someone key to the hiring process was stricken with a severe illness.
The legal department laid out instructions to not tell prospective employees that they were not chosen for a job.
They're overwhelmed and forgot to get back to you.
They're just rude.
Of course, none of these answers are satisfying, because they're all hypotheticals. The mere fact that you will never know why—WHY?!—they stopped corresponding will drive you nuts.
G/O Media may get a commission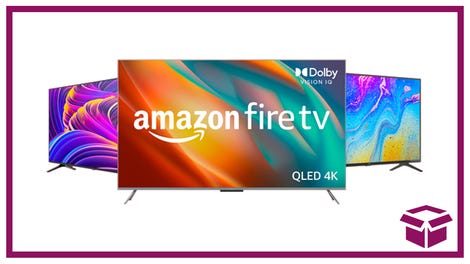 Ooh. stunning.
New Amazon Fire TVs
"It is VERY hard not to take a lack of response personally, but often that's the best/most rational thing to do," Susan P. Joyce, a career expert who publishes the web sites Job-Hunt.org and WorkCoachCafe.com, says by email.
Even if the company considers another candidate better than you, or thought you were a blathering idiot, so what? That just means it wasn't the right job for you. There are plenty of job-fish in the sea. Or something.
If you've been job ghosted, follow up a couple of times by email, and leave it there. The last thing you should do is badger the hiring manager or HR staff with questions about their lack of communication or what you could have done differently to get the job. Even if they're using sorry breakup tactics in a professional setting, you don't want to become the scorned ex.
The best advice we can give? Move on with your hunt and don't let the ghosting haunt you.

$$$ This is Fusion Money's advice column. The question has been edited for space and clarity. Here is the prior one. If you have a question about money—making it, spending it, wasting it, investing it or giving it away—please email askfusionmoney@gmail.com and we may feature it in a future column. $$$
I oversee Fusion's money section and have spent most of my time as a journalist writing about banks and finance. I live in Brooklyn with my partner Geoffrey & our two dogs, Captain & Tallulah. Favs: leopard print, Diet Coke, gummy candy, Ireland.