What does Oprah taste like? Fidel, Rayner, and I headed to one of twenty-seven neighborhood Starbucks to find out.
In between being a media mogul and part-time babysitter for troubled former legging magnates, Oprah carved out some time to debut "Oprah Chai Tea" in Starbucks and Teavana stores. Forbes, for one, believes the drink will "revolutionize the business of tea," because Oprah.
So what does her tea — which was "personally developed by Oprah Winfrey in close collaboration with Teavana's leading tea teaologist" — taste like? It tastes like tea. But also so much more. Because it's Oprah chai.
- Cinnamon (Sweet, yet spicy, this condiment likes to cuddle up with a warm mug of yak milk boba juice in a fair trade pashmina — and little else.)
- Ginger (This spice has traveled the world in a cashmere sweater set, and knows the best Pinterest board is in your heart.)
G/O Media may get a commission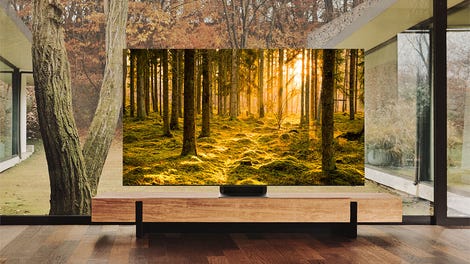 Up to 40% off
Samsung Smart TVs
- Cardamom (Vintage heirloom dishes purchased from a moonlit bazaar in her dreams makes this spice smile.)
- Clove ("Organic? More like orgasmic," this spice whispered into her bowl of organic, honey-infused whipped chamomile butter.)
- Loose-leaf black tea (She journals about her book club meetings with passion and panache, enrobed in a silk caftan and handmade Tibetan prayer beads.)
- Rooibos (Summer is a verb for this "broom-like member of the legume family," who enjoys collecting sea shells and lovers.)
But, really, it's just tea. And milk. Over ice, if you wish. And for every 2 ounces sold, Starbucks/Teavana will donate $1.00 to The Oprah Winfrey Leadership Academy Foundation.