David Bowie was one of the world's most prolific and talented pop artists. Over his lifetime, he produced more than 25 studio albums, changed the style of popular music, and sold more than 140 million records. At 69 years old, Bowie released his most recent album Blackstar on Friday, January 8—his birthday. He died two days later, following an 18-month battle with cancer.
Bowie is deeply loved by fans and critics alike. As a songwriter, he was erudite, witty, and catchy as all hell. As a singer, he had a voice recognizable through any amount of noise. He has been popular since the release of his song "Space Oddity" in July 1969.
But what did music critics write about this new pop sensation?  What did they expect would come of his career? What did Bowie say he wanted from his work? Here are some of the earliest mentions of David Bowie I could dig up in a LexisNexis search:

Billboard advertisement for David Bowie, August 1969
G/O Media may get a commission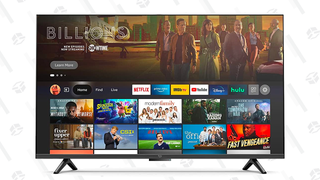 22% off
Amazon Fire TV - 50" Omni Series 4K - Early Access Deal
David Bowie wasn't an immediate sensation. Bowie formed his first band at age 15, playing rock-and-roll jams at weddings like any teen rocker. He performed with a couple bands after that, including one R&B group called the Buzz, which set the stage for Bowie to launch a solo career.
By the age of 20, Bowie had released his first full album, David Bowie: a kind of pop meets psychedelia experiment. It didn't chart. There is almost no press coverage of Bowie's debut album save for a couple of announcements of its release and a couple of advertisements by his label.
The real press coverage for David Bowie actually doesn't start until he released "Space Oddity" on July 11, 1969, five days ahead of the Apollo 11 launch.

New Musical Express, October 1969
Even with ads in Billboard from his label and a chart-climbing single in "Space Oddity," Bowie struggled to get his name in reputable publications as anything besides an ad.
Once his sophomore album was announced and a mid-November release date set, Bowie began to receive a little more of a spotlight.
A month before the release of the full album, Jane Nesbit wrote for New Musical Express: 

"Space Oddity," the strangely appealing, highly contemporary disc, inspired by Kubrick's 2001: A Space Odyssey, has given David Bowie the chart break he has waited five years for. […] David has already made a follow-up release and a new LP is on the way. So those of you who like David's highly individual singing style should be well satisfied."
Melody Maker, October 1969
As press copies of Bowie's new album began to make rounds, more journalists covered Bowie and his work.
In an October article for Melody Maker titled "A Mixture of Dali, 2001, and the Bee Gees," Chris Welch interviewed Bowie and previewed his upcoming album, writing:

[Bowie] has a refreshingly casual attitude towards the pop scene and is really more concerned with his work in the arts lab movement than his singles. […] David's current success could mean the start of a whole new career for an extremely talented and likeable person.
Welch mostly talks to Bowie about his art collective and how he feels about hippies (not good). But there is one gem of a quote from the singer:

"I still don't consider myself a performer […] I'm a writer. I really wouldn't like to make singing a full-time occupation.
That little wish didn't exactly work out. Bowie's sophomore album Space Oddity was released November 15, 1969.

New Musical Express, November 1969
New Music Express had one of the earliest interview/features of David Bowie. In the story, reporter Gordon Coxhill talks to Bowie about his stage presence, the success of "Space Oddity," and how he feels about the future. Most of the article (as many interviews with Bowie would end up) is straight quotes from the man himself saying things like "I've been the male equivalent of the dumb blonde for a few years, and I was beginning to despair of people accepting me for my music."
But Coxhill also throws in a few observations of how good an impression Bowie made, and how entertaining he was on the stage. As for predictions for Bowie's future, Coxhill wrote:

"At the moment, David seems to be the sort of person much needed in pop: full of original thought, a willingness to work, a hatred of the hard drug scene and class distinction in music, and common sense enough not the let the fame and adulation surely coming his way turn his head.

I'm sure he has been around long enough to withstand the pressures, and if he can't, he'll be wise enough to run."
Rave, January 1970
Despite the success of the initial single, though, Bowie's album initially failed on the charts. The album bore little resemblance to the song Bowie was by now best known for, and it failed to achieve the same kind of commercial success.
Critically, though, he was a darling. In January 1970, Julie Webb wrote for Rave Magazine: 

"He looks thin and pale and much younger than his twenty-two years. But the body and looks are not the important part of David Bowie—his mind is. He is one of the few pop singers today who has actually sat down and thought about life and developed his own philosophy.

You may not agree with him but you certainly cannot ignore him. He is mature beyond his years—doesn't lap up the superficial things about the pop business and often he just prefers to be left alone."
Of all the things early critics of Bowie liked, the fact that he was "smart" and "thoughtful" about the pop music he was creating was easily the most common. Bowie wasn't loved at this point for his sound and his music as much as he was loved for the brain that made it.

New York Times, July 1971
Though British magazines and newspapers covered Bowie some, in the United States, Bowie remained virtually unevaluated. In fact, Bowie wouldn't become a true Atlantic crossover until the release of The Rise and Fall of Ziggy Stardust and the Spiders from Mars in 1972.
But before that, Nancy Erlich gave Bowie his first New York Times mention in an article titled "Bowie, Bolan, Heron—Superstars?"
In it,  Erlich calls him one of the "first new superstars to appear" since the Beatles, writing:

"David Bowie is the most intellectually brilliant man yet to choose the long-playing album as his medium of expression. […] Bowie does nothing simply, includes nothing that is not meticulously thought out, its implications weighed, its emphasis calculated."
She goes on to dissect Bowie's sophomore release for its lyrical and composition value. Erlich—ahead of her time—already believed Bowie to be one of the greats. She concludes:

"The day will come when David Bowie is a star and the crushed remains of his melodies are broadcast from Muzak boxes in every elevator and hotel lobby in town."
David Bowie is a star now. And though his songs might play in elevators today, no one could crush his melodies.
First Reviews is a series that finds and evaluates early critiques of now-popular and well-respected artists.
Kelsey McKinney is a culture staff writer for Fusion.