Former FBI Director-turned-#Resistance fighter James Comey is ready for his black and white close up. Today, Comey tweeted a new promotional video for the Washington Speakers Bureau, a for-profit agency that provides former politicians and famous people with a second career doing lucrative speaking engagements.

The video is part of an ad campaign called "Speech Moves," which the WSB has framed as a "groundbreaking movement" called "Speech Moves." Here's how the WSB describes it:
Speech Moves is a non-partisan movement to reinforce the power of speech. Social media has become a massive influence in our society. It allows people the freedom to share their opinions with the world, but also provides a veil of anonymity. As champions of the shared idea for nearly four decades, WSB developed the Speech Moves movement as a reminder that what you say matters regardless of where you say it.
That's not how movements work!!!
G/O Media may get a commission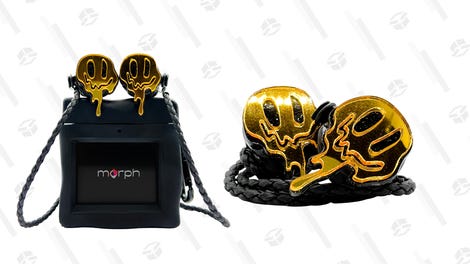 morph audio
Morph Earphones
The video begins with a man saying, "I believe in the power of humanity. I believe in the power of speech. It moves." Then, a host of famous faces add their voices to the mix.
"It empowers," Madeleine Albright—who, as Secretary of State under Bill Clinton, favored empowering America's military all over the world and knew that you've got to break a few eggs (or kill hundreds of thousands of Iraqi children) to make an omelet—says.
Beats later comes Comey's debut: "It validates." (We're still talking about very expensive speeches here.)
Then Tony Blair, the blood-soaked former British prime minister, makes a mystical appearance (mystical because I can't fathom who would pay to hear from him in the year 2018) to say, again about "speech," that "it unites."
Caitlyn Jenner, the Olympic boxer Sugar Ray Leonard, and the American soccer champion Abby Wambach also make appearances in the video.
"Speech moves," Comey, clearly a new high-profile feather in the speaking bureau's cap, says to finish things out.
This is good stuff from the guy who used his gift for gab to help boost Donald Trump just before the election and who, during his career, signed off on waterboarding at Abu Ghraib, warrantless wiretapping, and indefinite detention. And, if you've got the dough, he could be bringing all that free speech expertise to address a neoliberal think tank in a convention center near you!