Do you ever wonder what would happen if Kanye West tweeted at you? Or Deadmau5 liked you on Instagram? Well how about Skrillex name dropping you as an artist to watch? That's just what happened during Skrillex's Reddit AMA (Ask Me Anything) on Friday.
Skrillex was answering questions on all topics, submitted by fans, and talking about musical styles, influences and things he liked.
Skrillex said:
"For people who are into the harder "dubbbbZZZsTEppZZYYY BosSTEPZ" sounds.. im really fuckn' with these kids right now! Super unknown but SO raw… https://soundcloud.com/dubloadz https://soundcloud.com/trollphace
(screenshot of the AMA section)
Since the link went up the two artists mentioned, Dave Nardolilli of Dubloadz and Trollphace (a.k.a. Rusty Shackleford), have found life rather different. Page-views of their music have gone up, their listening counts are now in the thousands. We spoke to Trollphace to see how he's handling his newfound "Reddit" fame.
G/O Media may get a commission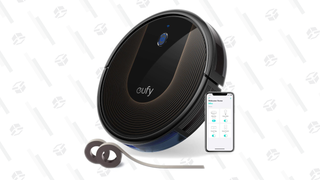 48% Off
Eufy BoostIQ RoboVac
How did you find out that Skrillex posted your name on AMA?
Almost immediately after it happened my computer was totally swarmed with messages and blings and bloops and beeps and notifications so much so that it crashed Google Chrome and Skype. This lasted hours. Completely overwhelmed with support :)
How do you feel?
The feeling is pretty surreal to be honest. This has actually come with a wave of other awesome experiences and opportunities recently so I can't stop thinking about how big this snowballing effect is for everyone involved with this corner of the scene. Its like, maybe this our chance to break through and I don't know, maybe one of us get booked for a major festival. We've seen venues with 1,000 kids raging produce more energy than a festival with 10,000+ people, I want to see what we as a group can do with that kind of platform.
How much has this changed your follow count and views?
I received a flood of new fans and plays across the board. The first 24 hours I got 100,000 plays on my SoundCloud alone. Mind boggling really.
How do you feel about being called unknown?
I'm totally fine with it. I don't really expect anyone to know who I am… every new fan is a blessing and they come when they come. I just sorta do my thing and if you dig it, I'll do everything I can to keep you there. At the same time its pretty motivational to keep going, like see how far i can go now.
Would you agree with the description of your sound as raw?
Absolutely. The sound I primarily focus on I can only really describe as like "thrasher tear out" sounds so me and the boys call it Tear Out, along side this "swaggy" wonky old school approach on new school sounds style that I do for the ones that just wanna roll up one up and just vibe. But when its tear out time, I am to completely devastate what you thought heavy was. Raw, violent, etc.
Will we be hearing more from Trollphace this year? Probably.. if he keeps the audience Reddit and Skrillex helped him get.