We're used to seeing Mary-Kate and Ashley Olsen hidden behind their oversized sunglasses. Maybe that's why, when they posted their first-ever public selfie two weeks ago, they opted to keep the shades on. The photo was black and white with a blank background. The sole indicator that this was in fact Mary-Kate and Ashley was the twins' signature pouts. And only a diehard fan would know Mary-Kate was on the right, with the more pronounced bone structure, and Ashley was on the left, with the slightly larger nose.
The internet went crazy over this, a rare example of the Olsens' engagement with their fans. The former child stars have no public social media accounts—the selfie was posted when the twins took over Sephora's Instagram to promote their clothing and beauty brand Elizabeth and James—and they haven't given an interview since 2014. For the past 10 years, the Olsen twins have taken the reins behind the scenes in the fashion industry, making coveted luxury basics, appearing on the red carpet at the Met Gala, and winning CFDA awards.
But more than 20 years after Full House, the world is still fascinated with Mary-Kate and Ashley Olsen's every move, perhaps even more so now than ever. The pop-up museum The Olsen Twins Hiding from the Paparazzi, curated by Brooklyn comedians Matt Harkins and Viviana Olen, hilariously explores our Olsen fixation.
Funded in full by a Kickstarter campaign, it features Laura Collins' paintings of the fraternal twins dodging the cameras. Collins' paparazzi-inspired portraits depict the twins with their faces obscured, under purposely generic titles like "An Olsen Twin Hiding Behind a Pack of Cigarettes."
G/O Media may get a commission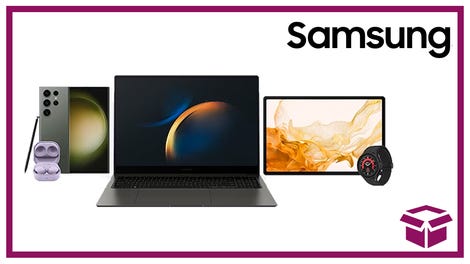 24 hour deals
Discover Samsung - Daily Deal
In real life, the only time the Olsen twins willingly appear in photographs is on the red carpet, dressed in their idea of formal wear: black and oversized, usually swallowing their petite frames. Otherwise, the public just catches rare glimpses of them smoking outside of their fashion label The Row's New York City offices or camouflaged behind designer bags. Sometimes, we've even known who they're dating—judging by who happens be spotted next to them on the street or the red carpet.
"Elusive," and of course "chic," are the words that almost everyone I talked to at the exhibit used to describe their continuing obsession with Olsen twins even now that the 29-year-old sisters avoid the spotlight. "They grew up in the public eye, as many child actors have, and they made a stand and were like, 'We're done,' but I feel like the entire world will not let them go," artist Laura Collins told me. "They are very private and I think that makes them very fascinating to people. They don't really care about what the standards of celebrity are."
The Olsen Twins Hiding from the Paparazzi isn't just an homage to Mary-Kate and Ashley, but a creepy, kitschy funhouse that explores two reasons why we obsess over celebrities: knowing too much and barely knowing anything at all. The exhibition is inside a dingy Williamsburg doctor's office that could double as a hideout spot for paparazzi or a lair for a crazed fan turned stalker. Down the dimly lit hallway, indoor palm trees create a tableau you could imagine a paparazzo crouching behind to get a tabloid-ready shot.
Olen and Harkins, who previously opened a museum dedicated to Nancy Kerrigan and Tonya Harding inside their apartment, were inspired to launch the exhibit when they saw Collins share one of her very first paintings of the twins on Instagram. "Originally we were like, 'How are people not freaking out about this? Let's see if anyone else is freaking out,'" said Olen.
The exhibit features a room dedicated to Mary-Kate's wedding to Olivier Sarkozy with an installation by artist Lauren Brescia. Bowls and bowls of gold-leafed cigarettes sit on a black and gold table with white flowers, a nod to the rumored decor at the couple's smoking-friendly reception.
Then, completely opposite from the twins, there's the oversharing side of fame. Inside the exhibit, there are three interactive rooms devoted to exploring this impulse. There's an Olsen nostalgia room with binders and binders full of photos from magazines and tabloids from a time when fame was actually their thing, posters from some of their popular movies like Billboard Dad and Holiday in the Sun, and Mary-Kate and Ashley Barbie dolls, still in their boxes. There's the "Selfie" room, with a hilarious painting of Kylie Jenner trying to wink and an enormous Birkin bag and Blackberry—for you to take selfies with, duh! And then there's the Lisa Vanderpump Confessional Stump room, which encourages you to expose your secrets and post them on Snapchat.
The museum curators are fond of both styles of celebrity, the intensely private and the intensely public.
"You're solidified as iconic when you let no one in, but thank God for the Housewives [and other reality stars]. Without them, we'd have to focus on our own problems all the time. It's like football for people like us," said Olen said.
The Olsen Twins Hiding from the Paparazzi is open until May 1st.
Tahirah Hairston is a style writer from Detroit who likes Susan Miller, Rihanna's friend's Instagram accounts, ramen and ugly-but cute shoes.