Black students at The University of Missouri had a big decision to make when they woke up this morning: go to class or stay home.
"I definitely feel afraid," said Danielle Walker, a graduate student in Mizzou's public affairs department who stayed home today. "I'm also confused and wondering what Mizzou is doing to ensure the safety of black students."
"I don't subscribe to a culture of fear," a junior majoring in journalism told me as he walked to class. "If you stay home, they win." He did not want to be named for this article.
Since an anonymous user on the social networking site Yik Yak threatened University of Missouri's campus Tuesday night, black students and professors here have expressed concern for their safety. The school was noticeably quieter on Wednesday, and the protesters camped out on the quad for a week have finally cleared out. Later in the day, police said they identified and arrested a suspect: a 19-year-old undergrad named Hunter Park, who was apprehended at a satellite campus 100 miles south.
G/O Media may get a commission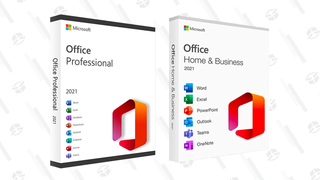 89% off
Microsoft Office Professional 2021 Lifetime License
"I was already receiving slight threats because of my role leading protests on campus," said Walker, who led several actions in September and October to raise awareness about what she perceives as a problem of racism on campus.
"[The President and Chancellor] are gone will you stop terrorizing our school," was one of the threats Walker received in person since Mizzou's president, Tim Wolfe, and Chancellor R. Bowen Loftin stepped down from their positions on Monday.
Canceling class is up to the discretion of professors, but Charles Menifield, the associate dean of Mizzou's Public Affairs told me, that at least three black professors had done so. "Parents trust their kids when they send them to college," Menifield said. "And we're like their parents when they get here, so they need to see that we care."
Walker said she and her friends are disappointed in professors who did not cancel classes. "Some professors don't understand the privilege of being white," Walker said. "They're not active targets," she continued. "And that transcends being black at Mizzou."
Not all black students expected or wanted class to be canceled.
"People have to resume normal lives," said a junior Journalism major from Kansas City, Mo. who did not want to be named for this piece. "Why not today?"
Another student saw it as a financial issue. "I'm paying a lot to go here," said Steven Deshazer, a Computer Science major. "I don't have class today but they better not cancel it tomorrow."
Deshazer conceded that he did think about an attack. "I have to go to work at the rec center and I had the thought something might go down," he said. But Deshazer, who is about to graduate, says that he can't think too much about it. "I don't want to mess with my future," he said.
But others saw themselves fighting for a larger cause. "If we aren't scoring touchdowns, the university does not care about us," said Jorden Giger, a first-year graduate student at Mizzou who stayed home from classes Wednesday. "We are either despised or tokenized and treated as property."
Collier Meyerson is a reporter at Fusion with a focus on race and politics. She lives in Brooklyn.