DES MOINES, Iowa—"It's our biggest problem," 26-year-old Arnold Woods III said sheepishly, his head hanging over the remnants of a cheeseburger and truffle fries from an upscale Des Moines eatery. "Profiling of African-Americans in Des Moines, it's a huge problem."
Two nights before, Woods, an Iowa State University graduate who works in the admissions department of a nearby public school, sat down with me at another restaurant and recalled his experiences with racial profiling. His voice lowered a bit, as if not to grab the attention of the all-white patrons around us.
It was a couple of months before the Iowa caucuses, when this overwhelmingly white state will gather to start the process of selecting the next president. Woods was talking about what it's like to be part of the tiny minority—just 3.4%—who are black. He told a story from a past campaign.
"It was 2008, and I was doing canvassing for the Obama campaign in West Des Moines," he said wearily, referring to an overwhelmingly white suburb. One day, as he was out knocking on doors, he spotted a police car approaching him from down the street. The officer made a U-turn and pulled up alongside him. "'What are you doing in this area? Let me see some ID. What's in your bag?'" Woods remembered the officer grilling him. The only things in his bag were canvassing materials.
Woods talked about the experience with palpable angst. "Once you're in that moment and you see the cop with the buzzcut and sunglasses, you don't know how you're going to react," he said. "And I just froze." Woods insisted that his encounter with a white police officer in the white part of town was no different than any other black man's in the country.
G/O Media may get a commission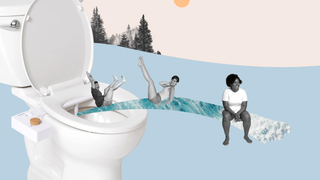 17% off
Tushy 3.0 Warm Water Spa Bidet Attachment
The Obama campaign, he said, helped him file a complaint with the police department, but the very next day, the same thing happened, this time in a different overwhelmingly white suburb. Twice in two days was too much for Woods. He turned in his materials and quit working for the campaign to elect America's first black president. Obama went on to carry Iowa twice.
Engaging in politics is not new for Woods, who moved to Des Moines at 7 years old. Every election cycle, campaigns and candidates descend on Iowa, hoping to influence voters and get a chance at their first substantive win: the Iowa caucuses.
But for black Iowans, this election is markedly different. After more than a year of protests calling attention to state violence against black citizens, campus protests against racism, and dashcam videos of police assaults on black drivers, the mirror is being held up to every American city with a sizable black population.
In that way, Iowa is no different. More than 25 percent of Iowa's prison population is black. Black juveniles in the state are arrested or suspended from school nearly five times as often as their white counterparts, according to the AP. And an ACLU report ranked Iowa worst in the nation in racial disparities of marijuana possession arrests. When asked about these issues, Woods and his friends said a lot of the disproportionality stems from the profiling of young black men.
Iowa's black population of 3.4% is measly compared with 13.2% nationally. But Des Moines is a little different and more reflective of America's demographics. The city is 10.2% black, the largest concentration in the state. And it's an upward trend: A report by the State Data Center of Iowa indicates the city's black population grew by almost 7,000 between 2000 and 2013, from roughly 16,000 to 23,000.
Still, one report named Des Moines the ninth-worst place to live if you're black. The corporation that led the study, 24/7 Wall St., listed high unemployment and low homeownership rates as reasons.
As the caucuses loom, at least some presidential candidates are addressing the state's small black communities. Earlier this month, Sen. Bernie Sanders visited the Sunday service at a black church in Waterloo. A month before, he made an appearance in Des Moines with civil rights leader Cornel West.
In September, Hillary Clinton met with Des Moines-based legislators, ministers, and community leaders. Congressional Black Caucus members Emanuel Cleaver and Marcia Fudge have stumped here for the former secretary of state. Republican Sen. Rand Paul has used stops in Iowa to talk about racial disparities in drug laws, voting rights, and the chokehold death of Eric Garner in police custody in 2014.
But the national attention doesn't mean life for black people in Des Moines is getting any easier. Iowa is situated between Missouri and Minnesota, two states that have made national headlines for protests stemming from significant problems between police and black citizens: Michael Brown's death in Missouri and, more recently, Jamar Clark's in Minnesota. But Des Moines has largely stayed out of these rallying cries for change.
"It's a quieter racism here," Woods said of the city he's called home for 20 years. His friends told stories black Americans tell daily: They get looks in predominantly white neighborhoods, their loved ones are pulled over for no reason, they're stopped for no reason, encounters with white police officers are tense.
I sat down for a dinner with Woods and some of his friends over pink lemonades at a trendy Des Moines restaurant. "In high school, I counted 13 run-ins with the police," said Eric Hall, 26. "Nine of those felt like real intimidation."
Another friend, Alexis Andrews, an admissions counselor at a nearby college, talked about a small group who marched to the Des Moines police department over the summer to deliver a letter demanding a stop to the profiling and criminalization of the city's black residents.
The letter, drafted by a group calling themselves "Citizens of Des Moines" and #EvenDesMoines, read: "We, as Des Moines area citizens would like to bring attention to the ever-growing concern of unlawful police profiling and criminalization of Black women, men, and children here in Des Moines." It continued, "Black people are wrongfully incarcerated, profiled and criminalized at high-rates."
Andrews, who was there, said the police refused to let the protesters in to deliver the letter to the police chief, Dana Wingert. The group, Andrews said, was instead instructed to disburse and give their letter to an officer who met them outside.
Kaija Carter, who is not associated with the Black Lives Matter Network but considers herself a Black Lives Matter organizer, said that members of her organizing group are also responsible for raising awareness around Meagan Taylor, a black trans woman who was visiting Iowa in July and was arrested on suspicion of engaging in sex work. Carter worked with other local activists to alert the media and enlisted the help of lawyers to get her out of jail in just over a week.
And that's just where the Des Moines NAACP is concentrating its efforts. The police, said the branch's president, do not collect data on race and stops, but agreed to start after a meeting with the civil rights organization. Fusion reached out to the Des Moines police but did not hear back by time of publication.
The organization is also working to produce a piece of legislation that would "ban the box," referring to the section on some job applications that asks about an applicant's criminal record. "Our idea is that it can be asked but shouldn't be asked on application," said Arnold Woods Jr., president of the Des Moines chapter and the father of Arnold Woods III.
The lead-up to this year's caucuses feels different to Woods, but he isn't sure how much of an impact Iowa will have on the rest of the country. With weeks left before votes are cast Feb. 1, Woods said he was "encouraged" by Sanders' speeches but still undecided on whom to support.
"I want to see a candidate who is invested in changing the justice system that discriminates against blacks so much," he said. "I want to hear a candidate talk about Tamir Rice. But beyond that, talk about what they're going to do to make sure that when police officers kill unarmed black people that the justice system doesn't do everything it can to exonerate the police officers."
Join us live on Jan. 11 at 8 p.m. ET as Fusion hosts the 2016 Brown & Black Democratic Presidential Forum from Drake University in Des Moines. The forum will focus on where the candidates stand on issues that matter most to America's growing multicultural population. Tune in to Fusion's cable network, or watch the livestream on Fusion.net, Facebook, and YouTube. And download the Fusion app and join the conversation during the forum. Available on iOS and Android.
Collier Meyerson is a reporter at Fusion with a focus on race and politics. She lives in Brooklyn.