WASHINGTON—The seven former federal inmates knew they were visiting the White House to talk about their experiences with senior administration officials.
But as they sat in the Roosevelt Room on Wednesday, they didn't realize that another guest was coming to see them.
"All of a sudden, the door busts open and we hear, 'How's everyone doing?' and the president walks in," Philip Emmert, who served 14 years for a meth sales charge, remembered. "He said, 'I have a little spare time, so let's go out to eat.'"
That led to a possibly unprecedented lunch with Obama and the seven former inmates, all of whom served years for nonviolent drug charges and had received presidential clemency.
"Two months ago I was sitting in a cell, and today I was eating lunch with the president," Angie Jenkins, who was granted clemency by Obama in December after 17 years in prison, told me. "My heart fell to the ground."
G/O Media may get a commission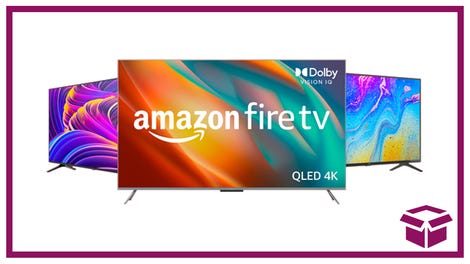 Ooh. stunning.
New Amazon Fire TVs
The lunch with Obama was the highlight of a big week for clemency in the capitol: that same day, the president announced that he was commuting the sentences of 61 more inmates. The next day, dozens of former federal inmates, many of whom had received presidential clemencies, were honored at a ceremony at the Open Society Institute, an advocacy group started by George Soros.
They then attended a policy briefing at the White House on Thursday afternoon, in which they shared their stories with senior administration officials and discussed how the justice system could be improved. That night, they were invited to a dinner sponsored by Google.
The renewed focus on clemency comes as Obama strives to make the most of his last 10 months in office. While criminal justice reform efforts are stalled in Congress, many see the clemency power as an opportunity for the president to make real changes for federal inmates.
So far, Obama has granted 248 clemencies—more than any other president since Franklin D. Roosevelt, but far less than the 10,000 that administration officials at one time predicted.
At the lunch, Obama got to meet three of the individuals he had given freedom, along with four others who had received clemency from Presidents Bill Clinton and  George W. Bush. The former inmates who met with the president described feeling a combination of utter shock and joy. "You knew he was the president, but he made you feel so comfortable and welcome," Jenkins said. "I told him, 'Today you made me feel like Cinderella.'"
After Obama surprised them in the Roosevelt room, the group rode along in his motorcade, shooting through downtown D.C. to Busboys and Poets, a restaurant that employs formerly incarcerated people. Over sandwiches, they talked to the president about their lives.
"I sense that he really does care," said Emmert, a former veteran who was one of the few inmates who received clemency from George W. Bush. "He said he's going to do more [clemencies], he said he's just getting started."
The former inmates said Obama asked them a lot of questions, focusing especially on the barriers they faced or were facing once they got out of prison. "I was telling President Obama about the difference it's made to have a job waiting for me already when I got out," Jenkins said. She's now working at a wholesale company in Oregon.
Each had their own message to give the President. "I said to him, you're only one person, you can't save the whole world, but Mr. President, just save who you can," Norman Brown, who served 22 years before getting a clemency from Obama last year, remembered.
Ramona Brant, who served 21 years of a life sentence before being granted clemency by Obama in December, said it took her a minute to realize she was actually sitting next to him—especially because she's still living in a halfway house and is still in the custody of the Bureau of Prisons.
"I thanked him for believing in me," Brant said. "I promised I would never let him down, he would never have to worry about his name being tainted for signing the paperwork allowing me to be free."

---
For the larger group of former inmates who visited the White House on Thursday, it was a day of mixed emotions—joy at being free and sadness for the friends who were still behind bars.
"Merry Christmas!" proclaimed Rhozier "Roach" Brown, 71, as he stood in line to get into the White House. He wore a blue suit with gold buttons, a naval captain's hat, and a white mustache. "Every day is Christmas on this side of the fence."
Brown, who was convicted of murder in 1965, applied to President Nixon for clemency several times and was denied. But President Ford accepted Brown's petition on Christmas Day 1975 (after pardoning Nixon).
Clemency, Brown told me, was "like reincarnation"—"You go from the darkness to the light," he said.
In his lifetime, he stressed, he had never seen the kind of attention in the general public to criminal justice reform and helping former inmates.
Inside the briefing room in the White House's Eisenhower Office Building, as attendees waited for the event to start, there were shouts of recognition as inmates who served time at the same prison saw each other for the first time in years. Especially among female prisoners, several said, there's a sort of sisterhood that lasts much longer than a sentence.
Sitting in the back of the room was Phyllis Hardy, 72, who was released from prison last year after serving 23 years on a drug charge. Female inmates who served with Hardy gave her hug after hug, calling her "momma" and "grandma," and the pearls around her neck shook as she embraced them.
"You do a crime, but that doesn't mean it has to define you for life," Hardy told me. "God gives us a second chance, so why can't us humans learn to help each other too?"
Many of the speakers at the briefing talked about "survivor's guilt," how it felt to leave behind friends still in prison, who didn't receive clemencies. Meanwhile, interns walked around the edges of the room offering much-needed boxes of tissues.
Former inmates also talked about the challenges of re-entering society. Brant, who has been living in a halfway house in North Carolina since she was released in February, said that until last week she was planning to live with her son. But then she realized that she couldn't get her name added to the lease because she was an ex-felon.
At the briefing, which was livestreamed online, senior advisor Valerie Jarrett vowed that Obama would continue granting clemencies, and condemned people who objected to criminal justice reform. "There are people who are entrenched in the status quo, let's face it, there are people who like things just the way they are. I don't know how they have the mercy to call themselves, often times, people of faith," she said.
"You know, we're getting near the end of the term so we say all kinds of things we might not have said," Jarrett added to laughs.
Perhaps the most emotionally resonant moments were discussions of what Obama meant to people behind bars. Shauna Berry Scott, who served 10 years before a commutation from the president in 2015, remembered election night in November 2008. "When they announced he won, there was such a roar that the building shook," she said. "That election was so electrifying, it was like everyone in the building was jumping up and down and screaming."
As she started to break into tears, Berry Scott quoted James Baldwin: "The very time I thought I was lost, my dungeon shook and my chains fell off."
Obama's election, to her, meant freedom. "I knew he was going to be the fulfillment of so many of us getting out of there," she said.
Casey Tolan is a National News Reporter for Fusion based in New York City.