I haven't swiped in, like, two months," said Gabriel*, a 24-year-old who grew up in the small West Texas town of Marfa, known for its art scene and its remote location several hours from any major city. We were sitting in a coffee shop, listening to a '90s Pandora station; I was trying to get Gabriel to sign into Tinder, and he was trying to tell me there wasn't really any point. Eventually, Gabriel signed and instructed the app to look for men aged 18 to 30 within a 10-mile radius. Nothing. Then a 30-mile radius. Tinder's red circle blinked forlornly, like a radar seeking out a target that didn't exist. There are no new matches in your immediate vicinity, the app informed him.
"So, yeah," Gabriel continued. "That's what it's like here."
If you believe most of the overheated rhetoric around Tinder, you wouldn't think that this sad screen existed. Most writing about the dating app and its ilk focus on the promise and perils of abundance, and how the seemingly endless stream of strangers' smiling faces is either empowering or soul-destroying. "You can swipe a couple hundred people a day," one manic New York City Tinder-ite said in last summer's hand-wringing Vanity Fair article. "Apps like Tinder and OkCupid give people the impression that there are thousands or millions of potential mates out there," a psychology professor told VF writer Nancy Jo Sales. But in rural areas, it turns out, that illusion is difficult to maintain—and you reach the end of Tinder pretty quickly.

🌾💕🌾💕🌾
When I first started asking about Tinder in the small, rural towns near where I live in West Texas—as well as other, similarly remote areas—the response was underwhelming. A lot of people told me they didn't use dating apps or sites. They didn't see the point. "I've always lived in smaller places where it feels like I know everyone anyway," a 23-year-old living in Alpine, Tex. (pop. 6,054) told me.
G/O Media may get a commission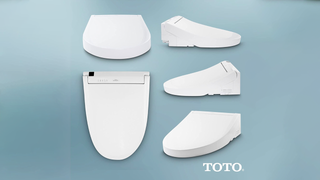 44% off
Toto Washlet Electronic Bidet Toilet Seat
Instead, people told me they met their partners the way people did in the decades before the internet: They dated people they went to high school with, or their high school friends' cousins, or their cousins' high school friends. "It's slim pickings," says Elizabeth Simmons, a 35-year-old who spent some time dating online in Cassville, Mo. (pop. 3,267), a small town near the Arkansas border. "It's like, this person and this person went to high school, so they get married. And this person and this person grew up together, so they get married. The ones that are leftover…There's sometimes a connotation there. You don't really want to date them."
Part of the appeal of dating apps, at least in urban areas, is the fantasy that your ideal partner is just a few neighborhoods away, but you never cross paths because she's spending her mornings at a different coffee shop and her evenings in a different bar. To a certain extent, this was true, at least for much of the past century; a number of mid-20th century studies found that even people in urban areas were overwhelmingly likely to marry people from their own neighborhoods. Online dating revolutionized romantic matching by offering a way to overcome the trap of geography.
But if you live in a place where the entire population is smaller than the size of some urban high schools, the fantasy that the person of your dreams is so-close-but-so-far is harder to sustain. In a two-bar town, you know everyone—or else you'll meet them soon enough. I asked Gabriel how dating usually worked in Marfa: "You see somebody across the bar, and instead of going to talk to them you add them on Facebook the next day," he said. "If I don't know who you are already, then I definitely know people who know you."
And then there's the issue of the awkward post-date run-in. If you have a bad date in an urban area, you can feel fairly confident that you won't have to see the person again. But in a small town, it's almost guaranteed. "Wal-Mart is like the hub for everything," Simmons said. It's where you run into exes, or your exes' exes, or that guy who sent you creepy messages over Tinder.
In order to avoid the claustrophobia of the small-town dating pool, rural daters do what they can to cast a wide net. While city dwellers may be unwilling to travel more than a couple miles for a date, rural Tinder users often set their radius at the maximum.
Matthew Velez, a 20-year-old EMT in the dusty highway stopover town of Van Horn, Tex. (pop. 1,960), met his first boyfriend through Grindr when he was still in high school. He lived 170 miles away in Odessa, an oilfield town 150 miles northeast of Van Horn; they chatted all the time, but only saw each other every couple months. These days, Velez's closest matches are often 130 miles away in El Paso.
"It's kind of hard," he told me. "I'll message a guy in El Paso, and he'll see my distance and not be into it because I'm so far away. I mean, we can text and whatnot, but it's way better to be able to actually meet up with people more than, like, every other month."

🌾💕🌾💕🌾
Eli Cordova, a 20-year-old who grew up in Marfa, started using OkCupid about a year ago, after a friend met her husband through the site. Cordova, a trans man who dates both men and women, was disappointed in the options: "There wasn't a lot going on for me—all these oilfield workers and straight people," he said. The handful of people on the site who lived within city limits were all high school students.
But things got a little better when Cordova was willing to be more flexible with his geographical parameters, checking out potential dates who lived within a half-day's drive, or even further. Eventually, he matched with a guy living in Odessa—almost 200 miles away but practically a neighbor, in rural dating terms. They decided to meet in person, even though doing so turned out to be logistically complicated.
"We met up at the Stripes [gas station], because he didn't know where anything in town was," Cordova said. They ate grilled cheese and made semi-awkward conversation. It got late, and the guy's three-hour drive home posed a logistical problem. "I told him straight up that it wasn't okay for him to stay at my house," Cordova said. "So he just slept in his car." The two ended up kinda-sorta dating for several months afterward.
Cordova had never logged onto Tinder before, but he agreed to try it out at my request. One of the first things he did was to set his distance radius for matches at the maximum, 100 miles. A photo of a guy in a baseball cap popped onto the screen. He lived 26 miles away. He and Cordova had 51 friends in common. Tinder presumably intends the mutual-friend feature to spark conversation by making a pool of strangers seem less strange. It had the opposite effect on Cordova: "It's kind of a turnoff. Especially because I think some of these [mutual friends] have dated this person. Which is normal, I guess, going to high school here—but just, knowing who those people are…" He swiped left.
A week later, I texted him to ask how the Tinder experiment was going: Well, it's not really going haha, he wrote. I matched with one person and messaged them but never got a response then maybe saw them at the grilled cheese parlor but I didn't want to be creepy so I didn't approach them. And that's that!
But for some rural Tinderers, the app has served as a dating lifeline. Brooke Appler, 36, has spent the past several years working in national parks, which has meant moving between various rural areas in several western states. Before that, she spent a decade in New York and San Francisco, where she tried out online dating a number of times. It almost always was a disappointment: The guys were obsessed with their abs or their jobs; she met so many duds that she'd essentially given up on online dating. And then she moved to the middle of nowhere in Utah.
During her first few weeks at Capitol Reef National Park, Appler would spend her days off in Moab, the nearest town, more than two hours away. It was full of bearded guys, passing through town on their way to a climbing trip or backpacking adventure. In other words: exactly her type. But hitting on strangers in the coffee shop seemed awkward and invasive. That's when a friend suggested she try out Tinder.
Since she started using the app, Appler has met guys she never would have otherwise—and they've nearly all been a much better match for her than the guys she was meeting in the city. "I'm so geared to being adventurous and outdoorsy and nomadic," she said. "That's the person I am, and that's the guy I want."
When she was feeling a little lonely on Thanksgiving, she matched with a college professor who also happened to be pining for companionship in Moab. "I was like, hey I'm about to go back to the middle of nowhere, but do you want to meet for coffee first?" she said. After they clicked in person, he happily hopped in his car to follow her two and a half hours to her ranger cabin in the park where they spent three days enjoying each other's company.
Another time, during a camping trip, she was already in her sleeping bag when Tinder alerted her to a message from a guy who also happened to be in Ajo, a teensy town in southern Arizona. There weren't many options in town for a date, so they ended up at the bingo parlor. She's grateful for the app for making the wilderness feel not quite so remote. "I know some people have a negative view of Tinder," she said. "But it has increased the quality of my life by a few magnitudes."

🌾💕🌾💕🌾
Despite the challenges, a growing number of rural residents keep pursuing online dating, which means Appler's optimistic view might become the new norm—particularly among groups who have a harder time meeting partners otherwise. City dwellers are still about twice as likely to use online dating sites or apps than their rural counterparts, according to a 2013 Pew study. But that gap is closing, and at least anecdotally it seems as though LGBT residents of rural areas are the ones leading the way.
This does not surprise Michael Rosenfeld, an associate professor in the sociology department at Stanford. "LGBT people are always in what I call a thin dating market— that is, it's always difficult for LGBT people (especially, I imagine, in rural areas) to identify likely potential partners," he wrote in an email. "Everyone who is in a thin dating market is advantaged by the internet, which allows them to search a wider choice set and identify more potential partners."
In other words, internet dating is in some ways less transformative for college-age heterosexuals, who have plenty of options to meet romantic and sexual partners in the course of daily life. In contrast, a 2012 study co-authored by Rosenfeld, found that 67% of recently formed same-sex couples had met online, compared to 22% of recently formed heterosexual couples.
As Rosenfeld might have predicted, the small-town residents I spoke with who seemed most open to and persistent with using online apps and dating sites were also those who identified as queer. Gabriel, who isn't the type to pick up a stranger in a bar, uses Tinder to arrange dates when he knows he'll be traveling to a city.
Logistical frustrations notwithstanding, dating apps provide more than just a strategic way for rural residents to draw from a wider dating pool; they're also a place where you can be upfront about your sexual identity—something that might be a trickier prospect in a small, rural town. Gabriel is out on dating apps, but not around town. Cordova, who came out as trans last year, may not be Tinder's next ambassador, but he found online dating to be a useful way to put his new identity front and center.
"Everyone in Marfa knew me before coming out," he said. "There are people around town I used to hook up with, but they still think of me as the girl they used to hook up with."
Matthew Velez told me that even though there are almost never new, nearby faces on Grindr, he still checks the app about every four hours. "It's not like I'm going to meet someone in Van Horn otherwise," he said. "And you never know."
Appler agrees: "You feel like there's no one around. Then you log on, and it's like, This is amazing, there are people here!  And you realize that don't even need hundreds of choices. Just a few top-notch people."
Rachel Monroe is a writer living in Marfa, Texas. Her work has appeared in the New York Times Magazine, New York, Texas Monthly, the Oxford American, the Believer, and elsewhere. Follow her on Twitter at @rachmonroe.