You can tell a lot about a place just by swiping through Tinder. In the Mexican border town of Tijuana, you'll quickly cycle past profiles in both English and Spanish, potentially matching with someone who lives in a different country even though they are just in San Diego, 20 miles away. Miguel the 28-year-old "músico amateur, ingeniero profesional" is followed by Warren, 25, who just moved back to San Diego from NorCal and loves "surfing, playing bass, and you?"
I enter Mexico by foot at dusk on a Friday night, but I started swiping days ago from afar with a premium Tinder feature called Passport. The wait to get across with a group of silent, seasoned commuters is only 15 minutes, but that can stretch to hours, particularly on the way back into the States. This part of the border, called the "San Diego Sector" by Border Patrol, is the smallest but busiest stretch, as 90,000 people legally cross here every single day.
Donald Trump has promised to build a 2,000-mile wall across the border, but a kind of "wall" already exists. Bill Clinton's Operation Gatekeeper program in 1994 meant the construction of a fence, which George W. Bush (with the vote of Hillary Clinton) voted to expand in 2006. Marked by stretches of industrial silver siding, worn by the elements and crowned with spirals of barbed wire, this fence—and increased surveillance—have already cost U.S. taxpayers billions.
Technology isn't strong enough to erase this politicized border, but it's helping people reach across in meaningful ways. More than half of all Mexicans aged 18 to 34 own a smartphone equipped with tools to meet and then keep a cross-border lover closer than ever. You can talk constantly on WhatsApp or Twitter and send sexy selfies via Snapchat. Then there's the Border Wait Time app, which estimates how long it will take to cross, or the "Como está la linea Tijuana" Facebook group. And if carless, you can even take an Uber into Mexico, though you're on your own going the other way. (The service is not available in the opposite direction.)
The mainstream conversation around contemporary courtship says we are amidst a technology-fueled "dating apocalypse." Supposed lazy millennials ravenously swipe while out at bars, ignoring the IRL singles around them in search of quick, uncomplicated sex. Journalist Nancy Jo Sales says she heard one thing again and again when reporting on dating for Vanity Fair: "Too Easy," "Too Easy," "Too Easy."
G/O Media may get a commission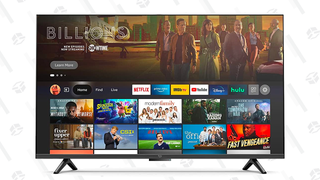 22% off
Amazon Fire TV - 50" Omni Series 4K - Early Access Deal
But in Tijuana, Tinder isn't so simple, as it reaches across an impossibly complicated line.
In August, more than 46,000 matches were made between users on opposite sides of the border, nearly half from California. The app is connecting those who almost certainly would never have met organically, young people with a literal barrier—in some places three fences thick—keeping them apart. Unlike swiping at a Financial District bar and then cabbing it to Brooklyn for a one-night stand, Tijuana Tinder is anything but "easy."

💔💔💔
When Daniel Martinez first saw Keisha on Tinder, he was struck by her eyes: they were the bluest he'd ever seen. Keisha was white and didn't look anything like the Mexican girls he was used to seeing out at Tijuana clubs. She was "so hot," in that blonde, all-American type of way. For someone like her, Daniel and his friends will gladly cross the border.
"It's kinda a challenge to get one of these girls interested in you," he says. "It's like an accomplishment." The 25-year-old IT manager has only gotten lucky and matched with two or three "true Americans"—matching with them is rare ("probably for cynical reasons," one San Diegan posits). He says there's a clear difference between girls like Keisha and first- or second-generation Mexicans who happen to live in San Diego for work or college. "You clearly know they are U.S. girls because they are super white and they have completely non-Latino names," he explains.
Daniel lives far from the touristy Avenida Revolución but he only has to set his profile to a maximum of 15 miles away and he is served singles from both Mexico and the U.S. in equal measure. He denies it but he speaks very good English, as is common in Tijuana; Daniel's profile says he's "always traveling" and "looking for someone to take to a Padres game" in San Diego.
Ever the gentleman, Daniel started chatting with 20-year-old Keisha and then offered to pick her up in SD for a date. Instead of sticking around there, they'd head back down to Tijuana where she could drink legally, a commonplace activity for underage American kids who live close. They'd go for sushi, intentionally not Mexican food because Daniel finds that cliché. At the end of the night, he'd drop her off back at home. The total exchange would mean Daniel crossing the border in his red 2008 Toyota Corolla four times in one night.
Crossings for Daniel usually only take 15 to 20 minutes, slightly longer on the way into the U.S. He has Secure Electronic Network for Travelers Rapid Inspection (SENTRI), a popular type of "fast pass" in Tijuana which makes the process go quicker. But because Keisha didn't have one, he went with his other strategy: wait until the middle of the night when there are fewer people on the road.
This time, the plan didn't go so well. Daniel and Keisha were stuck in the car together in line for more than three hours trying to get back into the States, an "awful" experience. At first they were laughing, telling stories, listening to music. But at some point, he thought, This isn't worth it. "We are crossing countries like it's the easiest thing in the world," he says. "But actually, it's not."
Daniel's short relationship with "the whitest girl he's ever dated" eventually fizzled. Over the course of a couple more dates, it became clear that although she was really nice, Keisha was not right for him. She was way too into partying. And it bothered him that she refused to speak Spanish, even though she could. "I'm making an effort and it would be nice if she could try at least," he says, ultimately resigning himself to a reality about American girls: "They don't want to get that close to the other culture or the person."

🔥🔥🔥
Tijuana and San Diego are in separate countries, with different languages and currencies, but they're also co-dependent. The cities rely on each other's economies and governments to operate as a larger ecosystem. Together, they make up the largest binational urban region in the world, with more than 4 million residents. The mayors of Tijuana and San Diego both symbolically have offices in each other's municipalities, and they submitted a joint bid for the 2024 Olympics.
In the early days of the internet, there was a theory among technologists that it could make the whole world binational, or even "post-geographical." Ideas would flow freely from person to person, across physical and political borders, essentially rendering them meaningless. Ultimately, this hope was proven to be just that—despite the proliferation of technology, there are of course still borders and wars over them.
The idea that Tinder would one day connect people across country lines would have seemed insane to the average person back in 2012 when the app launched at a University of Southern California birthday party. But by 2014, Tinder was already international with 50 million users worldwide. And though the app is still most popular in the States, it now has large userbases all over the world, in places like Brazil, the UK, and Australia, to name a few.
Mexico is Tinder's ninth biggest global market, boasting more than 10 million matches per month. But here, online daters exist in a different context than their U.S. counterparts. No one I talk to uses other trendy dating apps, like Bumble or Hinge or Feeld. There's no Seamless or Venmo or Task Rabbit. Besides Google maps, social networking, and messaging apps, Tinder is the only one they seem to use.
While Facebook connects people who are already friends IRL, building on the "six degrees of separation" rule the company says it's whittled down to 3.5, a dating app like Tinder is different if not opposing in purpose. It brings together complete strangers and then aims to make them in-person lovers. While social media has normalized talking to people in other countries, Tinder's entire premise hinges on proximity, pushing online "social networking" a step further, to actualization. But can it really enable two people to fall in love despite a contentious border between them?

💏💏💏
Americans don't want to match with a typical Mexican guy," says Jesús Amador, a 26-year-old engineer from Tijuana. "You know, short brown skin, moustache, name is José." Jesús is tall, light-skinned and has a bushy hipster beard; he thinks it helps him on Tinder that he "might pass for an American." He actually matches and connects more with San Diego women than the ones in TJ, and his last three girlfriends were American citizens. "I think I have more common interests with girls in San Diego," he says, referencing his passion for surfing, rock climbing, and scuba diving.
Like Daniel, Jesús can tell from a profile where a girl is from, but it isn't about language. He says a Mexican girl typically has a profile pic that's a selfie set in a restroom with bad resolution: "American girls, you see them doing something, like going outdoors or to the beach or going clubbing or having lunch with their friends." The key difference: "In Mexico, it's 'How hot are you?' In America it's more 'What do you do, what are your interests, what do you like?'"
Jesús may be having good luck, but Tinder is more fraught for Mexican women (if not women in general). Ilse Chávez-Aguayo sees San Diego guys on the app all the time, but the 23-year-old med student doesn't make much of matches with them. "They all want you to go there," she says, annoyed, having been raised to think that men should court her and not the other way around. San Diego resident Louie Evans, 31, proves Ilse right; when I asked if he'd cross the border for a date, he responded emphatically: "Why would I? You guys come over here!"
On a Saturday night, a Tinder match invites me to a house party in a gentrifying neighborhood on the city's east side. I'm promised everyone here uses the app, but I see no one swiping. Tinder is still taboo in Mexico, and it's particularly hard to get women to open up about using it. The perception that it is "just for sex" is still very real and doesn't jive well with the country's more conservative dating culture. One man I talk to dated a woman for almost two years but would still lie to most of his friends about meeting her on Tinder.
The guests are too amused by beer pong and reggaetón to be on their phones at all, unless they are documenting the rager. Jesús runs around pouring Jaeger down people's throats; another friend administers a pink beer bong with a dick-shaped mouthpiece; a third doles out shots of Four Loko. Someone stealthily rolls a joint of medical marijuana they've smuggled in from San Diego because "weed in Mexico sucks, man."
The crowd heard about the party through a Facebook group called Reloaded, a community of more than 300 friends and friends of friends in TJ where people share memes, pics, and news stories. The group has grown to include some people from Chula Vista and other San Diego neighborhoods close to the border, who sometimes cross specifically for Reloaded parties like this. They are that good.
It's past midnight when a white man arrives, his blonde hair looking like it's been gelled into a business-casual helmet. He dons gray slacks, a too-tight blue checkered button down, and unsurprisingly "works for the government." He is in Tijuana because his San Diego condo is being renovated and his landlord offered to put him up in a hotel for the night. He decided to head south, where you can get more bang for your buck. Plus, there's also Tijuana Tinder. He had instantaneous good luck, matching with a gorgeous Mexican woman, the same one that would invite him to this party. Come 1 AM, I see the pair canoodling up against a wall, ignoring the debaucherous round of karaoke going down around them.
The woman doesn't seem to care that her date sticks out. She's says she's used to matching with guys like him, ones who live in San Diego and are willing to cross the border (for exactly what is more mysterious).
"It's just totally normal," she says with a shrug.

🛂🛂🛂
Where the border "fence" meets the Pacific Ocean on the Mexico side, it becomes a kind of tourist attraction, complete with norteño musicians and fruit for sale. Here, it is kind of beautiful, rusted by the sea salt air, and covered in graffiti and art. Jarringly, the fence doesn't stop at the water line; it extends 300 feet into the sea, an effort to stop Mexicans from trying to swim around it.
It wasn't always so difficult to get across. "I remember when it used to be chicken fence," Tijuana native Tom Zarate told the San Diego Tribune in May. Border Patrol "would buy us, like, cheeseburgers, and give us a dollar for the bus, and they were good people."
The San Diego Sector used to be the most popular entry point for illegal immigration into the U.S., rising to as high as 40% of all border apprehensions in the early nineties. But then Clinton's Operation Gatekeeper helped militarize the border, increasing officers by 33%, and adding technologies like stadium lights and infrared cameras. More cutting-edge surveillance will consistently roll out to build an even stronger "virtual wall," featuring aerial drones and movement sensors. At the San Ysidro port of entry in San Diego, drugs will one day be found out by electronic noses and snake robots.
It's easy to see this kind of technology used by the state in diametric opposition to Tinder, whose explicit purpose is to connect people, not monitor them. But the GPS mapping that makes the app work is owned and operated by the U.S. government, developed during the arms race of the Cold War. "The tech that's used to [surveil] us is intertwined, inseparable from liberatory tech which allows seeing across, seeing side to side," says Charlie Loyd, a geographer at MapBox, an opensource platform for designing maps. "Anytime you throw more technology into the mix, tools to power is also tools to people."
It's hard to make sense of this cognitive dissonance, of cross-border Tinder dates, as I wait to cross back into the U.S. I'm entering through the spiffy San Ysidro port, which has the sterility and intimidation of an American airport security checkpoint. The line wraps up along a spiral ramp and has stalled, though no one quite knows why, as it's not rush hour. (The SENTRI wait is even longer, seemingly disproving the advantages of the fast pass.)
As we get closer, I notice a group of refugees who have been displaced by cartel violence crowding the entrance, waiting to be granted asylum into the U.S. A Border Patrol cop divulges they've been sleeping on the ground for days, many with young children who restlessly roll around in the dirt. Like me and the others in line, I notice that some of refugees have their smartphones out. I imagine the refugees are also playing games, scrolling through Facebook, or texting family back home. It seems that technology is a welcome source of distraction for everyone restlessly trying to get across the border. Though it's not for sure they ever will.
Deputy editor of Real Future.