Yes, the Netflix documentary series Making A Murderer shines a light on the faulty American criminal justice system. But it also stands as proof that women can tell compelling, engaging stories that are not solely about women.
It's been six years since Kathryn Bigelow won an Oscar for directing The Hurt Locker, a film about a three-man explosive-disabling team in the Iraq War. She was the first woman to win the Academy Award for Best Director. In 86 years, only three other women have ever been nominated (Lina Wertmuller in 1976, Jane Campion in 1993, Sofia Coppola in 2003). The Equal Employment Opportunity Commission—the United States government agency that enforces federal employment discrimination laws—is currently investigating gender discrimination in Hollywood, but the fact remains that women are really not being hired to direct movies. Look at the data and you'll see that the numbers are awful. A 2014 study by the Center for the Study of Women in Television and Film at San Diego State University found that women made up only 7% of directors of the top 250 films. That means 93% of the movies Americans see are directed by men. And even though there's supposed to be a female director for a Star Wars film—eventually—this looks like a discrimination issue, through and through. (See shitpeoplesaytowomendirectors.tumblr.com if you have any doubts.)
Some may argue that since women don't get hired to direct often, they aren't considered for directing jobs, because they don't have enough experience. A Catch-22. But in October, Melissa Silverstein, founder and editor of the site Women And Hollywood gathered  a few examples of fairly inexperienced men getting hired for huge movies with massive budgets. For instance, Colin Trevorrow was hired to direct Jurassic World—and is supposedly directing a future Star Wars flick—after directing just ONE other wide-release film, Safety Not Guaranteed. Writer Seth Grahame-Smith was hired to direct The Flash—a movie rumored to have a budget of $100 million–and his only other directing credits are 2 episodes of the MTV show The Hard Times of RJ Berger. Those are just two guys—there are more.
Also in October 2015, Lexi Alexander, the only woman (so far) to ever direct a comic book superhero movie (Punisher: War Zone) told Vulture:

I think in industries riddled with bias, you tend to hire women only if their previous work is very masculine, which is hilarious given that this is not how male directors are chosen. … Women have to be 'one of the boys' to get in on the superhero business, whereas male directors don't have to have any proof on their résumé that they can deliver hardcore action.
G/O Media may get a commission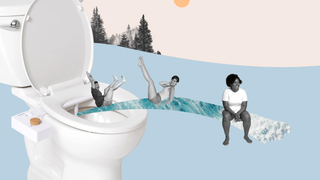 17% off
Tushy 3.0 Warm Water Spa Bidet Attachment
When asked about men with minimal experience being hired to direct big-budget franchises, Alexander replied: "What can I say? It sucks. It really does."
Meanwhile, a lot of people who might say they'd never watch a 10-hour documentary about poor people in Wisconsin are obsessed with Making A Murderer. As The Daily Beast reports, Moira Demos and Laura Ricciardi, the two female filmmakers, turned over 700 hours of footage into a hit series. In addition to The Hurt Locker, Kathryn Bigelow directed another war film—Zero Dark Thirty—as well as the 1991 movie Point Break, which starred two dudes, Keanu Reeves and Patrick Swayze. Ava DuVernay directed Selma, a movie about Martin Luther King Jr.'s march in Alabama. In the '80s, Martha Coolidge directed Real Genius, a hilarious comedy about teenage boys who are science prodigies.
The point is: Men direct stories about women all the time (see: The Hunger Games, 4 out of 5 Twilight movies, the new all-female Ghostbusters, Sisters, etc.). FiveThirtyEight has come up with evidence that movies that appeal to women do better at the box office. It seems so obvious: Women should be able to get hired to direct narratives about men—and superheroes, and dinosaurs, and robots, and space, and whatever else Hollywood has planned. As Making A Murderer's Laura Ricciardi told The Daily Beast: "We consider this an American story." A great storyteller is a great storyteller, no matter her gender.