As the story of what happened to Sandra Bland becomes clearer, so do the failures of the criminal justice system.
According to a statement by a Texas prosecutor on Thursday, the findings of an autopsy performed on Bland, who died nearly two weeks ago, found injuries consistent with suicide. The day before, Bland's medical intake form released by the Texas Department of Public Safety showed that she indicated that she had suffered from depression in the past. Specifically, Bland said that her depression was precipitated by the loss of a child. Bland said she'd attempted suicide before.
The Waller County Jail knew of Bland's previous attempt.
Bland had "lows and highs" but was never treated for depression, said her sister in an interview with George Stephanopoulos on Thursday. Whether or not Bland committed suicide in that Waller County jail cell has yet to be determined—the investigation is ongoing.
Bland might have been having a bad day, said her sister. Perhaps she was. Whatever was going on with Bland personally has no bearing on the way State Trooper Brian Encinia let a routine traffic stop escalate to her arrest. As a law enforcement official, Encinia is trained to exercise professionalism with all people—black people, white mentally ill people, American Indians, vets with PTSD—and to de-escalate a situation whenever it is possible.
In the case of Sandra Bland, it was possible.
The Bland incident was avoidable. Its escalation highlights the gaping and biased holes in our American criminal justice system—excessive force in policing, exorbitant bails, pre-trial detention, poor mental health care—but what it has shown most viscerally is that the use of state violence can have deleterious, and in some cases deadly, effects.
G/O Media may get a commission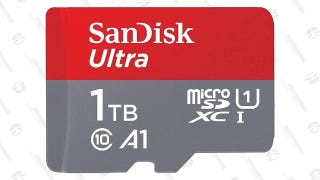 Save $70
SanDisk Ultra 1TB MicroSDXC Card
Many activists and social media users said Bland had no reason to kill herself. They said she had a bright future, that she was an activist, that she looked happy. But a promising future and social and political awareness are not reasons to discount suicide.
Those who are ruling out the possibility that Bland committed suicide aren't taking into consideration the trauma she suffered during her traffic stop and the three days she spent in jail. Or, that she, like many other black women, may have dealt with depression that went unchecked and untreated.
A Huffington Post story on the high rates of depression among black women highlighted a study conducted by the Centers for Disease Control (CDC) which found that 4 percent of women suffer from depression—1.3 percent more than their male counterparts. Additionally, the study calculated that 4 percent of  black Americans reported major depression compared with 3.1 percent of their white counterparts.
The CDC also found that in 2011 African-Americans sought treatment for depression at a much lower rate than their white counterparts: just 7.6 percent of black Americans sought treatment compared with 13.6 percent of the general population.
Bland indicated in her medical intake and in the dash cam video of the traffic stop incident that she suffered from epilepsy, a disease that causes seizures. According to a report released by the San Francisco VA's Epilepsy Center of Excellence, 25 percent of epileptics suffer from depression.
The dash cam video released Tuesday night shows an exchange between Sandra Bland and Trooper Encinia that according to police misconduct attorney Andrea Ritchie "was completely unnecessary and resulted in escalation."
Encinia's persistence for utter domination is troubling to watch. It's unclear why—even after his explanation in the dash cam video—he chose to escalate their interaction rather than sending Bland away with a warning, citation, or ticket like he said he planned to do.
Bland asked Trooper Encinia 14 times why she is being apprehended, a response he wasn't legally obligated to give, but should have in order to de-escalate their interaction, said Ritchie.
Encinia is seen pulling a taser on Bland in the video, and threatens her with "I'll light you up." Off-camera Bland says Encinia threw her head against the ground and repeatedly says she can't hear. The officer is unresponsive.
But perhaps most disturbing was when Bland tells the officers she has epilepsy and Encinia is heard in the dash cam footage saying "good".
The tragic story of Sandra Bland reveals two truths about America: that we over-police America's most vulnerable, and that we don't care about them either.

Related Stories:
Collier Meyerson is a reporter at Fusion with a focus on race and politics. She lives in Brooklyn.