A horde of screaming teenage girls swarmed the VIP East entrance to the Prudential Center. Unfortunately for me, that's where the press room was. The girls stood in anticipation, cheering any time the door swung open or even budged. "Oh my god, it's Seventeen!" "Eeee! Day 6!" Whispers travelled from clique to clique like a game of Telephone. The girls hopped up and down, cursing their short stature, in an attempt to catch a once-in-a-lifetime glimpse of their true love, their dreamboat baes.
One girl scrambled onto a sturdy three-foot planter adjacent to the entrance, standing on her toes. "Oh my god, oh my GOD!" I assumed her altitude had given her authority on the matter, so I asked her who they were waiting for. "I don't know!" she said, equal parts exasperation and exhilaration, as if my query didn't just offend her, but also reminded her of the sheer absurdity of the fact that she was standing on a giant shrub pot in the middle of New Jersey on a Friday afternoon.
Welcome to KCON.
KCON is an annual event that celebrates "All Things Hallyu," or the increasingly popular "wave of Korean pop culture." I don't know if you've noticed, but Korean culture, including beauty, television, and most visibly, the ever-addictive K-pop, is having a moment. Sure, it's a Korean government-backed, immaculately manufactured, uneasily capitalist moment—more on that later—but a moment nonetheless.
The number of K-pop concerts held in the U.S. has increased consistently over the last two years and North America has hosted the second-highest number of K-pop shows outside Korea (after Japan). Korean bands get tens of millions of views on YouTube in only weeks, with some videos comfortably chilling at over a hundred million over the last year. It's an invasion.
This was only the second time KCON has been held on the East Coast, a spinoff of KCON LA, which has been bringing K-pop acts stateside since 2012. This year, KCON expanded to two days, June 25 and 26, which meant more panels, more companies to sell their wares, and of course more stars. It's paid off: An estimated 42,000 fans came through—almost triple the attendance of last year.
G/O Media may get a commission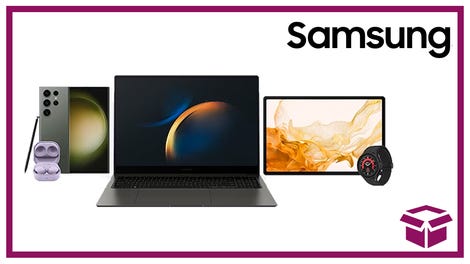 24 hour deals
Discover Samsung - Daily Deal
The doors for KCON opened at 10 a.m., but at 8:45 a.m. on the first day there was a line snaking around the block. Everyone was trying to get their hands on tickets to the M Countdown concert, where faves like singer Ailee and boybands Seventeen and BTS were slated to perform.
The KCON experience is a trip. Picture an outdoor Comic Con, but instead of folks of all ages cosplaying as their favorite superheroes or anime characters, it's thousands of teenage girls decked out in boyband merch and Coachella-chic fashion. There were health goth jerseys that read "Rap Monsta," in homage to the rapper from boyband BTS. There were shirts that read, "Please notice me Oppa!" (Oppa is a Korean term that young women use to refer to older men or in K-pop's case, their favorite idols—like "daddy" but less sexual.) Everyone seemed to have the same baseball cap with a "₩" (the symbol for the won, South Korea's currency) emblazoned on it. The looks were on point.
Because KCON is free AND takes place outdoors, a handful of people had apparently stumbled upon it by accident, wide-eyed and a little overwhelmed. A man who walked past one of the beauty booths looked around in wonder. "I'mma have to look this shit up," he said. "What the fuck is this?"
As I walked down the aisle of vendors, a mélange of K-pop hits reverberated from each booth, and where there is music, there will be dancing. You couldn't go 200 feet without hitting some kind of dance circle: a troupe of amateurs performing the NSYNC-meets-b-boy choreography from their favorite videos in preparation for the K-pop Dance Battle event, or a booth-sponsored dance-off with concert tickets as a prize, or fans just trying to get their groove on.
There were plenty of young men excited to see their K-pop idols, but the vast majority of attendees were young women. I witnessed so many moments of pure girlhood throughout the convention—from chatting about which Seventeen member was theirs to clutching at their cheeks in bliss after caking their face with some snail-derived beauty serum. For the umpteenth time, I learned to never underestimate the purchasing power of teenage girls. And, of course, there was the screaming.
The girls at KCON scream for everything. The VIP entrance door opens, they scream. The first trap horn note of BTS' "Fire" perforates the air, they scream. A 15-second snippet of headlining girl group MAMAMOO appears on the convention stage screen, they scream.  Rapper HeeSun Lee drops a line in her song "I Break Stereotypes" about being a Christian while on stage, they scream. (On that note, a man bearing a sign that read "REPENT, JESUS SAVES" stood steadfastly by one of the tents, seemingly unaware that of all the conventions you could Christ-crash, this was probably the most obliging.)
Why are the girls screaming? Let a K-pop star explain. "These kids are like monsters," Eric Nam, OMG ERIC NAM 😭, a heartthrob K-pop phenomenon himself, told me of his fellow stars. "They dance and they sing and they rap and do everything at once on stage, and it looks crazy. And nobody else in the world is doing it."
And it's true—you'd be hard-pressed to find a mainstream (non-Beyoncé) pop star who can sing, rap, and pull off the mesmerizingly intricate and tight choreography (how do their feet do the thing!?) the way these K-pop stars do.
"Like Justin Bieber," Nam said. "Justin, you're awesome, but like, dance battle BTS? I don't know, I kind of want to put my dibs on BTS."
Thousands of girls screaming, crying in each other's arms, losing their minds, and voices over a cute boy—or 13 of them, in the case of the confusingly named boy band Seventeen—is pretty standard for a pop concert, as is drawing fans from all over the country (50% of KCON attendees came from out of state). What is incredible, though, is that this rabid American fandom exists despite the fact that the music isn't easily accessible. K-pop has zero presence in most official pop culture channels in the U.S.—not on the radio, not on TV, not in the tabloids, nowhere. American enthusiasts have had to really seek out K-pop and learn about Korean media to fully understand the celebrity status of K-pop acts and how they interact with fans. It's a special secret world, with its own rules and mannerisms, that they've had to get acquainted with.
On top of that, K-pop songs, while straightforward and catchy as all good pop songs are, are pretty much entirely in Korean. And the fans know all the lyrics. What makes the American cohort of BTS fans, known as A.R.M.Y. or Ailee's Aileeans or Big Bang's V.I.P.s or Teen Top's Angels or VIXX's Starlight (I could do this all day) so different from the girls going gaga over a band like One Direction, is that these young women are kind of nerdy—and proudly so. There were certainly Korean-American people at KCON, who may have grown up with exposure to K-pop, but the majority were a mixture of black, white, and Latino people. Whether they were yelling the lyrics at the top of their lungs or just mouthing along in perfect synchrony, they clearly knew all these songs: meaning they had to learn Korean. K-pop fans have to study, which doesn't just demonstrate a huge appreciation for their idols, but also a twinkle of the same discipline that drives the stars.
Sure, true Beliebers know every single tattoo on that young man's body as well as the date it was inked on him, but American K-pop fans literally learn another language.
"It seems like more effort is put into it [than American music]," Natalie Payne, 16, told me, explaining that she appreciated all the dancing involved in K-pop on top of the singing.
"They focus a lot on both performance as well as the actual song," Dalnim Chan, 22, said. "They put effort into both things. It's not just, 'Oh I'm going to sing my heart out' or, 'Oh I'm going to dance like a maniac.' It's both."
On Saturday, I sat down with BTS to talk about fandom. And by that I mean, OMG I TALKED FACE TO FACE WITH BTS AND PROBABLY MADE AN ASS OUT OF MYSELF 😭😭😭 OMG THEY'RE SO DREAMY. BTS was the headlining act and main attraction that most of the girls came out to see. They are the only K-pop act to have spent multiple weeks on top of the Billboard World Album chart and outsold Korean break-out act Psy. For the last three years they've been hacking away at the American market, and with two sold-out U.S. tours, it looks like they're making some headway.
I met with them in a small room backstage—the only decoration aside from a few chairs was a massive banner that read "KCON NY 2016." The seven members of BTS (also known as Bangtan Boys) glided in, all decked out in some form of black and white suits, like seven James Bonds surrounded by a storm of hair and makeup artists. Sitting across from seven pop stars, I felt like I was playing an IRL dating sim (working title: Trash Princess Finds Her K-pop Oppa). The boys had swagger, but they were also gracious and pumped to be there.
"First of all, [American] fans really know how to enjoy the show," BTS Member Jungkook (who said he enjoys Tori Kelly and whose blood type, I discovered online, is A), told me through an interpreter. "They have a great vibe, and they really enjoy it. So I [hope] they're looking forward to our show tonight."
"We've been here a few times, but it always impresses me because America's like the number one music market in the world, so it's really amazing to be able to perform here in front of thousands of American fans," BTS' Rap Monster (blood type A; fave American music acts include Kanye, Drake, and PartyNextDoor) told me. And boy, did they perform. They worked every foot of the stage, which wound its way through the audience, casually playing off each other, then hitting every single beat of their choreography. It was stunning.
"They're so humble in what they do and they're so passionate about it, that they work their tails off to do everything that they do," 25-year-old KCON attendee Daniella Peduzzi told me, expressing the honest-to-God respect that so many K-pop fans feel for their idols. "They love their fans and basically all their work is for their fans and I don't think a lot of artists in America are like that. So I am really into that."
"When the fans say how much they love the performance and they're really cheering them on, they understand that it's this giant effort that got them there," Angela Killoren, COO of CJ E & M America and organizer of KCON, said.
"Being a fangirl is a hard job, I swear to God," Monique Moore, 25, told me. She and Chan traveled by Greyhound from St. Louis to be at KCON—the trip took a day, one way. I happened upon these two young black women as they were chatting with Evelyn Diaz, 43, a half-black, half-Korean woman who was there with her two half Latino children. It was barely 11 a.m., but the convention was already teeming with people of all backgrounds. Despite their many superficial differences, they had one very important thing in common.
"It's nice to come out here and be here with different people who actually know what K-pop is. We come from a place where nobody knows," Moore said.
For these young women, there was something about the more modest aspect of K-pop that really resonated with them. "What drew me to Korean culture is the fact that they're so conservative, so not raunchy," Chan told me.
KCON is about allowing screaming teenagers to scream at whatever and whoever they want. It's about giving some of the hardest-working musicians a rare chance to connect with some of the hardest-working fans. But it's also about confronting cultural identities and finding your place in the world.
To a pop star like Eric Nam, this means staying true to your sound in an industry full of dance machines. To a swarm of teenage girls waiting outside the VIP East entrance, this means finding the best spot to maybe make eye contact with Yoon Jeonghan from Seventeen. To me, this means finally finding some pop music I don't mind listening to, while trying to deconstruct the disconcertingly perfect capitalist machine that is K-pop.
Here's the thing—not everything about K-pop is fun and fancy-free. I have a strange and strained relationship with K-pop. Like most fans, I truly admire the discipline these singing, dancing, rapping kids have, and I find (a fair amount of) K-pop preferable to most American pop. I've even spent a few of my own precious hours attempting to learn the choreography. K-pop videos gives me a sense of nostalgia, which I'd like to say is me recontexualizing my prepubescent obsession with NSYNC as an adult, but is probably just me enjoying cute boys.
But more than that, K-pop is like a puzzling case study from a critical media theory course: K-pop is actually a government initiative, launched by then-President Kim Dae-jung in 1997 when South Korea was in financial turmoil. Hallyu (which encompasses Korean entertainment, tourism, beauty, and even food) is a brilliant form of soft power, a non-militaristic global invasion carried out by cute boy bands with cotton candy hair. And while part of me welcomes our new overlords, the other part of me is terrified because K-pop is the spectacle of pop, perfected.
The shallow and frustratingly catchy songs, the effortlessly beautiful idols (many of whom have undergone plastic surgery to construct a face more appealing to the masses), the almost machine-like precision of their performances evokes real emotions, real inspiration. I saw this happen, and I felt it too. The easier they make everything look, the easier it is to embrace this meticulously crafted commodification of fun.
But you can't ignore that the record labels are notorious for their restrictive "slave" contracts with performers, who often see very little of the money they're generating. Or that the South Korean entertainment industry has faced several high-profile sexual abuse scandals—in 2012, the CEO of Korean agency Open World Entertainment was arrested for the sexual abuse of five trainee performers. In 2009, a survey of Korean actresses conducted by the Korean Women's Development Institute found that 60% of actresses had "received a request for sexual bribery." (Not that the American entertainment industry is that much better, seeing as our legal system won't free Kesha from the contract that binds her to her alleged rapist.)
These transgressions occur in the same industry that brings so much sheer joy to millions of people. It's not like the 42,000 people at KCON NY were there to support exploitation by record labels—they came for the performers, who have worked so hard to get this far. These fans are also there to connect with people who understand them and, of course, have fun.
As I made my way to the front of the pack of teenage girls, nervously clutching my press badge, I think every insecurity of my life flashed before my eyes. Oh my god, these teenage girls know what they're living for, and there's a chance I might be in the way. I, an adult woman, was more afraid of being judged by this swarm of mercurial teenagers than I was of being trampled by them.
"Um, I'm trying to get through," I said.
"It's blocked off!" a girl yelled back.
"Shit, that's where I'm supposed to go. How do I do this?!" I asked aloud, mostly to myself.
"Why don't you use your press badge," the girl said, completely taking control of the situation on my behalf. "HEY EVERYONE! MOVE! SHE'S PRESS."
Like a Red Sea that flowed with adrenaline and hormones instead of water, the girls made room for me and I squeezed through the barrier. I looked back to thank the girl, and made my way inside, a witness and survivor of the chaos, the compassion, and the sheer force of teenage girls.