WTF Was Up With Rod Rosenstein Today?
Rod Rosenstein will likely no longer be the deputy attorney general by the end of Monday, according to multiple reports, ending months of speculation about his future in the Trump administration. (UPDATE: Or maybe not! See below.) The how and why of his departure, however, remains very unclear.

Axios reported that Rosenstein verbally resigned to White House Chief of Staff John Kelly on Monday, with a source telling the website that he was "expecting to be fired" less than one week after a New York Times report claimed he'd considered secretly recording Trump, as well as encouraging cabinet members to begin enacting the 25th Amendment to remove the president from office. Axios' report was backed up by the Washington Post and Bloomberg.
However, multiple other outlets have disputed Axios' report, claiming that Rosenstein simply anticipates that he'll be fired, but has not resigned.
G/O Media may get a commission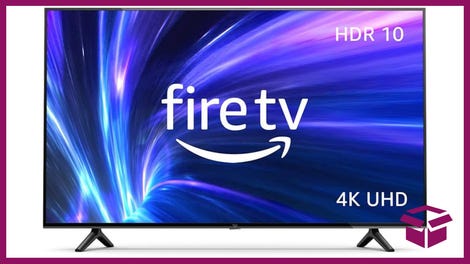 42% Off
Amazon Fire TV 50" 4K Smart TV
CNN, meanwhile, reports that while Rosenstein had discussed resignation, those talks did not come to full fruition, and he now expects the White House will be forced to actively remove him from his post.
Whether via resignation or forced ouster, Rosenstein's departure follows months of speculation that Trump has been preparing to remove the Justice Department's number two as part of an ongoing attempt to disrupt Special Counsel Robert Mueller's investigation into Russian interference in the 2016 election, which Rosenstein oversaw. With Rosenstein gone, the Mueller investigation will be overseen by U.S. Solicitor General Noel Francisco.

Rosenstein has long seemed accepting of his eventual exit from the Justice Department, reportedly preparing colleagues for his departure as far back as April by invoking Martin Luther: "Here I stand. I can do no other."
Trump's frustrations with Rosenstein—which have simmered throughout the Mueller investigation—previously reached a boiling point this past spring, after Rosenstein reportedly signed off on an FBI raid on the president's personal lawyer, Michael Cohen. In response to that raid, Trump targeted Rosenstein by name in a Twitter rant, insisting his innocence and conflating the Cohen raid with Mueller's investigation.
Cohen has since reportedly spoken with the Mueller team, following his guilty plea to a series of campaign finance violations and tax crimes including a payment to adult film star Stormy Daniels—allegedly in exchange for her silence about an affair between her and Trump—which violated campaign finance laws.
Rosenstein has also been a favorite target of conservative media personalities and Trump loyalists. Last year, Fox News' Sean Hannity said Rosenstein was "aiding and abetting that threat [to the rule of law]," and Congressman Devin Nunes told Fox News host Laura Ingraham in April that he'd move to impeach Rosenstein if he wasn't given certain documents pertaining to the Russia investigation.
Following the New York Times' report on Rosenstein's apparent willingness to secretly record the president, Ingraham repeated her call for the president to fire the deputy attorney general.
Someone, it seems, was listening.
This is a developing story, and will be updated as new information is made available.
Update, 12:40 PM ET: As if this story couldn't possibly get any more convoluted, new reports from the White House are starting to cast doubt on whether Rosenstein will actually step down or be fired, after all.
Update, 1:00 PM ET: It appears that Rosenstein will keep his job for a few days longer, as White House Press Secretary Sarah Huckabee Sanders said in a statement that Rosenstein and Trump will meet on Thursday.