After 50 years of political gridlock, the United States and Cuba on Wednesday took a major step toward normalizing relations with the release of American contractor Alan Gross from Cuban prison.
Now things could change quickly. Here's what you need to know about what's happening between the U.S. and Cuba:

The U.S. will restore full diplomatic relations with Cuba and open an embassy in Havana (no date has been set). Diplomatic relations broke in 1961, but since 1977 the U.S. has maintained an "interests section" on the island housed in the Swiss embassy.
The deal was struck after a year and a half of secret talks between high-level U.S. and Cuban officials. The negotiations were held mostly in Canada, but the deal was finalized during a meeting at the Vatican this fall.
G/O Media may get a commission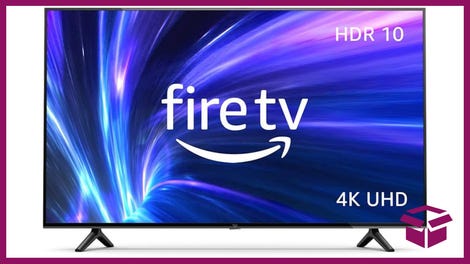 42% Off
Amazon Fire TV 50" 4K Smart TV
Pope Francis wrote letters to President Obama and Cuban President Raúl Castro urging them to mend relations between their two nations. The Vatican was the only other government to directly participate in the discussions between Cuba and the U.S.
Obama spoke to Raúl Castro by phone for 45 minutes to an hour on Tuesday to finalize the agreement, according to senior administration officials. It's believed to be the first direct conversation between U.S. and Cuban heads of state since the revolution.
Fidel Castro, Raúl's brother and the historic leader of the Cuban revolution, was not involved in the discussions, administration officials said.
Gross wasn't part of this morning's prisoner swap, U.S. officials say. The ailing former contractor was released from Cuba on "humanitarian grounds," while the real prisoner swap was for another unidentified American "intelligence asset," who was traded for the three Cuban intelligence officers who were also released this morning. All five members of the Cuban Five have been released by the U.S.
The "intelligence asset" played a key role in providing information that led to the initial arrest of the Cuban Five and other members of a spy ring known as "the Wasp Network," who were arrested in Miami almost 15 years ago, an administration official said.
Cuba has also agreed to release 53 prisoners, identified by U.S. officials as political prisoners.
The White House has directed Secretary of State John Kerry to review Cuba's designation as a state sponsor of terror. Cuba has been on the terror list since 1982.
The Obama administration is taking steps to ease restrictions on travel, trade, and remittances with Cuba. Congressional approval is needed to lift the Cuban embargo.
It will be easier for Americans to apply to travel to Cuba under 12 existing permitted categories: visiting family, official government business, journalism, professional research, education, religious purposes, public performances, support for the Cuban people, humanitarian projects, private foundation work, and export activity. General tourism will not be permitted.
The government will lift some restrictions on U.S. banks working with their Cuban counterparts. American credit and debit cards will work in Cuba.
The amount of remittances allowed to Cubans will be raised to $2,000 per quarter, up from $500 under current levels.
Yes, you can now bring Cuban cigars back to the U.S. Americans can bring back $400 in general goods from Cuba, including $100 and alcohol and tobacco products. The goods can be for personal consumption only, and cannot be brought back to the U.S. for sale.
The Obama administration will loosen regulations on the export of telecommunications equipment to Cuba in an effort to boost Internet connectivity on the island.
Congress is deeply divided over the administration's changes. A bipartisan delegation traveled to Cuba and is flying back to the U.S. with Gross: Sens. Patrick Leahy (D-Vt.), Jeff Flake (R-Ariz.), and Rep. Chris Van Hollen (D-Md.)
Cuban-American lawmakers in both parties are furious over the Obama administration's actions. Sen. Bob Menendez (D-N.J.)said the president "vindicated the brutal behavior of the Cuban government" and Sen. Marco Rubio (R-Fla.) called the announcement "absurd" during an interview with Fox News.