"They deserve the right to protest," said Charles Nicholas, a black freshman at the University of Missouri, originally from Dallas, Texas. "Faculty and students have been angry all year."
It's been a day since University of Missouri president Tim Wolfe stepped down due to allegations that he ignored black students' concerns of racism, and Mizzou students aren't staying silent. They're debating loudly in the Starbucks off campus, talking over one another in twos and threes in the short periods in between classes, and convening in large groups next to the tent city erected on a campus quad last Monday.
Stories about Mizzou's racial strife have been focused on the student protesters. But outside the core group of activists in the tent city on campus, members of the school and residents of the surrounding city are conflicted.
A local taxi driver told me that he doesn't see the president's ouster as a win for activists. "It's about football," he said, dismissing the efforts of a student group that has been protesting on campus since last Monday. "If there wasn't $1 million at stake, things would be a lot different," he told me. The driver said he wasn't sure what to think of the whole thing—it's impossible to stop individual students from being racist, he said—but he was sure the president wasn't at fault.
G/O Media may get a commission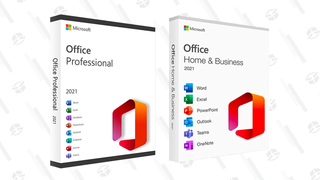 89% off
Microsoft Office Professional 2021 Lifetime License
(Dozens of black players on Mizzou's football team announced their plan to boycott all football-related activities until the president stepped down, according to The New York Times. If the boycott wasn't resolved by this upcoming Saturday, the school would have had to fork over $1 million to Brigham Young University for forfeiting the game, The Washington Post reported.)
"I haven't personally been affected," said Nicholas, a broadcast journalist student who said he isn't participating in the protests because he's mainly focused on getting acclimated to college.
Senior Jordan Stralow isn't sure what to make of the ordeal. "I'm having mixed emotions," the Illinois native told me outside of a dormitory near the center of campus. "I try and stay out of stuff that doesn't involve me." Stralow, who is white, said he also doesn't feel affected by the alleged racism.
Jodi Dunn, a junior mechanical engineering major, is really happy with the successes student protesters have had in the last 24 hours. "Even if it's just a few students on campus who are feeling bad, it needs to be addressed," Dunn said. She added that she has experienced sexism in some classes.
None of the students I spoke with said they'd experienced or witnessed racism firsthand on the Mizzou campus, but all three agreed the campus was fairly racially segregated. "You'll see a group of white students, or black students, or Asian students," said Dunn. "Sometimes groups mix a little, but you'll never see more than two from each group together."
The University's provost on Tuesday announced that Chuck Henson, a dean of the law school, will become the Interim Vice Chancellor for Inclusion, Diversity and Equity.
All the students I spoke with told me there was a great range in opinion among their groups of friends. "Some see it from the [protesters'] perspective," said Stralow. "And others think the president got screwed."
Though the tactics were questioned, all the students I spoke with agree that change is needed. "As long as steps are taken to push some change, it's a positive result," Stralow said definitively.
Collier Meyerson is a reporter at Fusion with a focus on race and politics. She lives in Brooklyn.