Taylor Swift's kiss-off to country, "Shake It Off," basically won, forever, in a music industry that's long gone south: the song's gone five times platinum in the U.S., a feat no one has managed in years. So this Sunday, Taylor will likely pick up one or all of the Grammys for which the song is nominated this year: record of the year, song of the year, and best pop solo performance. (If you're confused about those categories, though, click here for an explanation.)
But while "Shake it Off" is surely a win for Tay-tay and her Swifties, it's really a win for the man behind the song – and literally dozens of other smash pop hits like it. Yes, it's another creation of Max Martin, the super Swede who, as a songwriter, has cranked out more number-one Billboard pop chart hits than everyone except Paul McCartney and John Lennon.
This is what he looks like: a hale and hearty Scandinavian.
If you were born in the 1980s or after, basically your entire pop-music life is the work of Max Martin. Sure, you might know he penned some hits for Britney Spears, but it goes deeper than that — our boy Max is behind almost everything on the radio. (Dr. Luke is pretty much behind the rest, these days, at least in the Top 40.)
In fact, Martin is up for his own individual Grammy, for producer of the year, based on the strength of seven singles this year alone.
G/O Media may get a commission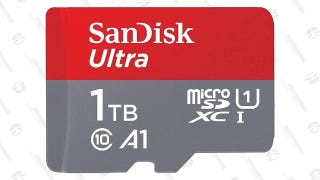 Save $75
SanDisk Ultra 1TB MicroSDXC Card
So we wanted to put it in perspective: How would our favorite pop-song videos of the past two decades look if they actually featured the man behind the music? Check it out.
Taylor Swift – "Shake It Off" (2014)
Katy Perry – "Dark Horse" (2013)
Kelly Clarkson – "Since U Been Gone" (2004)
N Sync – "It's Gonna Be Me" (2000)
Britney Spears – "Baby One More Time" (1999)
Backstreet Boys –"Everybody (Backstreet's Back)" (1997)
All photo illustrations by Elisa Rodriguez-Vila
Arielle Castillo is Fusion's culture editor, reporting on arts, music, culture, and subcultures from the streets on up. She's also a connoisseur of weird Florida, weightlifting, and cats.
Elisa is a designer & illustrator that writes (and doodles) about pop culture, women, diversity and all things art. She is the human behind Fusion's Instagram account and Elvis Presley is her spirit animal.