Last week, Baton Rouge police officers shot and killed Alton Sterling outside a convenience store, after responding to a reporrt of a man with a gun. On Monday, Abdullah Muhlafi, the owner of Triple S Mart, filed a lawsuit in Baton Rouge district court alleging that immediately after killing Sterling, Officer Blane Salamoni ordered two officers to confiscate the store's security system, and illegally detained Muhlafi while confiscating his cellphone that included footage of the shooting.
Given the ongoing Black Lives Matter protests (and arrests of protestors) in cities like Baton Rouge, Rochester, Atlanta, and St. Paul, it's important to know your rights when it comes to photographing or filming police activity, and what to do if you get arrested in the process.

Assert your rights
If a police officer asks you to stop filming them in a public place, they're legally in the wrong. Via The Atlantic:

"As a basic principle, we can't tell you to stop recording," says Delroy Burton, chairman of D.C.'s metropolitan police union and a 21-year veteran on the force. "If you're standing across the street videotaping, and I'm in a public place, carrying out my public functions, [then] I'm subject to recording, and there's nothing legally the police officer can do to stop you from recording."
In 2014, The Huffington Post spoke to Mickey Osterreicher, an attorney with the National Press Photographers Association, who clarified the rules for journalists and the public alike:

"There's no law anywhere in the United States that prohibits people from recording the police on the street, in a park, or any other place where the public is generally allowed," Osterreicher said.

A number of states do bar people from recording private conversations without consent. But as long as the recording is made "openly and not surreptitiously," said Osterreicher, it's fair game. According to Osterreicher, "assuming the position of holding up a camera or phone at arm's length while looking at the viewing screen should be enough to put someone on notice that they are being photographed or recorded."
G/O Media may get a commission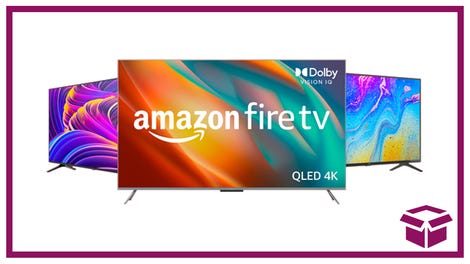 Ooh. stunning.
New Amazon Fire TVs
Jay Stanley, a senior policy analyst at the American Civil Liberties Union, told The Atlantic that photography levels the playing field, and police officers don't often like that, which leads to them trying to stop filming. This became such a problem that Stanley wrote a guide to photography and filming rights for the ACLU.
However, Burton continues, you don't have the right to interfere with what the officer is doing, even if it's illegal. "In general, a court will trust an officer's judgment about what is "interfering" more than yours. So if an officer orders you to stand back, do so," says the ACLU.

Public vs. private
Most times, if you're on public property, "you have the right to capture any image that is in plain view. That includes pictures and videos of federal buildings, transportation facilities (including airports), and police officers," the ACLU's guide states.
However, you may be charged with disorderly conduct for blocking a thoroughfare while filming. This was likely the pretext used to arrest Black Lives Matter activist DeRay Mckesson over the weekend. According to the police, Mckesson, while in public, was illegally blocking the road.
Private property is more complicated, in that the owners set the rules and can rescind your access for whatever reason they want. The horrifying video of the protestors being advanced on shot over the weekend in Baton Rouge was taken on private property, where the owner had reportedly given access to the protestors, who were arrested anyway.

They shouldn't ask you to delete your videos
The ACLU says that police should not order your to delete photographs or video from your device under any circumstances. But if you are threatened with arrest, your best move might be to stop filming (in order to avoid arrest) and contact the ACLU.
Police officers need a warrant in order to confiscate your device, a point that is sure to be very important if Mulafi's suit against the Baton Rouge Police Department moves forward. This has been affirmed by the Supreme Court, and covers you even if you're arrested.
Still, if an officer attempts to take your device, even after you've explained your rights, you could end up arrested for resisting. Police officers could face felony charges for evidence tampering or obstruction if they do confiscate or delete without a warrant.
Sadly, especially for people of color, the last week's events have further driven home the point that it might be in your best interests to comply with an arrest even if you know it's unlawful.

 What about live-streaming?
The shooting death of Philando Castile was made even more surreal and remarkable because it first came to attention because Diamond Reynolds, his girlfriend, streamed the aftermath on Facebook Live.
Facebook Live joins the ACLU's proprietary app and Periscope as tools that can be used to live-stream video as it happens, making it harder for police to force the deletion of footage. Both Periscope and Facebook Live can create archival copies of videos (although Reynolds' was inexplicably scrubbed from the network, only to return later that day).
As The Ringer points out, Facebook's reach makes it likely to become the streaming service of choice for protestors. These tools are probably your best bet in case a police officer goes so far as to try to confiscate your phone and delete the recording.

Know that you may be arrested anyway
Simply put, an officer may arrest you for filming regardless of whether it's legal or not. If you do end up being arrested for filming the police, there are a few things you should do.
First, before heading to a protest or other event where it's possible you'll be arrested, be sure to write the phone number of a lawyer, family member, or emergency contact on your arm or other body part with permanent marker. You won't have access to your phone contacts while in holding, so bring some quarters, too.
The ACLU goes so far as to offer multiple lines you can call in this scenario and offers free pocket cards to keep on your person.
The ACLU offers one last suggestion for you to try if it looks like an arrest is imminent.

If you are detained, politely ask what crime you are suspected of committing, and remind the officer that taking photographs is your right under the First Amendment and does not constitute reasonable suspicion of criminal activity.
If you are arrested for filming, Reason points out, it is possible that you will drop your device, and if you don't, you'll keep recording and have a document of how the arrest happened.
Since you're likely to not be in possession of your phone after being arrested, be sure to set a passcode so only you can access the phone.

Be polite, even if your arrest was unlawful
In 2012, The Wire convened a roundtable of defense attorneys, prosecutors, officers, and an Occupy protestor who had been locked up, and they all agreed that if an officer feels disrespected by the person they're arresting, even for a seemingly innocuous offense, they have tricks up their sleeves to mess with the person once they're in holding.

"If you start getting belligerent with them, I guess it's obvious, but they'll get real nasty and there are all kinds of little things they can do to delay the case. They can wait to fingerprint you, they can also delay transporting you from the precinct down to the courthouse. They can say 'I don't have overtime authorized so I have to come back on my next shift to process this arrest,' they can wait on speaking to the DA's office to get the paperwork together."
The roundtable continued to say that you should be careful about what you say to fellow arrestees: anyone in holding with you could be an informant against you later on.

Ask for an attorney
If you are taken to be interrogated, you should ask for your attorney to be present. If you don't have an attorney, contact the ACLU or a local defense attorney association. After your attorney arrives, talk to them about anything you've said to the police already, what the next steps are, and whether a plea bargain is possible, or even a good idea.
David Matthews operates the Wayback Machine on Fusion.net—hop on. Got a tip? Email him: david.matthews@fusion.net