It's easy to get caught up in the scalding hot tea that's accompanied the release of Beyoncé's visual album "Lemonade." But the project is rich with influences you won't see mentioned on TMZ. We see more of the black Southern gothic from the video for "Formation," complete with diasporic elements of Yoruba. We see references to films like Daughters of the Dust and Eve's Bayou. It's also obvious that Beyoncé and her collaborators have combed through some college syllabi and taken a few trips to the bookstore. "Lemonade" is basically a video version of Black Feminist Lit 101.
On black womanhood
Much of the lyrics of "Lemonade" focus on the consequences of infidelity, and we see Beyoncé cycle through the pain of dealing with a cheating husband. We also see the grieving mothers of black boys and men killed unjustly. Because "Lemonade" touches on the actions of men and honors the mourning of men, it's easy to reduce the film to the idea that everything revolves around them. On the contrary, "Lemonade" gives proof to Anna Julia Cooper's words: "Only the BLACK WOMAN can say 'when and where I enter, in the quiet, undisputed dignity of my womanhood, without violence and without suing or special patronage, then and there the whole Negro race enters with me.'" "Lemonade" is not simply another "he done me wrong" album or video. The relationship at the heart of the lyrics is a Trojan horse, opening to the shores of black womanhood as healing and salvation.
G/O Media may get a commission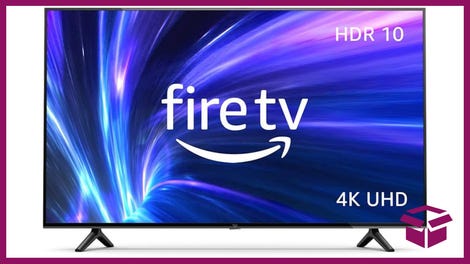 42% Off
Amazon Fire TV 50" 4K Smart TV
For further reading:
Eva's Man by Gayl Jones
The Way Forward Is With a Broken Heart by Alice Walker
Some Love, Some Pain, Sometime by J. California Cooper
for colored girls who have considered suicide/when the rainbow is enuf by Ntozake Shange
Their Eyes Were Watching God by Zora Neale Hurston
On the supernatural
Images of Yoruba, such as Oshun and Ori, are prevalent in "Lemonade." During the spoken word portions of the film, Beyoncé lists the prayers and actions her character used to find peace in her relationship. She fasted; she abstained from sex; she plugged her menses with pages from the holy book. These things are a type of conjuring, a series of spells, meant to keep a lover faithful and provide a woman with clarity and sanity. "Lemonade" highlights the different kinds of faith and their practices that many (black) women use to fix the chaos in their lives.
For further reading:
Beloved by Toni Morrison
Mama Day by Gloria Naylor
Sassafrass, Cypress & Indigo by Ntozake Shange
I, Tituba, Black Witch of Salem by Maryse Condé
The Salt Eaters by Toni Cade Bambara
Tell My Horse by Zora Neale Hurston
Voodoo Dreams by Jewell Parker Rhodes
On black relationships
"Lemonade" adapts the poetry of Somali-British woman Warsan Shire. It's hard to imagine the film or album without the influence of her work. Her poetry is breathtaking in the way it takes various relationships and magnifies the intimacy within, whether it's between mother and child or between lovers. The works of poetry greats like Lucille Clifton, Gwendolyn Brooks, and Rita Dove are a given to explore. They position the stories of black women's lives at the center of their work. Black women may have unique experiences with the intersection of race and gender injustices but they also fall in and out of love with sexual partners, friends, and family members just like anyone else.
For further reading:
Teaching My Mother How to Give Birth by Warsan Shire
Wounded in the House of a Friend by Sonia Sanchez
Directed by Desire by June Jordan
The Body's Question by Tracy K. Smith
"Lemonade" makes clear that there is power and healing in acknowledging, correcting, and forgiving certain types of wrongdoing. Black women's literature is a site of that power and healing. More than that, black women's literature offers a way of discovering histories to avoid repeating and provides clues about how to move forward to the freedom we all need to be our best selves. "Lemonade" took all those elements and shaped them into something for the 21st century, a way to refresh ourselves while remembering the bitter.
Nichole Perkins writes about pop culture, race, sex, and gender. Based in her hometown of Nashville, Tennessee, she wants the world to know the south still has something to say.