For the millions of Americans horrified by the prospect of a Donald Trump presidency, the past week has been surreal and devastating. It's necessary to process what happened, to console ourselves and others, and to come to terms with what his election means for America and the world. More than anything, a single fact remains: We've got real work to do.
But how do we know what the work entails? What will a commitment to change require of all of us? We decided to look to some of our most inspiring artists and activists, past and present, for guidance. The result is this list of inspiring things to read and watch as we try to understand how to confront challenges to our environment and livelihood, how to gather the strength to fight for justice even in times of despair, and how to imagine—and create—a brighter and better future.
 Read:
G/O Media may get a commission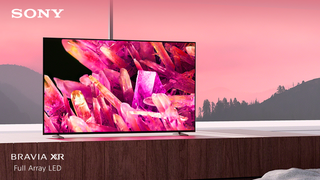 $400 off
Sony 55 Inch 4K Ultra HD TV X90K Series
James Baldwin, "A Letter to My Nephew"
As one of America's greatest essayists, James Baldwin remains a guiding light in troubled times. A good place to start—or return to—is Baldwin's letter to his nephew, an essay that would later be adapted in his seminal work, The Fire Next Time. You'll find Baldwin offering a grim warning of the world his nephew is entering into, but also a call to arms: "We with love shall force our brothers to see themselves as they are, to cease fleeing from reality and begin to change it, for this is your home, my friend. Do not be driven from it. Great men have done great things here and will again and we can make America what America must become." (For a more current take, you can also read The Fire This Time: A New Generation of Writers on Race in America, an homage to Baldwin featuring some of today's most prominent essayists and poets.)
Maria Konnikova, "I Don't Want to Be Right"
A major issue of this election was the spread of false information. In order to spread the truth, understanding how falsity is embraced, and how to intercept that embrace, is crucial. Maria Konnikova's essay for the New Yorker, "I Don't Want to Be Right," delves into the psychology of believe, and how an important message can finally be heard.
Sandra Cisneros, Loose Woman
Before "nasty woman," there was Sandra Cisneros' Loose Woman, a collection of poems celebrating all the things Trump's campaign attacked this year. Unabashedly Mexican, unapologetically feminine, Cisneros' poetry captures an immediacy, vitality, and pride that will inspire you. Begin with "You Bring Out the Mexican in Me" to power up.
Nikky Finney, "Red Velvet"
You've heard of Claudia Rankine's Citizen, but if you want more poetry that faces history and social issues head on, try picking up Nikky Finney's Head Off & Split. Many of the poems are personal and confessional, dealing with love, loss, and home. But poems like Red Velvet (written for Rosa Parks), tell the story of America with precision, tenderness, and clarity.
Ocean Vuoung, "Someday I'll love Ocean Vuoung"
In a country that seems intent on destroying you, loving yourself can be radical work on its own. Sit with Ocean Vuoung's "Someday I'll love Ocean Vuoung" to remember that "The most beautiful part of your body / is where it's headed."
Phillip Levine, "What Work Is"

When you need to remember what this world required of your, consult Phillip Levine's "What Work Is." Compassionate and urgent, Levine's poem urges us to remember the simple, obvious things that are an important part of making our world better.
Octavia E. Butler, The Parable of the Sower
A dystopian YA novel set in 2026, Octave E. Butler's The Parable of the Sower features a young woman living in a world where "not even gated communities are safe." But at the center of this story is a bold, immutable courage you can tap into. As Butler's protagonist writes: "There is no end to what a living world will demand of you."
Howard Zinn, A People's History of the United States
You won't get through A People's History of the United States by Howard Zinn in a weekend, but it's worth reading (or returning to) this exceptionally researched book to understand how the marginalized in our country have always contributed to it, even if their stories weren't centered in our textbooks.
Edwidge Danticat, Create Dangerously: The Immigrant Artist at Work
If you're an artist or activist, there is probably no more relevant book right now than Edwidge Danticat's Create Dangerously: The Immigrant Artist at Work. In it, the Haitian-American Danticat author offers intimacy and insight: and calls on the reader to fearlessly bear witness to injustice. "This is what I've always thought it meant to be a writer," says Danticat, "Writing, knowing in part that no matter how trivial your words may seem, someday, somewhere, someone may risk his or her life to read them."
"This is the most important thing: That y'all learn to take care of the things that are smaller and sweeter than you." - Beasts of the Southern Wild
Watch:
Never Sorry
Dissident artist Ai Wei Wei has been standing up to China's communist government for decades. The documentary Never Sorry is an intimate look at Ai's artistic process, relationships, and his harrowing but unflinching confrontation with the Chinese government.  He also has four separate installations on display in New York right now, all focused on refugees.
How to Survive a Plague
Expect to feel everything when you watch David Frances' masterful "How to Survive a Plague," which chronicles the fight of HIV/AIDS activists against an indifferent—and at times, openly bigoted—government. As Frank Bruni wrote in The New York Times, the film "vividly chronicles how much society can budge when the people exhorting it are united and determined and smart and right."
Beasts of the Southern Wild
While Beasts of the Southern Wild contains many fantastical elements, the film deals with current and pressing issues like climate change, poverty, and how institutions are weaponized against the disenfranchised. In the film, the main character, a young girl named Hushpuppy, receives a call to action that resonates especially true now: "This is the most important thing: That y'all learn to take care of the things that are smaller and sweeter than you."
Kehinde Wiley, "Lamentations"
"If Black Lives Matter," artist Kehinde Wiley has said, "they deserve to be in paintings." Wiley did one better and put them on stained glass. "Lamentations" is a series based on Renaissance techniques but centered on contemporary black life—and now on display in Paris in Le Petite Palais. "It's about being powerful in the world, glowing literally," Wiley says. "And if art can be at the service of anything, it's about letting us see a state of grace for those people who rarely get to be able to be seen that way."
Junot Díaz, Hispanic Heritage Awards acceptance speech
This past October, writer Junot Díaz accepted the Hispanic Heritage Award for literature. In his stirring speech, he reminded the audience that the Latinx community is a living embodiment of strength, creativity and courage. "We survived the loss of home, the loss of family, the loss of language. We survived no one knowing how to say our names. We survived our parents' suffering and our parents silence and their scars that speak louder than the bombs that put them there."

Listen:
Fannie Lou Hamer, "Until I Am Free, You Are Not Free Either"
When you need to remember the cost—and value of—freedom, listen to Fannie Lou Hamer's "Until I Am Free You Are Not Free Either." Invoke Hamer as your woke godmother: A voting rights activist and leader, in this speech she captures personal stories, history, and a commitment to intersectionality. "We plan to be in this country with you whether you want us here or not," says Hamer. "And we plan to make this a better place for all the citizens, black, red, white, and brown."