Tonight's 2016 presidential debate will most likely be an intense, painful, stressful, and contentious hour and a half of television, and if you're weary of conflict, sick of yelling, impatient with the democratic process and burned out on politics all together, you might just want to opt out. While SEVERAL TV channels will air the debate, luckily there are plenty of networks planning to broadcast completely unrelated programming at 9pm ET. Below, some suggestions.
📺📺📺 
Break-Up Nightmare , Lifetime Movie Network (8 PM)
Synopsis: "A girl finds her life and dignity being destroyed by perverts and criminals on a pornographic website, so she decides to fight back, but she has no idea who to trust anymore."
G/O Media may get a commission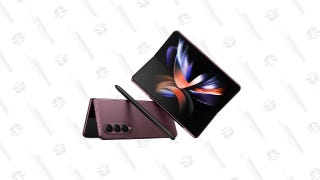 Save Up to $300
Galaxy Z Fold4
Why you should watch: Perhaps sitting through a fictional tale of revenge porn destroying the lives of innocent women will upset you less than sitting through 90 minutes of a real estate con man attempting to discredit our nation's former Secretary of State. A warning, though: this movie premiered earlier this year and a viewer named Dave from Pennsylvania declares it to be "the worst movie that I've ever seen!" and demands that Lifetime "apologize to all of your viewers, fire that screener and send me a check for my therapy that I require because I sat through that crap." If you really hate debates, it still might be worth it, though.
Sex Sent Me To The E.R. , FITTV (9 PM)
Synopsis: Um, it is what it sounds like. Actual couples explain hilarious and horrifying coitus crises as paid professionals perform reenactments.
Why you should watch: Unlike the debate, in which a man and a woman will display deeply divisive behavior, these stories involve men and women attempting to come together (heh).
Supergirl, CW (9 PM)
Synopsis: Your classic American comic book superhero action-adventure story.
Why you should watch: Ease the anxiety of election results by knowing that at least somewhere a powerful woman is fulfilling her destiny and saving lives!
Law & Order: SVU, MNT (9 PM)
Synopsis: Horrible things happen to women.
Why you should watch: Actually don't watch this, if you want to see horrible things happen to women, you might as well follow the election.
Criminal Minds, iON (9 PM)
See above: Hits too close to home.
Chopped, Food Network (9 PM and 10 PM)
Synopsis: Chefs are given baskets full of weird ingredients and a time limit, then must compete against each other to whip up delicious dishes. One episode airing tonight is called Tortellini Trials, the other is titled Kefir and Loathing.
Why you should watch: A basket full of pasta sure beats a basket full of deplorables.
Friday, BET (8:30 PM)
Synopsis: Hanging on the porch getting stoned is more dramatic than you think.
Why you should watch: Ice Cube is an excellent way to say "Bye, Felicia" to the debate.
Tiny House Hunters, House Hunters, House Hunters International, HGTV (9-11 PM)
Synopsis: The trifecta of vicarious real estate shopping!
Why you should watch: The first show will prepare you for a Trump presidency in which you suddenly need to sell all of your possessions because the economy has collapsed; the second show is an escapist palate cleanser; and the third is also perfect for a Trump presidency in which you feel the need to flee the country. This is actually the best possible lineup for tonight. Enjoy!