When Isa Noyola made an appearance on Democracy Now! last year to talk about the Pulse nightclub shooting, the conversation quickly turned to a word she was using to describe the victims.
"For those who haven't heard the term, explain 'Latinx,'" host Amy Goodman asked.
Latinx (pronounced "La-teen-ex")"acknowledges a gender spectrum" among people of Latin American descent, Noyola said. She used the word to make sure to include all the Orlando victims of Latin American descent, those who identified as male, female, or any other gender.
"The word Latinx is the remedy to the binary, to ignorance and limiting possibilities. It's what's on the other side of basicness," Noyola, a program director at the Transgender Law Center, told me.
In Spanish, most nouns have a grammatical gender and are either masculine or feminine. The word "Latino" is masculine, and "Latina" is feminine. The gender-neutral "Latinx" is an empowering term that encompasses identities beyond the male-female binary.
G/O Media may get a commission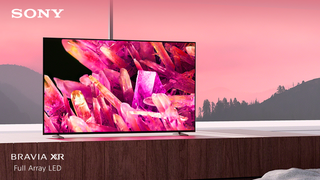 $400 off
Sony 55 Inch 4K Ultra HD TV X90K Series
Noyola often uses Latino, Latina, and Latinx simultaneously to help people make the connection. "Accessibility is very important to me," says Noyola.
Latinx is gaining popularity in the United States among academics and activists, and in some newsrooms. Fusion allows and champions the use of Latinx, but if an individual identifies as Latino or Latina, we honor that preference and identify them as such.
Latinx is increasingly seen on protest signs and in names of student groups that had historically included Latino in their names. Seattle University now has a Latinx Law Student Association, and Yale University's Divinity School has a Latinx and Latin American Christianity program. San Jose State University has a Chicanx/Latinx Student Success Task Force.
People of all ages are also reimagining their identities on platforms like Tumblr and Instagram. There are hashtags for Salvadoreñx, Argentinx, and Colombianx.
The word Latinx started in online chat rooms and listservs in the 1990s, according to Dr. Elizabeth Horan, a professor of English at Arizona State University and who many academics cite as being the first to use the word in a journal in 2004.
"'X' does not mean either male or female. It's, in a way, whatever you want it to be. It's open," Dr. Horan says. "Like in algebra, we solve for 'x.'"
Some critics of the word say it's "linguistic imperialism" and "bulldozing" of the Spanish language.
"Language is alive," Dr. Horan argues. "The idea of anything being a bastardization of language is absurd, because language belongs to the people who use it. Language is what makes us human."
As evidence that language is evolving, Dr. Horan points to the increasing use of "X" to replace the letter "J" in many Latinx names.
In 2015, 2,591 children born in the U.S. were named Ximena, and only 691 who spelled the name as the more traditional Jimena. A decade earlier, it was the opposite: More girls were named Jimena than Ximena.
For some, there's the concern that Latinx is most often used in privileged spaces, like academia or on platforms that may present a technology barrier. "This term didn't start at the supermarket or the barrio—definitely not where our communities are," Noyola says.
But using the term Latinx is about inclusivity. "Now, more than ever, how we use language is important to build unity," Noyola says.
"To have other words that we can use against hate is powerful."
This post is part of Fusion's series on our house style guide, a living document spearheaded by copy editor Daniel King and crowdsourced from editorial staff across our teams for input on words' accuracy. Reach us at styleguide@fusion.net.