VANCOUVER—Sometimes, in the early evenings after dusk, Justin Fung will walk around and take photos of condo buildings. The affordable housing activist holds his phone up, capturing shiny, newly built towers. In some buildings, only a few windows up and down the facade will be lit up. Most are dark, the rooms behind them empty.
The condos are all sold, but not to people who live in them. Increasingly, they're snatched up by foreign investors who see them more as piggy banks than homes. It's a trend that's rapidly changing the city that Fung loves. "It's appalling," he told me last week. In some neighborhoods, "it's like a ghost town."
A very pricey ghost town. Vancouver has become North America's most expensive real estate market in part because more and more rich people from abroad—especially China—are buying houses here. Hoping to head off the nausea-inducing prices, the province of British Columbia approved a new tax in August charging every foreigner who buys a house or condo here 15% of the sale price (so a one-time $150,000 payment on a $1,000,000 home). Some of the money raised from the tax goes to construct affordable housing. It's the first such tax in North America, although similar policies are also on the books in Singapore, Hong Kong, and parts of Australia.
The initial data suggests that the controversial tax has been successful at taming Vancouver's volcanic real estate market. But it has also hit hardworking immigrants who don't meet the caricature of absentee millionaires, and some locals think it has fueled animosity and xenophobia toward recent Chinese immigrants.
G/O Media may get a commission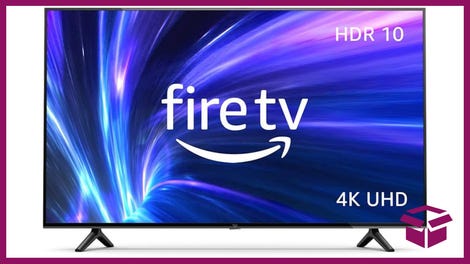 42% Off
Amazon Fire TV 50" 4K Smart TV
As housing prices continue to rise dramatically in American cities like New York, Los Angeles, and especially the San Francisco Bay Area, pushing out lower income people, a tax on foreign investors could be attractive to many voters.
If you designed a city to appeal to wealthy Chinese property buyers, it would look a lot like Vancouver. It's an eleven-hour flight to Beijing, the shortest trip from any city in North America. It's renowned for its high quality of life and gorgeous mountain vistas. And Vancouverites have been welcoming of immigration in the past: the metro area is 43% Asian, the highest of any major city outside Asia.
The recent foreign home buying trend started a few years ago and quickly took off. While rich Chinese investors dealt with a volatile economy at home, the relatively stable real estate market in Vancouver looked attractive. A study by a University of British Columbia professor last year found that two-thirds of the recent home sales in the city's most affluent neighborhoods went to Chinese buyers.
It's led to ridiculously high home prices. Earlier this year, the average price for a detached home in the area peaked above C$1.8 million ($1.36 million), compared to about $1.1 million in the San Francisco Bay Area. Making things more expensive, draconian regulations about where towers can be built—and a general scarcity of open land—prevents the city from quickly adding new affordable housing supply, a strong way to bring down real estate prices. "It's hard to perceive a future of the city where my daughter could live here," said Fung, an activist who started a local affordable housing group called Housing Action for Local Taxpayers (HALT).
There's little debate that the tax on foreign homebuyers has succeeded in its goal of changing the dynamic. Since it went into effect this year, the foreign home market has ground to a screeching halt.
Recently released data showed that the number of home sales to foreign buyers dropped more than 90%, from 1,974 sales in the roughly two months preceding the new tax, to just 60 sales in the month after it passed. (Part of that drop might also be explained by people rushing to complete sales before the tax went into effect.) The average price of a detached home has fallen precipitously, to C$1.47 million. And the tax is contributing to a surprise budget surplus for the province, with B.C. raking in C$1 billion more than earlier projections.
"It's had a significant impact," said Tom Davidoff, an economics professor at the University of British Columbia who studies the housing market here. "It makes it possible for people who live and work here to compete with a large group of the most affluent foreign buyers."
There are ways to get around the tax. Some foreign buyers are putting new houses in the names of family members or friends who have permanent residency in Canada, and aren't subject to the tax. Several reports have also turned up suspicious real estate records of palatial, multimillion dollar homes owned—in name, at least—by low-income waitresses and students, possibly an arrangement to skirt taxes.
As it stands, the tax does nothing to differentiate between tycoons showing up with a bag of cash and less affluent immigrants who want to make Vancouver their home. Jing Li, a 29-year-old Chinese immigrant who came to Canada for college three years ago, used her parents' life savings for the downpayment on a new, C$559,000 condo. The tax went into effect after she paid the deposit but before she took over the deed for the condo. That meant she was forced to decide between paying C$83,850 for a tax she couldn't afford or forfeiting her C$56,000 deposit.
Instead, Li filed a class action lawsuit against the province over the tax, arguing that it goes against dozens of international treaties guaranteeing equal protection for citizens of other countries. "She doesn't understand why the government is doing this," her lawyer, Luciana Brasil, told me. "She's not the cause of Vancouver's real estate prices soaring… Why does she have to pay for it?"
Since she filed the lawsuit, Li said she's received a stream of angry messages online, with people telling her "go back to China" and—oddly, considering the context—calling her a "communist who should be thrown out of the country," Brasil said.
She's not the only one who has seen the debate over the tax and Chinese investment tap into an undercurrent of xenophobia. A few months ago, while the policy was being debated by the provincial legislature, realtor Melissa Wu started noticing that her red-and-black "for sale" yard signs were being vandalized. Someone was cutting them up, slicing out the part of the sign that had her name in Chinese.
After it kept happening all over town, Wu finally caught the culprit on the security camera of one of the houses. She showed me the grainy footage: In broad daylight, the man walks up to her sign, cuts out the Chinese characters with what appears to be a knife, and then calmly walks away, holding the cut-out. It takes less than 20 seconds.
Police told her they couldn't prosecute the man because he had a history of mental health issues and lived outside the city. But Wu, who emigrated from Macau at age nine, thinks it wouldn't have happened if Chinese people weren't being blamed for the city's housing bubble.
"It's barbaric," she told me at an open house last week. "I've grown up here in Vancouver for the last 30 years… and I've never seen this. It has always been a friendly place for us immigrants."
Things were pretty slow at the property she was showing, a C$3,888,000, four-bedroom bungalow with a postcard-like view of downtown. A trickle of neighbors and realtors walked through. One older Chinese woman took two of the fancy Chinese wall calendars that Wu handed out in gift bags. Overall, Wu said, the tax had dried up the market overnight. "The foreign buyers are gone," she said.
Fung, the affordable housing activist, thinks that some politicians have "played the race card" to avoid making policy changes. It's silly to say that working to limit foreign investment is inherently racist—after all, some of the activists most involved in the effort, including Fung, are Chinese-Canadian. But Fung agrees that the way the tax was implemented "unfairly punishes" some immigrants.
Davidoff, the economics professor, said a better idea for Vancouver—and other cities facing real estate bubbles—would be to tax foreign money, not foreign people. A proposal that he developed that's endorsed by 50 economists would tax property owners who didn't make their income in the Vancouver area and didn't rent their property to a tenant. Following this idea, the city of Vancouver (which has separate taxes from the province) will implement a tax on vacant homes next year.
He said his plan purposely stayed away from targeting people based on nationality. "There's this resentment and it's hard not to have it when you see this wealth coming in," he said. Locals see "people with new driving permits driving Lamborghinis, and it pisses people off."
Despite the issues with the tax on foreign buyers, it is broadly popular among Vancouverites—one recent poll found that 76% of the city's residents support it; another poll put the figure at 90%.
Most people here say they're just glad something is being done after years of government inaction. Brian Zacharias, who runs a Bolivian food truck on a local beach, said Vancouver has never felt so expensive in the almost three decades he's lived here.
"With all this foreign money coming in, local people are getting killed," he said as he watched the sun set over the water. "It's a real struggle just to get by." It's not just real estate, but the cost of living as well—even the bison meat he puts in his tacos had doubled in price in the last year.
Walking her dog down the shore, Iwona Roslonek shook her head when I asked about the tax. "I don't think it's enough," she said. "To the ultra-rich, 15% is nothing. We need a higher tax, a considerable amount, or our children won't be able to live in Vancouver."
Since she bought her downtown condo in 1999, Roslonek—herself an immigrant from Poland—has seen its value more than quadruple. "It's good for me, but what about everyone else?" she said. "This city will be a resort for the rich."
Some younger people here have given up hope of ever owning a home. A survey released last week found that 60% of Vancouver millennials still live with their parents, mostly because they can't afford their own place. "I would love to, but it isn't possible in this reality," twenty-something Ian Schultz told me.
So would taxing foreigners be popular south of the border? Already, we're seeing more scrutiny of foreign investment in New York and Miami. And the affordable housing policy debate in Vancouver shows that taxing a group of people who can't vote can be a politically easy move.
Currently, foreign investment is less of an issue in most American cities than in Vancouver. Several affordable housing activists in San Francisco told me it isn't really on their radar. But that could change—especially if the tax in Vancouver makes foreign investors turn south of the border.
Casey Tolan is a National News Reporter for Fusion based in New York City.