Los Angeles-based nail artist Natalie Minerva has touched many a celebrity hand, but at Winter Music Conference this weekend, she encountered her first Snapchat star client: Shonduras.
As owner of Nail Swag studio, Minerva, 26, creates innovative nail looks for music videos, photo shoots and the likes of Paris Hilton and Ciara. Along with her partner Britney Tokyo, she has her own fly line of nail gels, Tokyo Swag.

Here's Natalie at her Nail Swag pop up at Red Bull Guest House.
Companies like Red Bull and Coachella also hire Minerva for events such as the Red Bull Guest House in Miami during Winter Music this past weekend, where the hugely influential Snapchatter Shaun McBride aka Shonduras was snapping and drawing away his adventures — skating with Lil Wayne and frolicking by the pool with Reggie Bush — from both his personal and Red Bull's accounts.

Shonduras has become a Snapchat celebrity by doing fun, intricate designs like this one:
G/O Media may get a commission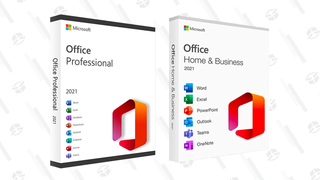 89% off
Microsoft Office Professional 2021 Lifetime License
Turns out, celebrity nail artists and Snapchat celebrities have a lot in common: they love to work with their hands and brands are paying attention.

Here's how Minerva and Shonduras' encounter and conversation went down:
Shonduras, 27, came in to the Nail Swag pop up suite at the Red Bull Guest House asking to get the Snapchat ghost on his texting thumb. As Minerva got to work using a fine painting brush, Shonduras (who reportedly has a following of over 200,000 friends on Snapchat) started recording every step of the process on the Snap with the two smartphones he carries around everywhere.
"Oh my gosh, that's so good!" he exclaimed as she delicately applied the nail gel. "I feel your pain, I use my finger for drawing and there's no thickness on Snapchat. I need to draw the edges first and then fill in the color, then erase, draw again," he explained.
"I'm on 3 hours of sleep but it's all good!" said Minerva, who was partying the night before until 6 am to DJ Seth Troxler's Big Tittie Surprise party.

Snapping as the nail dries.
"Should we put glasses on him? Very Winter Music!" asked Shonduras, visibly excited. Not only did Minerva add the sunglasses, but also the ghost's signature little tongue coming out of its mouth.
"Oh my gosh. I feel this is so hard. How do you do this?" he asked incredulous.
"The gel shines in black light so it will be bright when you go out tonight!" Minerva told him, smiling.

Coming soon to Shonduras' Snap:
"I don't want this to ever come off," said Shonduras admiring his first-ever nail art.
"It will last you 4 weeks easily," said Minerva.
"You don't know how much texting I do!" replied Shonduras, who after profuse thank yous and a few more snaps, was out the door and onto the Young Money pool party craziness.

Final product.
This is what Shonduras' gelled thumbnail accomplished a few minutes later:
Here are a few more Nail Swag creations by Natalie Minerva from her Nail Swag pop up:
Nuria Net is a founding editor at Fusion and now Social Storytelling Editor working on our Snapchat Discover channel. Co-founder, former editor-in-chief of Remezcla.com. Net is her real last name; Lechuga is her DJ name.