It is not easy to start fresh when a Google search of your name returns hundreds of hits connecting you to a website known for peddling stolen nude photos and extorting women.
But after getting busted by the federal government for running a small revenge porn fiefdom crowned by the site IsAnybodyDown?, Craig Brittain wants to go straight. He's launching a ride-hailing start-up that he hopes will compete with Uber and Lyft, but he's finding that running a revenge porn site can be just as bad for your career as having your nude photos posted to one. Actually, it's probably much worse.
Brittain, a 28-year-old Colorado native, started IsAnybodyDown? in 2011 along with a collaborator named Chance Trahan. The site was a copycat of another site for non-consensual nudes that had gone viral a year earlier, called Is Anybody Up? Like its progenitor, Brittain's site wasn't just a place for jilted exes to go public with once intimate images. Brittain tricked women into sending him their nudes; according to a complaint by the Federal Trade Commission, he posed as a woman on Craigslist in women-seeking-women spaces to get women to send him pictures he later posted online. He then assumed another alias, an attorney, who would offer to get the photos removed for a few hundred dollar fee.
Earlier this year, the FTC made Brittain pledge to never operate a revenge porn site again in a settlement that required he erase all unauthorized photos he had and inform the FTC whenever he changes employment. The gig was up and Brittain needed a new one. But how do you start life anew when Googling your name brings up old mugshots and headlines labeling you a "horrible dude?"
First off, Brittain filed a takedown request demanding that Google stop linking to nearly two dozen websites that he claimed illegally used photos and information about him without his permission. The irony here was not subtle: Brittain had reaped thousands of dollars in profit publishing nude images of women without their consent and now he felt exposed by his own sensitive images floating around online.
G/O Media may get a commission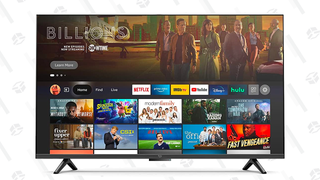 22% off
Amazon Fire TV - 50" Omni Series 4K - Early Access Deal
And for the last six months, Brittain and Trahan, have been working quietly on an Uber competitor called Dryvying.  But despite attempts to keep their names from tarnishing the company brand, they've recently been very publicly linked to the start-up.
Brittain has discovered the same unnerving truth about the internet's reputation economy that so many victims of his website already had. When an unflattering image follows you around on the web, it makes life difficult — both online and off.

💻💻💻
Over the past two years, revenge porn has been outlawed in more than 20 states. A federal ban seems imminent. But perhaps a bigger deterrent should be what has happened to those that run the sites themselves. When the sites first launched, the operators crowed about the protections of Section 230, a law that shields site operators from liability for what their users post. But the law has caught up to some of them. On Wednesday, Hunter Moore, the operator of Is Anyone Up?, was sentenced to two years in prison for identity theft and computer hacking following an FBI investigation. His co-conspirator, Charles Evens, was also sentenced last month to two-years and one-month in prison. By comparison, Brittain actually got off pretty easy; he wasn't even fined by the FTC.
Brittain, who refused to talk to me, comes off online as erratic and temperamental. In his situation, some might recede from the public sphere for a little while, or at least try to lay low. Brittain's tack, instead, has been to go full-on defensive. He launched a Twitter handle, AuditTheMedia, devoted to railing against mainstream media websites that he feels "shame" people like him in exchange for hits. He's cropped up as a supporter of the controversial GamerGate movement. Since the shuttering of IsAnyBodyDown.com, Brittain seems to have mainly made diligent work of bolstering his reputation as an internet troll. But that's a job that rarely pays.
In May, a tweet quietly announced the launch of Dryvying, making no mention of the company's founders.
Dryvyng is Uber without the hassle. Coming soon

— Dryvyng 🌐 (@dryvyng) May 27, 2015
In August, they incorporated the company in Arizona as an LLC. Shortly after, the company's Twitter account began releasing details: they hoped to launch by December, and would include features they felt were sorely missing from Uber and Lyft such as tipping, cryptocurrency payments and allowing passengers to see information about drivers before they requested a ride.
All drivers also have profiles where you can see information about them before you request, including their rates, ratings and reviews.

— Dryvyng 🌐 (@dryvyng) September 15, 2015
For months, the tweets revealed nothing more than the eagerness of start-up founders hunting for gold. A pitch deck bragged they'd received interest from more than 35,000 potential drivers in just a few weeks (though offered no proof) and announced that the company was seeking $1.5 million in investment capital.
No one seemed to catch on to who was behind it, until shortly before Thanksgiving, when security researcher Asher Langton and anti-revenge porn vigilante Adam Steinbaugh doxed the company on Twitter. As consumers (and sometimes investors), we often have little sense of the narrative behind our favorite apps. When we hit download in the app store, it's rare to question whether they are run by wide-eyed techies trying to take on an industry giant or seasoned hucksters just looking for an easy score. Langton and Steinbaugh had long tracked Brittain's antics online. They wanted to make sure that anyone dealing with Dryvying knew exactly who they were dealing with.
Langton tweeted e-mails from Brittain leaked to him by someone who had posed as an investor to inquire about the company. Among other things, Brittain refers to the would-be investor as a "fucktard" and a "dicksucker" and wishes that he contract a terminal illness. (Another actual investor later wrote Langton and told him his own e-mail exchange with Brittain had earned him a similar response.)
After the tweet was retweeted over 200 times, Dryving's Facebook and Twitter accounts went ballistic, alleging conspiracy theories about Uber and Lyft supporters trying to take them down and going on a rampage against the internet's so-called Social Justice Warriors.
https://twitter.com/dryvyng/status/669442572453068805
https://twitter.com/dryvyng/status/669636184696459265
https://twitter.com/dryvyng/status/671278927315394560
https://twitter.com/dryvyng/status/669568666858491904
Dryvying has yet to launch, but a November 16 post on its Facebook page said that an investment deal might be inked within the month and promised to launch "very soon."
When I called the number listed on the company's webpage, Trahan answered and talked to me for a few minutes about all the interest they've had from disgruntled Uber and Lyft drivers and their efforts to seek investment. He told me that he and Brittain had once driven for Uber and Lyft but had been "burned" so decided to start their own venture. (Uber and Lyft did not respond to my requests for confirmation that the two were drivers for them.) When I mentioned Brittain and the FTC, Trahan immediately hung up.
I also tried to talk to Brittain—it seemed unfair to constantly reproach Brittain for his ways, while at the same time not allowing him to move on from them and start fresh. I wrote him via e-mail explaining that I wanted to talk about what it's like to try and build something new with your past always getting in the way. I tweeted at him, too. I was rebuffed.
@kristenvbrown You can't. Write the hit piece you were already going to write. Fusion's low-info audience will Listen and Believe.

— Craig R. Brittain 🌐 (@CraigRBrittain) November 25, 2015
Since the company doesn't have a working app yet, I dug into Dryvying's Facebook and Twitter followers to try and get a sense of the company's legitimacy and who might be interested in it. On Twitter, many of the company's 59,000 followers seemed to be fake. (Dryving has suggested in tweets that the followers were bought by Social Justice Warriors in order to "frame" them.) On Facebook, at least some of the company's Facebook followers shared the same aliases that Brittain has allegedly used in the past. (For what it's worth, it seems some Uber drivers have indeed been trolling the Facebook page, leaving derogatory comments on Dryvying's posts.)
Both Trahan and Brittain seem to view themselves as victims of cyberbullying. Brittain has said before that he wants to devote his life to creating "useful and beneficial things for society." Dryvying may well be their attempt at starting fresh with a legitimate business.
But as any victim of Is Anybody Down? can attest, the internet never forgets. Maybe sometimes it shouldn't.