Brush aside all the familiar media narratives around DACA recipients—the gifted student, the accomplished young professional, the "good immigrant"—and what you are left with is a decision by a young person under the threat of deportation to step further into the public eye.

These individual acts of bravery have been central to immigration activists' media strategy. And their PR campaign has intensified in recent months as the Trump administration ramped up its anti-immigrant crusade and announced in September that it would rescind DACA, which provides temporary protection from deportation to about 800,000 undocumented people.
Numerous DACA recipients have become vocal media activists, sharing their stories in interviews, op-eds, and other press appearances. Advocacy groups have, in turn, helped connect them to national and local press outlets craving ways to humanize our immigration system. The ensuing relationship between journalist and subject can sometimes feel transactional—it often is, for this story and others—as poet and activist Yosimar Reyes parodied in a video.
But it's also an instance in which the interests of well-intentioned activists and somewhat cynical content creators align. DACA recipients are their own best storytellers. And the coverage of the entire program—including the impact on countless communities should DACA recipients be deported—relies on a relatively small number of people who act as unofficial representatives for the larger group. The overwhelming public support behind DACA recipients is evidence of the benefits of this PR strategy. Less clear is how many of these media figures will continue speaking out as the Trump administration's threats continue.
"Since Trump took office, we've been seeing more stories about people who've been in this country for two decades or longer, who don't have a criminal record, quickly getting removed," Leezia Dhalla, press manager for the advocacy group FWD.us, and herself a DACA recipient, told Splinter. "Some DREAMers whom I know, whom were once very vocal, have stepped back."

Splinter spoke with a handful of DACA recipients last week as about 100 flew to Washington to lobby Congress for the DREAM Act—and as the final deadline for many of them to renew DACA expired. They explained their thought process in speaking with the press, what it's like to live at the center of a national news story, and the questions that bother them most. Their accounts have been edited for clarity and length.
G/O Media may get a commission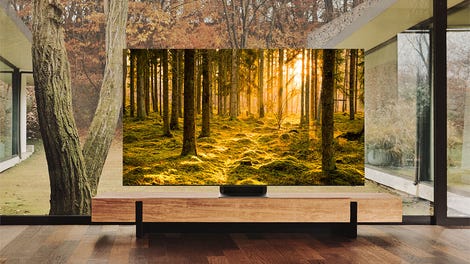 Up to 40% off
Samsung Smart TVs
Tomas Evangelista, Latino Leadership Council, Auburn, CA
From the beginning of the year, I've probably talked to more than 20 reporters, locally, nationally, and then Spanish, too. Every single time is emotional, and that takes a toll on you. You choose your words carefully. You have 800,000 or more people who rely on you to get it right. And you're always afraid of sharing too much. We definitely don't want to get our family members in trouble. And some people criticize our family members for bringing us here, and that's scary too.

You can definitely tell when a reporter really cares. Some, off the record, say that they're supporters and totally understand the issue. But you'll occasionally get a question that puts you on edge: What do you say to people who think you're breaking the law? Even though that's kind of a good question, you can't help but take that personally. You don't know how to answer those things. But, typically, reporters have been understanding that we're nervous.
I can tell my own personal story in five minutes. But even if I just have a minute, I can get my point across. Definitely when there's a new DACA recipient starting out talking to the press, it's really good to help them have an idea of what to say, because you can kind of get lost. It's not that we're not trying to tell the truth. We're just concerned. So we prepare. The the more you do it, the more you realize that you're in control of your own story. When you're put up against a wall, you're going to speak out.
Gloria O. Oduyoye, third-year law student at William & Mary, Williamsburg, VA
About a year ago, I never would have been open to doing an interview. I just wasn't public. But I eventually felt that there was a need for me to speak out. There's this image of a DREAMer as a young person of Latin American descent, or from Mexico. But there are also a half-million undocumented people living in this nation who are black, and many others who are Asian. It's important to see yourself reflected in the narrative.

I had a reporter who I felt had a political slant when she was asking me questions once. She was trying to get me to say negative things about government officials. That's not what I'm here to do. That's not what I stand for. The best way to invoke any change is to lead with your words and actions.
Francisco Juarez, senior at the University of Utah, Salt Lake City
On the one hand, I'm putting my neck out there and, if something goes bad—if the administration chooses to let DACA expire for good—my information is more public and is more easily accessible by certain organizations. You can also make a connection to my family, and that's absolutely terrifying. But we need to put a face to the policy to make it real.

I've done anywhere between 15 and 20 interviews. It's tough because you're talking about your struggles and what it's like to live in the shadows, or have parents or family members who live in the shadows. And the fear of something happening in response to that has become more and more real over the past year. I catch myself getting emotional now and then about the fact that I've been doing these interviews. But I honestly believe that they're necessary.
There are two media narratives that really bother me. The first, which is by far the most upsetting, is that DREAMers are "good enough"—that it's the crimes of our parents that brought us here. But we would not be these people the media enjoys showing—because of our academic accomplishments and our work accomplishments—had it not been for our parents. They are the real DREAMers.
The second is how media tends to focus on this undocumented student who's low income and yet still at an Ivy League institution. It makes it seem that the people who aren't doing that—people who didn't have the opportunity to go to college, or have to work to support their family, or who have development issues—aren't deserving. We are fighting this for everyone, not just really good students.
Elias Rosenfeld, sophomore at Brandeis University, Waltham, Mass.

I came here legally with my mom under a visa, so it was important for me to change the narrative that every single DREAMer has trekked up a wall or something to get into the country. A lot of people came here the right way, the legal way.

The question I get that is a little weird is when reporters ask if and how I've planned for getting deported. They think that DREAMers are actually creating these very concrete backup plans. Just imagine being told that in six months you'll potentially be sent back to a random country that you barely know. It's such a difficult question to answer. It's something I have in the back of my mind, but I refuse to actually get into that mode because it concedes defeat.
A lot of the community is very, very scared. We can even see that now given that there are 36,000 DACA recipients that were eligible for renewal, but didn't do it. A lot of advocates are saying that comes from fear. A lot of them aren't speaking out the way they did before.
When you read the comments section—and I don't recommend you read the comments—they give you that perspective on what people are thinking. A lot of times, they're good. But you can also see some of the more radical voices, who are saying things like, Here is the number for Homeland Security. Call them. For me, I don't want to succumb to that fear. What happens if the original DREAMers from the 2010 fight chose to not go out and tell their stories? What would that mean for the movement? It would mean we wouldn't have DACA today.