Here are three hard truths: 1. There are 1,475 immigrant children unaccounted for in the United States, and officials have no idea where they are; 2. The Trump administration has separated hundreds of children from their parents after they crossed the border illegally; 3. President Donald Trump is to blame for this cruel policy. He could put an end to it, but he doesn't want to.
If these children were American, this would be a national scandal and a priority for the administration. But since these are Latin American minors who entered the country without a visa or are otherwise undocumented, Trump officials have tried to play down this outrage.
The 1,475 lost children come mainly from Guatemala, El Salvador and Honduras, and arrived unaccompanied at the southern U.S. border between October and December. Officials from the Department of Health and Human Services turned them over to relatives or sponsors, then lost track of them. It's possible that these kids are doing well, and perhaps some of the families who've taken them in are staying under the radar because of their immigrations status. The problem is we don't know. We don't know where these children are, or if they are at risk.
And that's the headline that should worry all of us: The government has lost track of over 1,000 children.
G/O Media may get a commission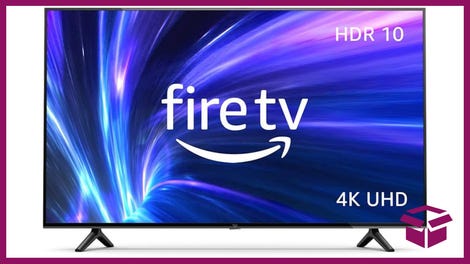 42% Off
Amazon Fire TV 50" 4K Smart TV
It's equally outrageous that officials are separating parents from their children at the border. The DHS acknowledged to The New York Times recently that "approximately 700" children had been taken from their parents from October to mid-April. And it's extremely difficult to know what happened to each of them.
The fate of these children depends on their parents' legal course of action after they are detained. A parent might be released after a few days, but if he or she had crossed the border without permission at least once before, they might stay locked up for two years before they are deported. Their children are usually turned over to relatives or sponsors, although it's also possible that they could end up in a labyrinth of foster homes and detention centers.
Among the 700 children separated from their parents, the Times reported that over 100 were under 4 years old. Imagine for a moment the lifelong trauma that these children will suffer.
Cruelty. That's at the core of Trump's immigration policy.
"If you are smuggling a child," said Attorney General Jeff Sessions recently, "then we will prosecute you, and that child will be separated from you as required by law." The Trump administration is separating families as a strategy to deter undocumented immigration.
According to court documents filed by the American Civil Liberties Union, this is how one mother described being separated from her son: "My son was crying as I put him in the seat. I did not even have a chance to comfort my son, because the officers slammed the door shut as soon as he was in his seat. I was crying too. I cry even now when I think about that moment when the border officers took my son away."
Because of this Sessions-Trump zero tolerance policy, there are 10,773 immigrant children in custody, according to reports by The Washington Post, far higher than the 8,886 who were in custody on April 29. We don't know how many of these children were taken away from their parents. We do know that no government should be overseeing 10,000 minors. Children must be with their parents, not in shelters or with strangers.
In a tweet, Trump recently blamed Democrats for the "horrible law" that forces the separation of immigrant children and their undocumented parents at the border. But this is a falsehood. No law forces anyone to do that. Officials are separating families at the border only because it is what the president himself has commanded. Again, Trump could change the policy; he simply doesn't want to. The U.S. has turned into a cruel place for Latin American children fleeing gangs, poverty and despair. No American would accept such a separation from his or her children.
I could never have imagined that this would be happening here.
Jorge Ramos, an Emmy Award-winning journalist, is a news anchor on Univision.