Fresh off the leak of dozens of questions that Robert Mueller allegedly plans to ask Donald Trump if he ever gets the chance to interview him—a leak that some suspect came from the our sopping wet boy-in-chief himself—comes more details from recent meetings between Mueller and Trump's lawyers, which cast doubt on how the questions actually came to be.
The Washington Post reported Tuesday night that, during a March 5 meeting, Trump's lawyers "insisted he had no obligation" to talk to Mueller. Mueller reportedly shot back that he could just subpoena Trump to appear before a grand jury, which, uh...why hasn't he done that yet, exactly?
Former Trump lawyer John Dowd, who resigned from his role in defending the president last month, reportedly replied, "This isn't some game. You are screwing with the work of the president of the United States." (Dowd resigned from Trump's legal team a few weeks later.)
While Mueller allegedly discussing something he would appear to be well within his rights to do was the main focus of the story, an important detail was buried a bit further down (emphasis mine):
In the wake of the testy March 5 meeting, Mueller's team agreed to provide the president's lawyers with more specific information about the subjects that prosecutors wished to discuss with the president. With those details in hand, Trump lawyer Jay Sekulow compiled a list of 49 questions that the team believed the president would be asked, according to three of the four people, who spoke on the condition of anonymity because they were not authorized to talk publicly. The New York Times first reported the existence of the list.
[...]

After investigators laid out 16 specific subjects they wanted to review with the president and added a few topics within each one, Sekulow broke the queries down into 49 separate questions, according to people familiar with the process.
G/O Media may get a commission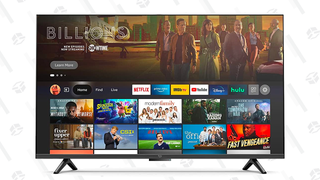 22% off
Amazon Fire TV - 50" Omni Series 4K - Early Access Deal
Here's how the Times reported on how that list, which we wrote about on Monday night, came to be:
Robert S. Mueller III, the special counsel investigating Russia's election interference, has at least four dozen questions on an exhaustive array of subjects he wants to ask President Trump to learn more about his ties to Russia and determine whether he obstructed the inquiry itself, according to a list of the questions obtained by The New York Times.

[...]


"What efforts were made to reach out to Mr. Flynn about seeking immunity or possible pardon?" Mr. Mueller planned to ask, according to questions read by the special counsel investigators to the president's lawyers, who compiled them into a list. That document was provided to The Times by a person outside Mr. Trump's legal team.

And here's what the Times' explainer of the questions says about the list:
The special counsel, Robert S. Mueller III, recently provided President Trump's lawyers a list of questions he wants answered in an interview. The New York Times obtained the list; here are the questions, along with the context and significance of each. The questions fall into categories based on four broad subjects. They are not quoted verbatim, and some were condensed.

There would appear to be some very different characterizations of how the list was made and where it came from floating around. "This isn't a list of 49 questions. It's 49 topics," Paul Rosenzweig, who was senior counsel during Kenneth Starr's investigation into Bill Clinton, told the Post. "Each of these topics results in dozens of questions. To be honest, that list is a two-day interview. You don't get through it in an hour or two." (The Post says that Sekulow, Dowd, and Mueller's office all declined comment.)
Either the questions were dictated to Trump's lawyers by Mueller's office, or Trump's legal team was given a set of information by Mueller and then made up a list based on that information. And while it might seem like a small difference, the meaning is pretty consequential, especially considering that the line coming out of the Trump camp yesterday was that the list proved that the basis for the investigation itself is a sham.
Whatever the case, it's more evidence that very few people outside of Mueller's office know what he's truly looking for. And considering that Trump's orbit is less a leaky ship than a piece of wood in an ocean, it's worth taking everything that comes from his side with a grain of salt.