If the 2016 election marked the revitalization of the long-dormant Democratic left, the 2018 election was a lot more complicated.

The months-long primary season brought some significant successes. In some of the most staunchly Democratic areas of the country, voters decided to go in a new direction, and in more than 10, they chose progressive women of color who are openly combative with the establishment of both parties. First came democratic socialist Alexandria Ocasio-Cortez's stunning victory against House Democrat Joe Crowley, who had been previously seen by some of his House colleagues as a future House speaker. That victory was followed by progressive Boston city councillor Ayanna Pressley's upset over longtime House Democrat Mike Capuano, and open primary victories by democratic socialist Rashida Tlaib in Michigan and Somali-born trailblazer Ilhan Omar in Minnesota.
These wins served as confirmation that the ideas made popular by the Bernie Sanders presidential campaign had a real constituency, and that the Democratic left was here to stay.
In addition to progressives beginning to push out more moderate Democrats in safely Democratic seats, some of those issues that Sanders ran on—such as Medicare for All and a rejection of corporate PAC money—were mainstream positions in the party by the time November 2018 rolled around. A National Nurses United union poll in October found that 52 percent of Democratic candidates said they supported Medicare for All, and Beto O'Rourke—hardly a Maoist revolutionary, despite what the New York Times might think—made a wholesale rejection of PAC money a central focus of his U.S. Senate race. He very nearly became the first Democrat to win a statewide race in Texas in 20 years, and is already being mentioned as a potential Democratic candidate in 2020.
Likewise, Stacey Abrams and Andrew Gillum—black gubernatorial candidates running campaigns centered around economic and racial justice in the former Confederate states of Georgia and Florida, respectively—came up short in their own campaigns. But they rejuvenated state Democratic parties that had spent years losing with milquetoast centrism, built an infrastructure for the future, and undoubtedly pushed Democratic candidates over the finish line in downballot races, helping the party take back the House of Representatives.

G/O Media may get a commission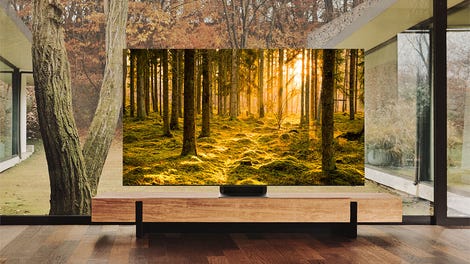 Up to 40% off
Samsung Smart TVs
But it wasn't all good news. Abrams and Gillum outperformed the bland moderates who ran for governor before them, but they still lost, though the GOP was undoubtedly aided by heavy voter suppression. And while a majority of House candidates clearly supported Medicare for All, those numbers skewed heavily toward candidates in solidly Democratic or solidly Republican districts, and away from competitive seats.
It's rare that elections provide a clear mandate to any one political party, let alone one ideological strain of that party. But with that ambiguity has come more questions, and a growing debate about where the Democratic left should focus their energy in the coming years. Should it focus on taking out insufficiently progressive Democrats in primaries, or maintaining an all-of-the-above strategy to try to win purple and red seats as well?

Being that this is a debate about politics and strategy on the left, you can probably imagine that not everyone agrees on the best course of action. But while it's clear that lefty candidates will continue to run everywhere, how progressive organizers and a batch of new groups spend their limited time and resources could decide how successful the left insurgency in the Democratic Party ultimately is.
"We're going to be heavily focused on blue districts [in 2020], but we believe these ideas resonate everywhere," Justice Democrats executive director Alexandra Rojas told Splinter. "What's important is having credible people deliver that message."

Following the 2016 primary and general election catastrophe that resulted in the election of Donald Trump, there was a burst of new energy in the Democratic Party, but particularly on the left. New campaign organizations, such as Justice Democrats and the Sanders-affiliated Our Revolution, were created to groom and promote candidates who shared a passion for a progressive agenda, such as Medicare for All, aggressive action on climate change, and racial justice.

From the start, these new progressive groups—unlike traditional Democratic campaign organs such as the Democratic Congressional Campaign Committee, which prioritized swing districts—adopted an approach of endorsing candidates all across the country, in everywhere from the safest Democratic districts to their most ruby red Republican counterparts, essentially regardless of how much of a chance the candidate actually had at winning the primary or general election. It was the manifestation of one of the core arguments of the Sanders campaign: That the Democratic retreat to the coasts had caused it to ignore entire swaths of the country, and that only unabashed support for social democracy and grassroots organizing could change the party's fortunes.
So, how did these progressive candidates, organizers, and groups do in 2018?
Justice Democrats endorsed 78 candidates for Senate, House, governor, and lieutenant governor in 2018; 26 won their primaries, and seven were elected to Congress—a less-than-stellar batting average at first glance. (Four of the seven are new members.) Our Revolution, where locally organized groups do much of the work, went even further, endorsing 196 candidates in 44 states, in races from U.S. Senate all the way down to the Matanuska-Susitna Borough (Alaska) Assembly. According to the organization, they won 77 of those races, with 82 percent of victories coming in non-federal or statewide races.
Rojas defended this strategy of competing everywhere in an interview with Splinter. "For an organization that started in January 2017, we vastly outperformed expectations of what we could do," Rojas, a former organizer for both Ocasio-Cortez and Sanders, said. "It would be short-sighted of us to look at the success of an organization like ours, that just started a year ago, by just a win percentage." Instead, according to Rojas, people should look at the group's work in rebuilding the party after catastrophic downballot losses during the Obama years. "We're interested in leading the agenda and not just playing defense," she said.
Kara Eastman's ultimately unsuccessful run for Congress in Nebraska was rooted in the idea that Democrats had lost their way in swing districts because they continued to run on Bill Clinton-style centrism. In her primary, Eastman narrowly defeated former U.S. Rep. Brad Ashford, a moderate whose single term in the House was the only blip in over two decades of a Republican representing the Omaha-based district. "The narrative here has been always been run the most conservative Democrat you can," Eastman told Splinter about a week after her loss.

The district posed a good opportunity for progressives to show that a message like Eastman's—which put Medicare for All front and center in her campaign—was the remedy for breaking Republican control of both the House and places like Nebraska. It didn't work. Ashford lost his 2016 re-election bid to Don Bacon by about 3,500 votes; Eastman lost to Bacon by fewer than 5,000 votes. On one hand, Eastman running as a progressive as opposed to a Blue Dog had a negligible effect on how she did; on the other, it had a negligible effect on how she did.
Eastman maintains, however, that her campaign was a success in the sense that it helped activate hundreds of volunteers for campaign that knocked on hundreds of thousands of doors. There's not much of a consolation prize for losing an election by pretty much exactly the same margin as the previous Democrat running for the seat did last time, but the hope here for Democrats, as with pretty much everywhere, is that those volunteers will remain involved and help to grow the Democratic base in a state where the GOP has been dominant for decades.
"I got more votes than the moderate Democrat running for Senate [Jane Raybould] got in Douglas County," Eastman told Splinter. "Our Democratic nominee for governor was a Republican [before he filed to run]. He got less than 2,000 votes more than I did." (Since our interview, gubernatorial candidate Bob Krist's total in Douglas County has ticked up to around 2,800 votes more than Eastman's.)
Despite coming up short, Eastman was adamant that she ran the best campaign that she could have. "I'll stand by the premise of our whole campaign, which is to focus on the base and not flipping Republicans," she said. "I talked to a lot of Republicans at their doors, and...they're not really flippable."
The heartbreak of Eastman's loss was relatively isolated. Medicare for all-supporting House candidates won in swing districts from Maine and Pennsylvania to California. And while support for single-payer is a moral issue and looks more and more like a no-brainer politically, it's not the only arbiter of progressive bonafides; even candidates who haven't come out for it, such as Lucy McBath, have found other ways to build their progressive bonafides.
Take all of this together and you get a decidedly knotty picture—and that's why some people think the best strategy is to avoid such complex and uncertain districts and focus on driving solidly Democratic districts further left. That way, this thinking goes, candidates only have to worry about entrenched establishment incumbents in their own party without having to focus on wooing Republicans—meaning they can be much more assured of victory and still achieve their goal of infusing the party with more leftist energy.
"There was this theory of change that was along the lines of, 'There is a lot of potential for progressive policies to win over rural whites, so we can have a night where we back true progressive in likely R or solid R districts, and the media finally realizes this is how you win,'" progressive strategist and writer Sean McElwee told Splinter. "For two years some of the best organizers I know were running [swing district candidates] Jess King's and Randy Bryce's and Leslie Cockburn's races, and they all lost."
But can the left really put all of its chips on finding more candidates like Ocasio-Cortez and Pressley—young, dynamic, operating in Democratic strongholds, and with an extraordinary ability to communicate their message—and hope that they can drag the party toward a more socially conscious politics, without bringing other parts of the country along with them?

Becca Rast is an organizer who would reject the "stick to safe seats" theory. Rast grew up in Lancaster, PA. When she was 16, she began organizing against the Iraq War. After stints living in Rhode Island and California, she found herself frustrated at the lack of progressive infrastructure in her hometown.

So Rast moved back home, and this year, she managed the congressional campaign of Jess King, a 44-year old former nonprofit director who won the endorsement of both Our Revolution and Justice Democrats. When she began her campaign, King was in a heated congressional primary with establishment Democrat Christina Hartman, who ran against Rep. Lloyd Smucker in the central Pennslvania-based district and lost in 2016. Despite the Democratic establishment in Pennsylvania backing her opponent, King out-raised both Hartman and Smucker in the final quarter of 2017.

She ultimately lost by 18 points—thanks in part to a redrawn congressional map that, though it helped Democrats statewide, made King's district more heavily Republican—but Rast points out that King "over-performed Hillary [Clinton] in basically every precinct in our district."

More importantly, Rast said, King's campaign and the people who worked on it helped to build up a progressive infrastructure in the area that's already started making gains. Over the summer, the local activist coalition Lancaster Stands Up, which Rast helped co-found and which was vocally supportive of King's bid for office, persuaded local officials to reject a bid from the private prison conglomerate GEO Group to take over a reintegration program for formerly incarcerated people.
For McElwee, however, such efforts in purple and red districts amount to throwing good time, energy, and money away.

"My takeaway from that is that there is a decent chunk of whites who love progressive issues, but you know who likes Medicare for All? Democrats!" McElwee told Splinter. "My advice to the groups who want to see the Democrats move left as soon as possible is to stop fucking around in lean-and-likely Republican districts....we trick ourselves into believing canvassing is something it's not, but there really is no way to fundamentally alter the dynamics of the district."
Not only that, but McElwee believes that when it comes to primarying incumbents, progressives should zero in on district-level seats (both in the House and in state legislatures) rather than statewide campaigns, particularly if the candidate has never sought elected office before. "The problem with [statewide] elections is that the second you go statewide, your win number becomes massive," he said, citing campaigns such as Kerri Evelyn Harris' primary against Sen. Tom Carper in Delaware, which was supported by Justice Democrats. "That means much more money, and much more opposition from entrenched interests...House and state and local stuff is where progressives are most fit to win, and those will create the bench for gubernatorial and Senate wins."
Surprisingly, Our Revolution president and former Ohio state Senator Nina Turner thinks there's some merit to the idea that progressives should focus on those races with lower win numbers first, which seemingly runs counter to the premise of an organization which was directly inspired by and intricately tied to the Sanders campaign. "We have to focus on the future too, and [having] a bench that's prepared to go to the next level can go there if they can choose," she said. "There's enough work, I like to say that 'There's enough sand on the beach for everybody.' We should concentrate on ensuring that we don't neglect opportunities on the state and local level."
Regarding the Sanders campaign, which was pretty much the opposite of this, McElwee said that it was worthwhile because it got so much media attention, and helped show that there was a constituency for Sanders' platform within the Democratic base. "I really can't think of a major statewide Democratic primary candidate—even Cynthia Nixon, I didn't see a lot of breakthrough nationally," he said. "What Sanders did is show the media and the progressive left that there was a nontrivial number of Democrats who really do believe in this progressive vision."
In effect, McElwee envisions a Democratic answer to the Tea Party strategy, which—along with this year's Democratic wave—helped to eradicate the GOP of its moderate wing through primary challenges from the right. He cites Justice Democrats' work in the Ocasio-Cortez campaign as an example of this, but ultimately, he has a grander vision of the future, one which would justifiably sounds immediately counterintuitive to your average leftist.
"There's a meme on the left of 'take over your local party.' I say take over your local consulting firms," he said, citing the "influence" these firms have in Democratic politics. "We should have a stable of five to 10 consulting firms, here's some great campaign managers who will do a real progressive strategy...creating these institutions are a huge amount of work."

Added Turner: "What I've come to find is that there is a great desire to train candidates. But there's not a lot of training for operatives."
Unfortunately for the left, there isn't the same kind of endless well of money and resources available in political campaigns for people who want to even mildly challenge our current economic regime of crony capitalism. And while Sanders in 2016 and O'Rourke this year blew apart fundraising records on the backs of small donors, both candidates were relative anomalies in that respect. (Also, they both lost.)
But while 2018 might have turned up a dud in some of the purple and red districts that have long been trending towards the GOP, it's clear that the impact of having a progressive congressional campaign in at least one of the reddest districts in the country will be felt beyond this year. When Jess King spoke in front of Lancaster Stands Up in its first post-election meeting, according to Rast, hundreds turned out. And they don't appear to be going anywhere anytime soon.

"We have at least five [former King] volunteers that are already running for school board, maybe even more than that," Rast said. "Definitely some people running for city council, and there's folks who are ready to support those campaigns, young people already asking if they can intern with the next project next summer. I can't wait."
And for her part, Rojas was adamant that progressives should continue to try to compete everywhere. "If we actually want to make inroads in places where the Democrats haven't done well, that means we have to challenge everywhere and find out and perform strategies that will help us move forward," she said. "If we hadn't gone that route in running in red districts and competitive primaries, we wouldn't have gotten Ocasio-Cortez. So you have to take risks to make changes."

But even as she touted the efforts of progressives all over the country, Rojas made Justice Democrats' own strategy clear. "We're doubling down on competitive primary elections against corporate Democrats," Rojas said. "What we saw from those races is that one race can shift the Overton window of what's possible politically, what our elected officials look like, and the agendas that they can run on. It's a progressive message, but it's presenting solutions as radical as the problems we face.
"I've seen statements from Democrats that take an incredible amount of fossil fuel money, like Henry Cuellar out in Texas," Rojas added. "So we're paying attention to who takes fossil fuel money, and if they're truly representing blue districts in the way they should be."

Cuellar, who was also mentioned (along with New York Rep. Eliot Engel, who notably voted against the Iran deal) by McElwee as being ripe for a primary challenge, is an eight-term congressman from south Texas who hasn't won a race by fewer than double digits since he was first elected to Congress. Despite that, Cuellar is a co-chair of the conservative Blue Dog coalition, a loud advocate for centrism within the Democratic Party, and a top ally to the oil and gas industry.
Two months before the election, Cuellar attended a campaign fundraiser for Republican Rep. John Carter, who was facing a challenge from Democrat MJ Hegar, and encouraged attendees to donate to Carter, according to the Dallas Morning News. At the time, Hegar called Cuellar's tacit support of Carter (Cuellar's office denied it was an endorsement) an example of the "boys club" in politics—Cuellar has also been accused by his former acting chief of staff of firing her because she was pregnant. Carter ultimately won by just three points.
McElwee thinks that districts like Cuellar's and Engels' are where the left's best chances for success lie. "Pull out [the] best estimate of marginal effective canvassing, and you will not get a flip in any likely R districts," he said. "The answer to why not [go after both safe seats and swing seats] is that we don't have any fucking money to do both. We can either get another Randy Bryce or Ocasio-Cortez, and please give me Ocasio-Cortez."
As for Rast, who believes the divide between rural and urban places is a lot closer than the national media gives it credit for, she said she plans to stay in her hometown and help to build the progressive movement there. And she believes it would be a critical error for progressives to continue to cede Republican and purple seats to the moderate wing of the party or worse, the GOP.

"I definitely don't think it's an either/or situation," she said. "This is about a fight for the heart of the Democratic party and making it a party that sides with everyday working people rather than Wall Street, and that's what we were doing and that's what Ocasio-Cortez was doing, even if Jess and Ocasio-Cortez didn't agree on every issue.
"That fight happens both by primarying Democrats and by running in seats currently held by Republicans, " she continued. "And I think that people who try to create a dichotomy between these two strategies are just setting our party up for failure."