Facing a deepening political scandal at home, Argentina's president has taken to Twitter in a miscalculated attempt to distract public attention with a ceaseless stream of tweets ranging from oddly personal musings to an insulting comment about the Chinese during a state visit this week to Beijing.
President Cristina Fernandez de Kirchner's attempt to criticize her political opponents back in Argentina backfired horribly on Wednesday when she tweeted in an affected Chinese accent by purposely misspelling words to mock the Chinese's difficulty pronouncing the letter "r."
The president spelled arroz (rice) as "aloz" and petroleo (oil) as "petloelo." She followed up with another tweet that made it clear the spelling error was not accidental. But she only dug herself in deeper with her apology.
G/O Media may get a commission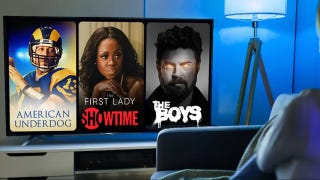 UNDER $1
99¢ Prime Video Channels
"Sorry. You know what? It's that the level of ridiculousness and absurdity is so high, that the only way to deal with it is humor. If not, it's just very toxic," she said.
The tweets were the latest example of the sometimes bizarre — and occasionally brutally aggressive — social media tactics employed by one of Latin America's most active Twitter users as she struggles with a ballooning scandal over the mysterious death of Argentine prosecutor Alberto Nisman.
Nisman was investigating a 1994 bombing of a Buenos Aires community center and had formally accused Kirchner of trying to reach a secret deal with Iran to lift international arrest warrants for Iranian officials wanted in connection with the attack. On Jan. 18, Nisman was found dead with a gunshot to his head. Investigators are trying to determine if his death was a suicide or something more sinister.
Kirchner's trip to China has coincided with controversial new developments in the Nisman case back home. The president, however, has decided to focus her Twitter attentions to bizarre observations from China, perhaps as a tactic to show she is unfazed by the brewing storm that awaits her at home.
"When I arrived at the hotel, I was surprised by an I-M-P-R-E-S-S-I-V-E floral arrangement because of its size and beauty," she wrote.
In another tweet, Kirchner, who is suffering from a broken ankle and wearing a walking boot, proudly announced she walked to her meetings with Chinese officials and businessmen.
But don't be fooled by the cheerful tweets. Kirchner's  government has also shown a capacity for a bare-knuckle approach to social media, engaging in blistering Twitter assaults against critics and journalists.
Damian Pachter, a journalist for the English-language Buenos Aires Herald, recently abandoned the country in fear for his safety after he broke the Nisman story. As he was leaving, the Twitter feed for the presidential palace posted the details of his plane ticket and flight.
Earlier this week, the Nisman case took another bizarre turn when a prosecutor first denied and then later confirmed that the dead prosecutor had drafted a request for a capture order for Kirchner and her foreign minister in connection with the 1994 bombing. The draft warrant was found in a trash can in Nisman's apartment. But it was not included in a criminal complaint filed by Nisman last month, so it's unclear how seriously he had considered the request.
Kirchner's chief-of-staff blasted the current prosecutor's handling the investigation into Nisman's death, calling it a "joke" on Twitter.