If he ran for president, Stephen Colbert could make "Colbert Nation" a reality.
If he ran against other comedians, that is.
That's the message young voters give to Colbert, the incoming host of "The Late Show," who narrowly beats out "Daily Show" host Jon Stewart and Tina Fey as the comedian they think would make the best president.
This is according to Fusion's Massive Millennial Poll, which surveyed 1000 people aged 18-34 about everything from politics to dating to race issues. Given a list of eight choices, nineteen percent pick Colbert as their theoretical choice for a comedian president, while 17 percent each pick Stewart and Fey. Dave Chappelle, former host of "Chappelle's Show," garners 15 percent of the vote. (For full results and methodology, click here.)
Those four are the frontrunners. But there are stark differences in who would back each candidate.
Colbert is the heartland male's candidate — he gets 24 percent of the male vote and 23 percent of the vote from the midwest.
G/O Media may get a commission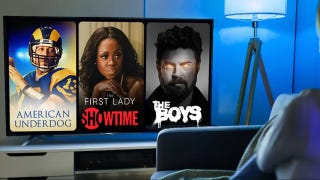 UNDER $1
99¢ Prime Video Channels
Stewart is the favorite of east-coast liberals on the older side of the millennial scale. He earns 23 percent of the 30-34 aged crowd — plus 22 percent of the vote in the northeast and 24 percent of young people who self-identify as liberal.
But the women want Fey. An astounding 28 percent of women — the highest percentage of one gender for any candidate — as well as 19 percent of west-coasters back her. She also earns 19 percent of the Latino vote, the highest of any comedian candidate.
Chappelle, whose "Chappelle's Show" became a national sensation in the early 2000s and who has recently made a comeback doing standup, is most popular with young, African-American voters. He gets 28 percent of the African-American vote. His share of that vote and Fey's share of the female vote are tied for the highest percentage of one demographic for any comedian candidate.
Fusion's Massive Millennial Poll surveyed 1,000 people between the ages of 18 to 34, with a general population sample and an overall margin of error of plus-minus 3.1 percentage points. The interviews were conducted via telephone from Jan. 6 to Jan. 11. For more on our methodology and poll results, click here.
Brett LoGiurato is the senior national political correspondent at Fusion, where he covers all things 2016. He'll give you everything you need to know about politics, with a healthy side of puns.