With the Final Four kicking off this Saturday, the end of March Madness is quickly approaching. Some of you are focused on your brackets. Some of you are focused on money. Here at Fusion, we're focused on one thing and one thing only: which team is the most woke?

We are the ultimate arbiters of what is woke and what is not woke, so you can trust us that these judgments are final and binding.

Using our patented, exclusive Colin Kaepernick Scale of Contemporary Sports Wokeness, we've assessed the woke merits and demerits of each Final Four team to create a scouting report of each team's official Woke Quotient.

Let's take a look.

G/O Media may get a commission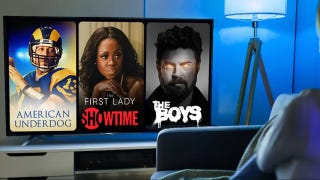 UNDER $1
99¢ Prime Video Channels
NORTH CAROLINA

Pro-woke: You gotta give it up for coach Roy Williams, because he's really pulling the Tar Heels up by their woke bootstraps here. Among other things, he's called out Donald Trump's "bullshit" tweets. Plus, have you seen Williams' suits? Have you seen this man's love of prints?

Granted, they're definitely old-white-guyish prints. But, like, prints are a more woke sartorial choice than solids, right?

Anti-woke: Look, full disclosure, I low-key pull for the Tar Heels because they're the antithesis of Duke, and Duke is, without question, evil incarnate (hello, Grayson Allen). HOWEVER, UNC is a basketball dynasty, and dynasties can't be woke. The Tar Heels also pulled off 18 years of academic fraud and still, somehow, have yet to be punished for it. Finally, I don't know if you know the origins of the name "tar heel," but one origin story has it that General Robert E. Lee threatened to stick tar to the heels of North Carolina's Confederate troops so they wouldn't retreat. Simple math here: you can't have an origin story with the Confederacy and get too many woke points.

Verdict: Three Kaeps out of ten. Sorry, Cranky Woke Uncle Roy, you tried.

---
GONZAGA

Pro-woke: There's not a lot of straight-up "pro" arguments here. Gonzaga's a pretty clean program in terms of scandals, so that's a plus. Their mascot is a bulldog, and we all know college sports can do far far worse (here's looking at you, San Diego State Aztec Warriors). Also, back in the day, President Harry Truman gave a speech denouncing racial discrimination, which became known as the "Gonzaga speech." So there's that?
Anti-woke: Gonzaga, a Jesuit school, was originally intended to be a school for Native American boys but that didn't happen because some racist Spokane officials wanted the school to be for their own "American" boys. That was a long time ago and frankly, you'd be hard pressed to find an American university without a racist origin story, we guess.

Verdict: This one was a toughie—does the absence of anti-wokeness make you woke? We're going to go with Desmond Tutu and say a neutral team is the same as an un-woke team. Two Kaeps for the 'Zags, mostly just for playing.

---
OREGON

Pro-woke: As far as aesthetics go, we suppose Oregon's in the lead on this one. Green is a pretty woke color, and we're going to say that having a pantsless, ascot-wearing duck as a mascot is progressive and not creepy.

That's all we got.

Anti-woke: There's the whole "Uncle Phil" thing. Phil is Phil Knight, the founder of Nike, and yes, Oregon students and alumni seriously call him that. Nike recently launched a hijab-friendly line, which, yay! But they're also mega-capitalists, which excludes you from crossing the threshold of wokeness. And, on a serious note, the program was embroiled in scandal back in 2015 when three players were accused of raping a student. However, Coach Dana Altman, despite being aware of the allegations, didn't pull those players until after the tournament. While none of the players on the current team were involved, and the players accused of rape were never charged, Altman is still calling the shots.

Verdict: Look, outfits and mascots only get you so far, and all jokes aside, that was a deeply troubling decision for Coach Altman to make, even if there were no current players involved. One Kaep (because no Kaeps aren't an option with this system).

---
SOUTH CAROLINA

Pro-woke: South Carolina is the one true underdog of this tournament: the scrappy, underfunded little guy tussling with schools whose athletic departments are institutions in and of themselves. When it comes to sports, David is more woke than Goliath (and don't even try to Malcolm Gladwell your way out of this one). Also, their inclusion in the tourney means we can hear "gamecock" being said over and over again on TV, which we're going to say is woke-adjacent.

Anti-woke: ...Or maybe not, because gamecocks are just really aggressive roosters, which is a great way to describe Trump's cabinet, but not a very terribly woke bird. Plus they have "Gamecock Jesus" who, okay, seems like a fantastic, spirited guy! And yes, the South Carolina community crowdfunded his passage to the Final Four, which is wonderful and heartwarming story, but listen, we're talking woke here, and unless this is a Latinx man named Jesús or a Middle Eastern/North African refugee we're going to have to ding you for accuracy here.

Verdict: Four Kaeps because they're underdogs.

---
So there you have it. Between four teams, only 10 Kaeps (out of a potential 40 overall!). The moral of the story: if you want woke sports, go somewhere else (the NBA, with woke Coach Pop and woke Coach Kerr, is a good place to start, as is the perennially woke WNBA).
Technically, South Carolina wins this woke-off. But since the NCAA doesn't pay their players ... minus infinity points for everyone.