A video has surfaced online that raises serious questions about the use of excessive force and the ways in which black people are treated by law enforcement.
The 7-minute video, which we first learned about thanks to The Grio, shows police officers from McKinney, Texas, midway through responding to a reported disturbance at a pool party on Friday evening.
Partygoers told BuzzFeed News that "a fight broke out between adults and youths…after the adults made racist comments" and told the black teenagers to leave the gated community and return to "Section 8 [public] housing."
The officers, all white, are seen chasing after and handcuffing a group of black teenagers, some of whom can be heard saying that they "just came to a birthday party."
One officer pulls a young man down to the ground by his arm. He then pins a frightened, crying teenage girl to the ground by first pulling her arm, then her hair, and then grabbing her neck. That same officer can be seen withdrawing what looks to be a firearm when two black teenagers step in to assist the young woman.
G/O Media may get a commission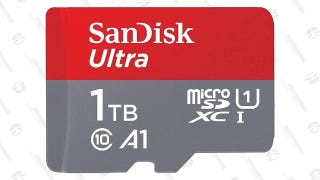 Save $75
SanDisk Ultra 1TB MicroSDXC Card
A representative for the predominantly white, upper middle class city's police department told KDFW Fox 4 that police were responding to a "disturbance involving several juveniles at [at the Craig Ranch Community Pool] who didn't have permission to be there." She said that nine additional police units were called after the crowd "refused to follow police orders."
Among the police orders seen in the video are "Get your asses on the ground," "On your face," and threats to jail onlookers if they didn't stop "[screwing] around" and "running their mouths"—not to mention the officers' repeated use of force.
An unnamed officer was put on administrative leave, pending an investigation, following the release of the video, Fox 4 reports. Fusion has reached out to the McKinney Police Department for comment. We will update the story if we hear back.
Bad at filling out bios seeks same.