Shannon Kepler, a former Tulsa, OK, police officer, was convicted late Wednesday in the shooting death of his daughter's boyfriend Jeremey Lake.

The conviction comes more than three years after Lake, who was black, was killed by Kepler, who is white. Kepler had been tried three times before for Lake's death, each case resulting in a hung jury. It was only after Tulsa County District Judge Sharon Holmes instructed jurors in this latest trial to consider first degree manslaughter in place of first degree homicide that the jury was able to reach a verdict, recommending Kepler serve 15 years in prison and pay a $10,000 fine.
While never cited as an official reason for Lake's death, racial considerations nonetheless became a major factor in Kepler's trials. Civil rights activists claimed Kepler's attorneys were actively trying to minimize the number of black people admitted to the jury in his previous three trials—only one black person sat on each of those juries—while Kepler himself maintained that his Native American heritage negated any accusations of racism.

Lake's death came just days before Michael Brown was shot and killed in Ferguson, MO, setting off days of protests that would eventually coalesce into the Black Lives Matter movement.
Kepler has long claimed that the shooting stemmed from concern over his daughter's living situation and fear for her safety after he discovered she was living with Lake. He alleged that he believed Lake was armed and that he fired in self-defense. Kepler was not on duty at the time of Lake's death, and no weapon was recovered on or near Lake's body.
G/O Media may get a commission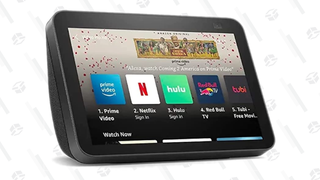 Prosecutors, however, refuted those claims.
"Who were you really looking for?" District Attorney Steve Kunzweiler said during the trial. "You weren't looking for Lisa. You were looking for Jeremey."
But defense attorney Richard O'Carroll disagrees, claiming the deck was stacked against his client from the start.
"They argued racism without a shred of evidence," he told The Washington Post, adding that Judge Holmes "was biased from the beginning. I know that sounds like sour grapes, but it's the truth."