Earlier today, President Trump, who loves to brag about his personal impact on our amazing economy, tweeted that America's gross domestic product's growth rate is higher than the unemployment rate for the first time in a century. This, it turns out, is not true.

Many media outlets quickly corrected the president. "In the 70 years since the Labor Department started publishing monthly jobless numbers, the growth rate has been higher than the unemployment level more than 20 percent of the time when compared with GDP, which is reported quarterly," Bloomberg wrote.
Kevin Hassett, chairman of the White House Council of Economic Advisors, was forced to address Trump's misstatement in a press briefing on Monday. "I can tell you what is true," Hassett said. "It's the highest in 10 years."
Ok, so Trump was off by 90 years. No big deal.
Hassett seemed to imply that someone misinformed Trump about the number by "adding a zero."
G/O Media may get a commission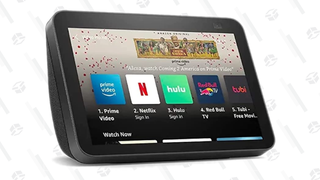 Later tonight, Trump tweeted that former President Obama once said Trump would need a "magic wand" to get the GDP over 4 percent. But the video Trump tweeted doesn't include that number, and the quote is out of context.
Obama wasn't speaking about the GDP growth rate in that quote, as Bloomberg notes.
[The video] began with a 2016 statement by President Barack Obama, questioning assertions by Trump, who he didn't name, that he would restore American factory jobs. "What magic wand do you have? And, usually, the answer is he doesn't have an answer," Obama said. But the Trump tweet cuts off the second sentence of that quote and segues into Trump talking about growth in manufacturing jobs.

Trump, in an earlier tweet on Monday, misquoted Obama on the magic wand quote, saying that the former president had been talking about GDP, which he wasn't.
As of 9:30 pm on Monday, all of these inaccurate tweets by the president were still up.